North Boyer reopens to traffic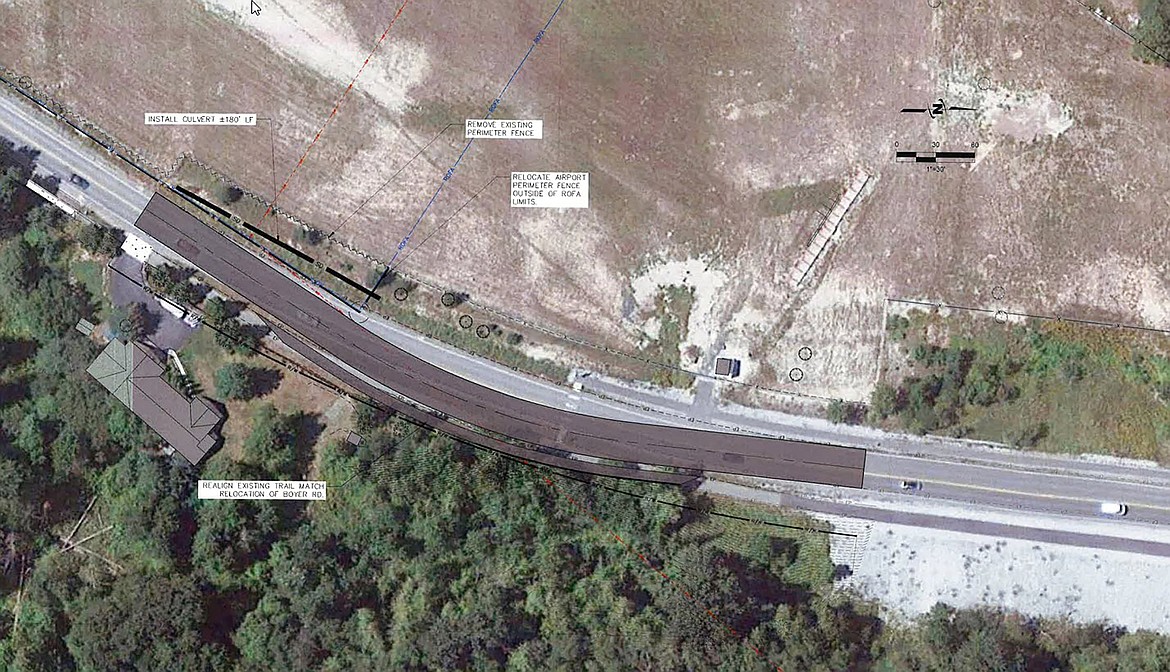 An aerial view of a roadway realignment project on Boyer Avenue. The work was part of a Sandpoint Airport project to get a perimeter fence around the airport out of the facility's runway safety zone.
(Photo courtesy SANDPOINT AIRPORT)
by
EVIE SEABERG
Staff Writer
|
September 2, 2023 1:00 AM
SANDPOINT — Area residents can breathe a sigh of relief as Boyer Avenue was expected to open to the public by the end of the workday on Friday.
The project, which began in July, shifted the road that curves around the airport about 15 feet east, Sandpoint Airport Manager Dave Schuck said. The purpose of the project was to improve safety at the airport and comply with Federal Aviation Administration guidelines for perimeters around runways.
"There's supposed to be nothing above ground in that area in case an airplane has a problem and runs up the end of the runway or has a problem getting onto the runway," he said previously. "They want that area to be clear, and nothing above ground."
Now that work is complete, Schuck said it's unlikely most residents will notice the change because of how subtle it is.
While the project was ultimately about safety, recent efforts also paved the way for an anticipated runway project in the future.
"As [airplane traffic] increases here in Sandpoint and the fact that the FAA is going to be putting several million dollars into rebuilding the runway here in about five years," he said at the time. "They want to have all of the safety concerns handled prior to putting that money into rebuilding the runway."
The $550,000 project was funded by the FAA, which gains funding through airplane ticket fees and aviation fuel taxes.
"That's the beauty of the FAA funding this airport," Schuck said. "They're putting millions, literally millions and millions of dollars into this airport to make it safe. If the county owned it, or was trying to fund [the improvements], there'd be no way."
FAA and the state of Idaho covered around 97% of the project cost.
At a recent council meeting City Administrator Jennifer Stapleton clarified the traffic project was a county and Federal Aviation Administration project that realigned North Boyer along the airport to move the roadway out of a critical zone. The project was federally funded, which was an important clarification because of the concern it was causing in the community, Stapleton said.
With summer coming to a close, it is likely that the Boyer Avenue project will lead the way as many projects wind down. For now, residents can reclaim their route to work and enjoy the Boyer Avenue scenery again.
Recent Headlines
---