Ponderay Neighbor Day is here again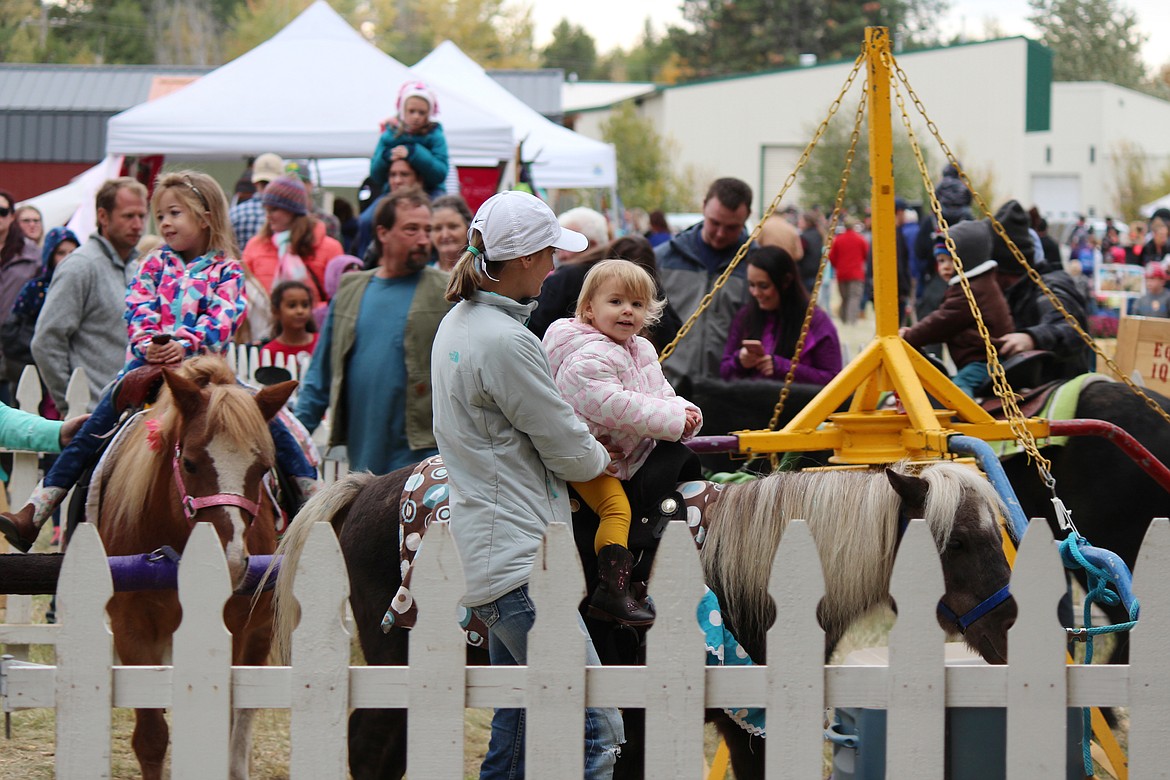 (Courtesy photo) Local youngsters enjoy the pony ride at a past Neighbor Day celebration in Ponderay.
by
EVIE SEABERG
Staff Writer
|
September 3, 2023 1:00 AM
Ponderay — What began as a one-time event bringing neighbors together to improve local trails, Ponderay Neighbor Day has become an annual celebration that fosters connections in the community.
Ponderay Neighbor Day, an annual community celebration, is coming to Harbison Field on Saturday, Sept. 9. The event will feature 70 registered vendors, a few of them which are new this year. Three inflatable obstacle courses, a mechanical bull, a Dizzy X spinning maze, and a 27-foot inflatable slide will all be gracing Harbison Field for the first time.
Attendees will have the option to participate in activities like "Little City Hall," which will focus on the Field of Dreams project, a recreational facility that has been 30 years in the making. North Idaho Ice will have an interactive hockey activity and information on the group's efforts to bring an ice facility to Ponderay's Field of Dreams, KayLeigh Miller, project manager for the city of Ponderay, said.
Pony rides, face painting, a petting zoo, live music by Justin James Live, games, raffles, and crafts are just a few of the other activities that will be available.
Diverse food options, from bubble tea and barbecue to Italian ice, toffee, and fudge will also be there. Many of those stations are provided by local businesses. Sweet Lou's will be hosting a beer garden, Origin 7B Handcrafted Lemonade will be selling lemonade and STCU will be providing cotton candy and popcorn. Many others are also sharing their treats and meals with the community.
Ponderay Neighbor Day was launched by the city in 2017, MIller said. The goal of the event was to provide a fun gathering that celebrated neighbors and offered opportunities to gain feedback on how those connections could be enhanced through the development of the trail system and Harbison Field.
"The first year included a hot air balloon with the intent of giving tethered rides that would share with the community Ponderay's proximity to the shoreline," Miller said.
The activity also demonstrated the potential for an underpass from Harbison Field to the waterfront and the Pend d'Oreille Bay Trail.
"The event was more popular than we could have imagined and the city received far more public input in one day than is typical through any other standard method of outreach," Miller said. "I believe this is because at this event we bring local government to the people instead of asking them to come to us."
Because the event was such a success the city established it as an annual event sponsored by donations from local businesses. This allows the city to open the field up to vendors and attendees for free.
"(A) big thank you to all of our sponsors, volunteers and vendors," Miller said. "Without them, this event would not be possible."
Ponderay Neighbor Days will be Sept. 9 from 1 p.m. to 6 p.m. at Harbison Field behind the Hoot Owl Restaurant.
Recent Headlines
---