Ridge Creek Fire fight winding down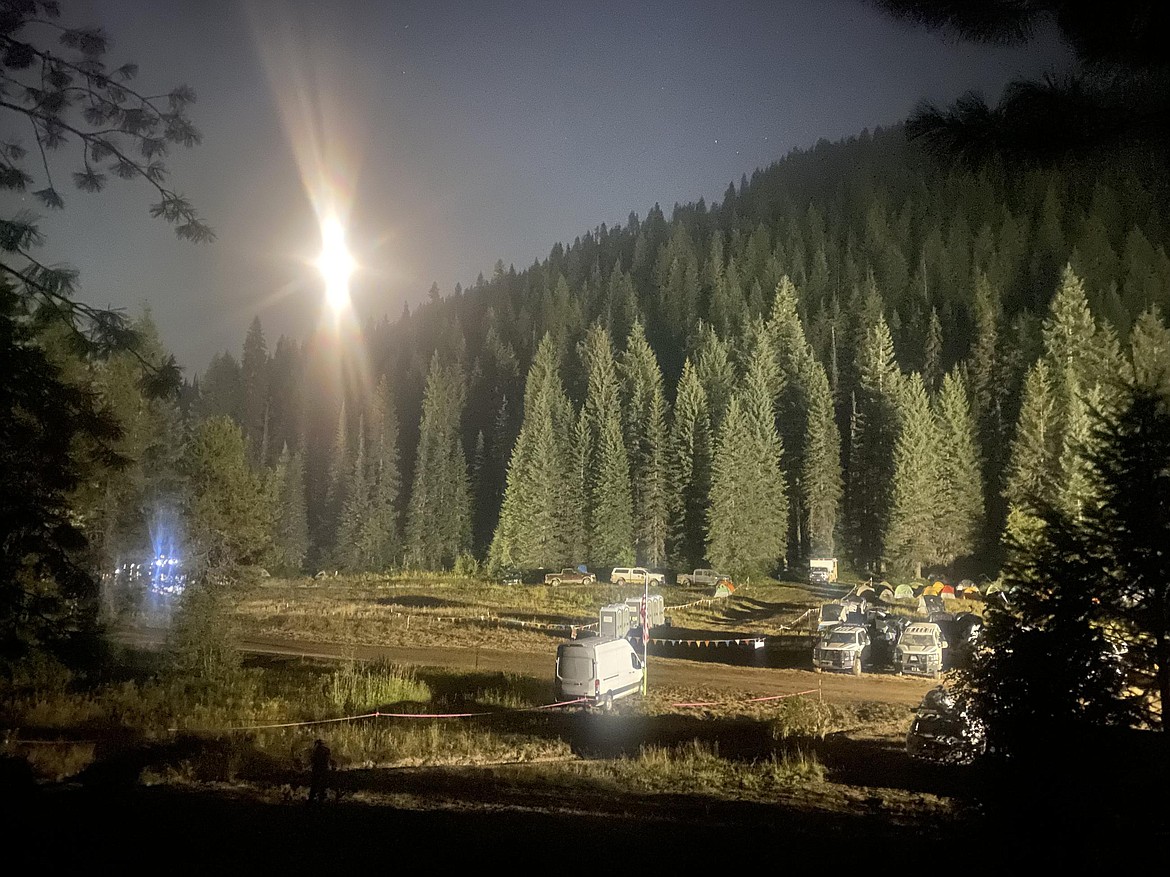 Moonrise over the Hudlow Spike camp, the Ridge Creek Fire staging area and living area for the Southern Area Incident Response Gold Team assigned to the Ridge Creek Fire on Aug. 28.
Photo courtesy of the Southern Area Incident Management Gold Team
by
JOSA SNOW
Hagadone News Network
|
September 5, 2023 1:00 AM
Firefighters are holding the Ridge Creek Fire at 51% contained with 4,474 acres burned.
The Southern Area Incident Response Gold Team has gradually taken personnel off of the fire, reducing the manpower on the front line as crews gain control and weather support limited the spread.
"All engines and crews demobilized from the fire, except for an initial attack crew ready to respond to new fires," the Gold Team said in a news release Sunday.
Three Crews and 15 pieces of heavy equipment remained at the fire site to continue road and land repairs along the perimeter and service roads.
The Gold Team was able to reduce personnel fighting the blaze when containment rose and the growth of the fire slowed, with major support from rainfall and humidity.
The fire is no longer expected to spread over the next five days, and vegetation or fire fuels are damp.
Smoldering is still being monitored along the northeast edge of the fire, with patrolling for possible hot spots within the perimeter.
After 560 personnel battled the fire at its peak, that number dropped to just 183 on Sunday. Monday evening, the control of fighting the blaze was transferred to the North Idaho Type 3 Team, with the command post moved from Farragut State Park to the Kootenai County Office of Emergency Management.
An incident response team is a crew of firefighters and logistical staff who travel from across the country to respond to emergencies, Public Information Officer Clark McCreedy said. McCreedy was part of the first incident response team on the Ridge Creek Fire, the Eastern Area Incident Management Team.
Incident response crews are trained in national emergency protocol, and are on call, with some crew members flying in from as far as Florida.
The people on the incident response teams work for 14 days straight, with an option to extend to 21 days, before they are sent home to return to their jobs and lives, McCreedy said.
"I miss my wife," equipment manager trainee Aaron Malson, from Susanville, Calif., said. "I want to get home to my wife and my dog."
Malson was a member of the original Eastern Area Team, which executed the first shift of battling the blaze, spending two weeks at the local fire camp, before transferring the responsibility to the Southern Area Gold Team on Aug. 22.
The local North Idaho Type 3 team, led by John Heyn of the U.S. Forest Service, will continue mopping up hot spots, or repairing local Forest Service Roads.
Excavators, chippers, graders and dump trucks worked Sunday to repair bulldozer lines and roads around the fire perimeter.
Forest Service Roads nearby remain closed as crews make repairs, but fire restrictions have been lifted, and daytime flight restrictions were lifted Monday evening.
"Thank you for supporting the Gold Team in managing this fire," The Gold Team said in a news release Sunday. "We've enjoyed serving you and wish the incoming team a good and safe assignment."
Recent Headlines
---