Event to benefit Panida, KRFY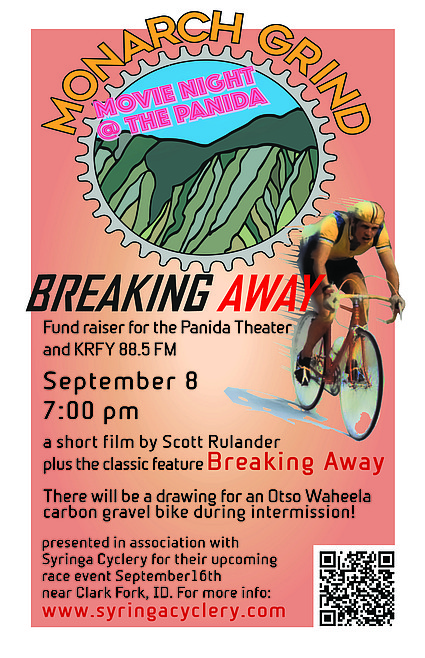 |
September 5, 2023 1:00 AM
A celebration of cycling is planned as a benefit for the Panida Theater and KRFY.
The classic feature film "Breaking Away", preceded by a short film by Scott Rulander, will be held this Friday in conjunction with the Monarch Grind gravel cycling gran fondo taking place the following week Saturday, Sept. 16.
The movie night and gran fondo are organized by Syringa Cyclery as a benefit for the Panida Theater and KRFY, Panhandle Community Radio. The movie night will include an intermission between the short and feature films during which a gravel bike, donated by Syringa Cyclery, will be raffled off. Proceeds from the bike raffle benefit the Pend Oreille Pedalers, Sandpoint's bike club and trail building organization.
"Breaking Away" is a film about a working-class Indiana teen, Dave, and his buddies who have just graduated from high school in a town overshadowed by the local university. Dave, obsessed with an Italian cycling team, vies for the affections of a college girl while searching for life goals with his friends. The four friends face opposition from all corners as they decide to make Dave's dreams come true in the university's annual bicycle endurance race. Released in 1979, "Breaking Away" is a charming coming-of-age feature by noted filmmaker Peter Yates that launched the careers of several actors.
Local videographer and editor, Scott Rulander of Otter Moon Films, has put together a film about the annual ¾ Minus Cykeltur, a gravel cycling gran fondo, that takes place in early May as a benefit to the Pend Oreille Pedalers.
The Panida Theater, one of Sandpoint's iconic institutions, opened as a vaudeville and movie house in 1927. Then, as now, its name reflected its mission: to showcase great performers and performances for audiences of the PANhandle of IDAho. The theater features local and global film festivals, movies and presentations, local dance recitals and professional dance performances, comedy, live theater, educational and informative speakers and presentations, local and touring artists for music concerts, and more.
KRFY Panhandle Community Radio, another iconic Sandpoint institution, brings commercial-free radio to North Idaho. Panhandle Community Radio is committed to bringing high-quality national news and informational programming such as Democracy Now! to local airwaves, as well as cutting-edge general interest, perspective, independent, and multi-cultural music shows. Add in the grassroots local music and current events programs produced right here in North Idaho, and Panhandle Community Radio is a breath of fresh air on our local airwaves.
Tickets for the Sept. 8 movie night are available at bit.ly/44xOb8F, and registration for the Monarch Grind gravel gran fondo Sept. 16 is at bit.ly/44J3uuZ.
Recent Headlines
---