PEAK 7B hosts first ever official youth triathlon in Bonner County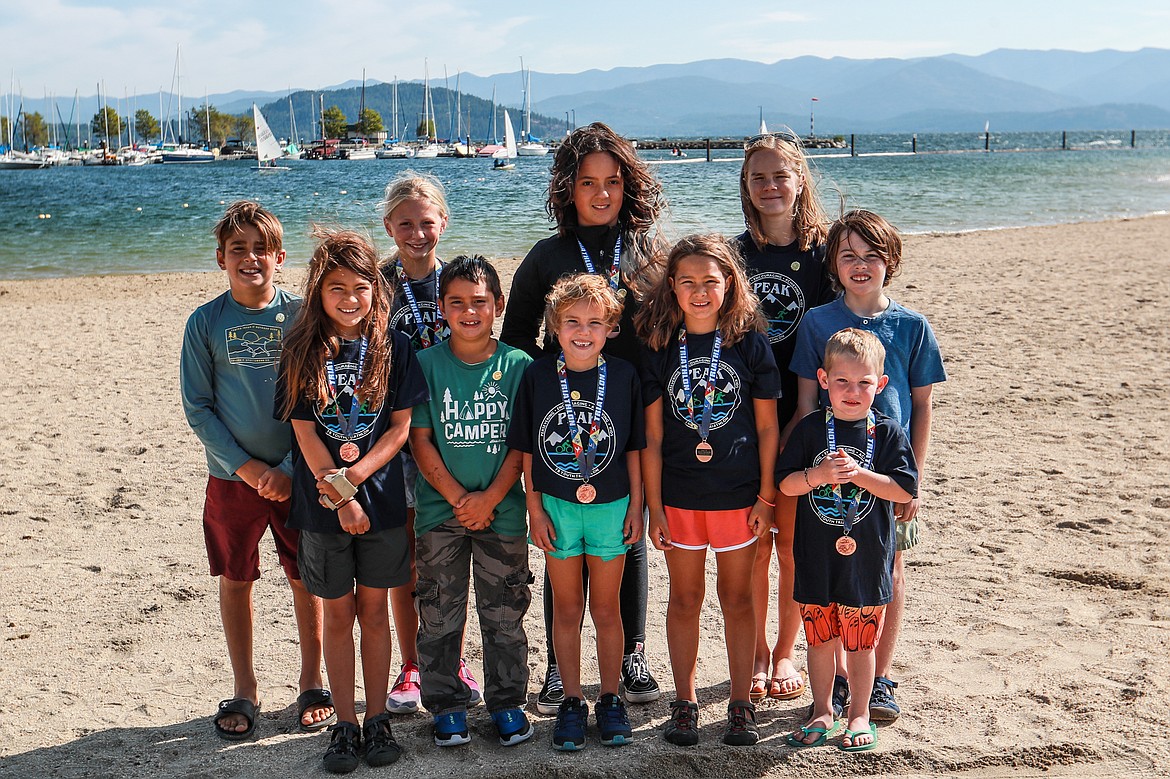 7B youth triathlon participants pose with their first-place medals after winning their age groups at Sandpoint City Beach on Sunday. Pictured from left to right, back row, Rowin MacDonald, Avalon Gillis, Savannah Ferris, Sienna Szabo. Front row, left to right, Anastasia Aispuro, Manny MacDonald, Josie White, Eliana Aispuro, Will Trempert. Not pictured, Martin Szabo, Kyler Knaack, Braxton Knaack, Emilia Gordon, Jadyn Herron, Finnley Naccarato.
Lisa Ailport with JAL Natural Light Photography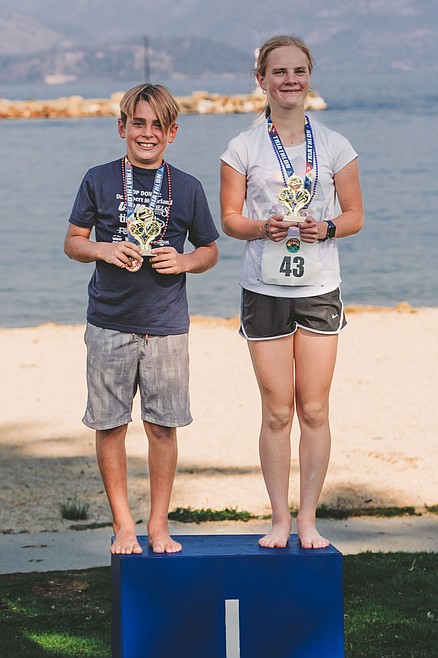 Top overall male and female finishers, Rowin MacDonald and Sienna Szabo, pose with their trophies on the awards podium.
Previous
Next
by
MAX OSWALD
Sports Reporter
|
September 5, 2023 1:00 AM
SANDPOINT — PEAK 7B, a youth triathlon club in Sandpoint, hosted the first ever official youth triathlon in Bonner County at the Sandpoint City Beach on Sunday, Aug. 27. 50 athletes ranging from five to 14 years in age completed the triathlon, which consisted of a 100-meter swim, a 3k bike, and a 1k run.
Sunday's triathlon was a true community event, as many local sponsors and volunteers helped to make it possible. All of the proceeds went towards course safety, t-shirts, official race bibs, medals and awards, official timing, and snacks for the participants.
Although a youth triathlon had unofficially been in the works for the last three years, the group, Engaged Families Inc., a Sandpoint non-profit, was excited to officially offer it to the community this year along with PEAK 7B. The main goal of the race? To 'engage families' by bringing the youth of Bonner County together to participate in a triathlon in the heart of Sandpoint.
PEAK 7B Youth Triathlon Club stands for Persevering, Encouraging, Achieving Kids; organizers said that is exactly what took place on Sunday as 50 youth athletes finished safely, smiling as they were cheered on by family and friends.
With this being the first official year, PEAK 7B limited participation to just 50 athletes, but plans to increase registration next year as well as establish a longer course for older participants. The course this year consisted of a 100 meter swim along the shoreline of Sandpoint City Beach, a 3k out-and-back bike on Sand Creek Trail, and 1k out-and-back run at the Sandpoint Marina. The race finished on the spacious grass of the Best Western Hotel and Trinity at City Beach restaurant.
PEAK 7B club members said they learned some great lessons from this year's race and are already looking forward to offering chip timing next year with no mishaps, having even more participation, more course options, and more families engaging together with Persevering, Encouraging, and Achieving Kids. PEAK 7B club members said they wanted to thank all of their sponsors, volunteers, supporters, participants, and God for an incredible first year.
This year sponsors included: Dr. Robert McFarland, Joel's Mexican Restaurant, URM Food Service, TING Internet, Idaho Pain Clinic, Sandpoint Super Drug, Syringa Cyclery, Glahe Professional Land Surveyors, Intermountain Wellness, Kaniksu Community Health, and Eye Care For You. Post Race snack donors included Scott Nemeth with Acai bowls, Shingle Mill Blueberry Farm with blueberries, and Panhandle Cone & Coffee with "Free Kids Scoop" Wooden Pennies.
RESULTS
WAVE ONE (Ages 9-14) Top overall male, Rowin MacDonald (9)
WAVE ONE (Ages 9-14) Top overall female, Sienna Szabo (14)
WAVE TWO (Ages 5-8) Top overall male, Manny MacDonald (7)
WAVE TWO (Ages 5-8) Top overall female, Josie White (6)
WAVE ONE (Ages 9-14) 1st place males: 9, Rowin MacDonald; 10, Martin Szabo; 11, Kyler Knaack; 14, Braxton Knaack.
WAVE ONE (Ages 9-14) 1st place females: 9, Anastasia Aispuro; 10, Avalon Gillis; 11, Savannah Ferris; 12, Emilia Gordon; 14, Sienna Szabo.
WAVE TWO (Ages 5-8) 1st place males: 5, Will Trempert; 7, Manny MacDonald; 8, Taylor Naples.
WAVE TWO (Ages 5-8) 1st place females: 5, Finnley Naccarato; 6, Josie White; 7, Eliana Aispuro; 8, Jadyn Herron.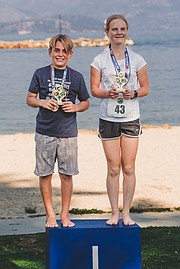 Recent Headlines
---