Community relieved, ready to rebuild West Bonner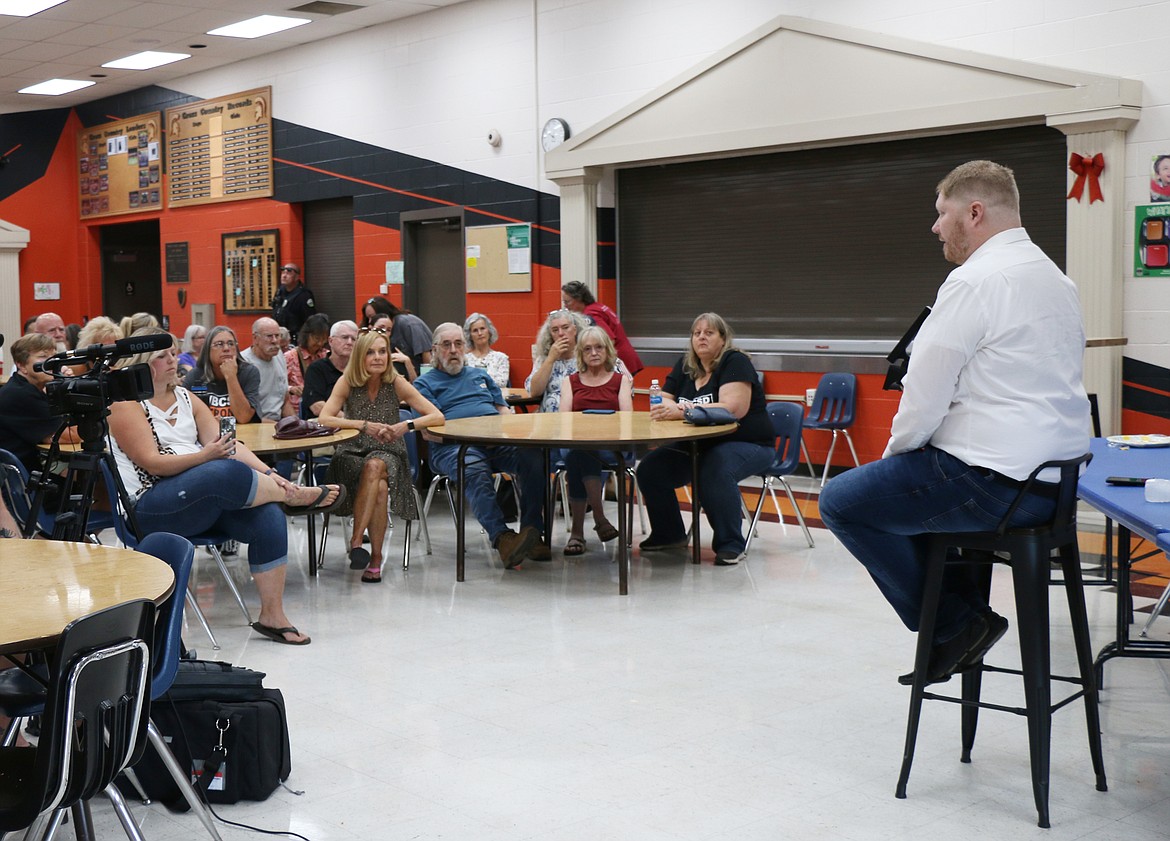 Priest River area residents listen to West Bonner County School District Superintendent Branden Durst at an Aug. 12 town hall meeting.
(Photo by CAROLINE LOBSINGER)
by
CAROLINE LOBSINGER
Staff Writer
|
September 8, 2023 1:00 AM
PRIEST RIVER — Mixed with the relief that the Aug. 29 recall is official is a deep thread of determination and drive to rebuild the West Bonner County School District.
"For me, it's a relief that it is official and we can work on rebuilding the school district as a whole," parent Kylie Hoepfer said. "It's been quite the summer with all the school board meetings and stuff they were trying to accomplish that wasn't always in the best interest of the schools."
Certification of the recall offers "a small sense of justice" for the district's parents and students, Nikelle Collins said, adding she is relieved the vote is official.
"Now we can work … toward the betterment of the school district so that our kids and not personal agendas will benefit," Collins said.
What is best for the community's youth is what has driven recall supporters since the beginning, Sheri MacDonald said. Seeing the community pull together and stand up for what they believe fills her with pride to call Priest River her hometown.
That meant standing up for Priest River's youth, schools, staff, and community — and standing firm against extremist beliefs, MacDonald said in a Facebook message.
"We have a long way to go, but together we fought and won the recall. Now to replace and rebuild. Together, we can do this. #PriestRiverStrong," she said, followed by two hearts in the district's colors, orange and black.
Former board member Sandy Brower said she is delighted and grateful to see the results become official with that canvass.
She said she looks forward to the remaining board members — Margy Hall, Carlyn Barton, and Troy Reinbold — appointing replacements for the recalled seats. Brower said she supports all actions and decisions that promote positive outcomes for the district's students, staff, and community.
"This last week has been a roller coaster of emotions," Brower said. "It's time now to look forward to the future of our district."
Some worried that somehow, some way, something would happen to block the certification, showing the level of frustration with and distrust of the now-former board members that helped drive the recall.
"My first reaction is just relief," Brooke Ramsey said. "I had been holding my breath until the vote was certified. The recalled trustees and Mr. Durst have proven time and time again that they are not to be trusted and do not have our district's best interests at heart."
Ramsey said that, like other recall supporters, her attention is now on the district's future.
"I am so happy that this part is over and we can move forward with rebuilding our district, getting a curriculum in place, and hopefully eventually a superintendent that actually believes in public education," she added.
Candy Turner, who helped lead the recall effort, said the focus is now on helping the board fix the district's problems. They want to unite the community and help the community's students succeed.
"Our role now, we feel, is to help rebuild [the district] and we will be there to help them; however, they see fit," Turner said.
Recall supporters said they attribute their success to one thing: they listened. That lesson is one that will guide them moving forward, said Dana Douglas, one of two Bonner County voters who successfully filed a restraining order barring Rutledge and Brown from taking any action that would financially or contractually bind the district.
"Why our group was so successful is because we listened to the community, and the people in both those zones felt so frustrated because no one was listening to them," Douglas said. "So we just gathered everyone together, and we made our voices be heard."
With the recall and canvass over, Turner said the focus is on the community's students.
"This is all about our kids," Douglas added.
Watching the community come together in support of its youth has been heartwarming, many supporters said.
"Knowing that our first step is complete and official is a relief," Danielle Carey said. "We can shift our focus to the next step and continue to fight for what is right for our kids. I couldn't be more proud to be part of the Priest River community."
Throughout the summer, recall supporters said they never lost sight of what was driving them: their kids. They are proud of what they have accomplished, but note that there is much work ahead. The district has struggled financially after a $4.7 million levy — which funded a third of the district's budget — failed in mid-May, and the pandemic was hard on its students academically.
"[There's] a relief that we can finally start to go back to doing what's best for the kids and teachers without things being political," parent Tami Hirst said.
And that, Douglas said, is how it should be.
"Always, always, always, it was about what's best for the kids in our district," Douglas said. "First and foremost, over everything else. That is what we've stayed true to, and that's what we will continue to stay true to. That is who we are here to help, and so we will help any way we can."
Recent Headlines
---