Sandpoint mayor, council celebrate service dogs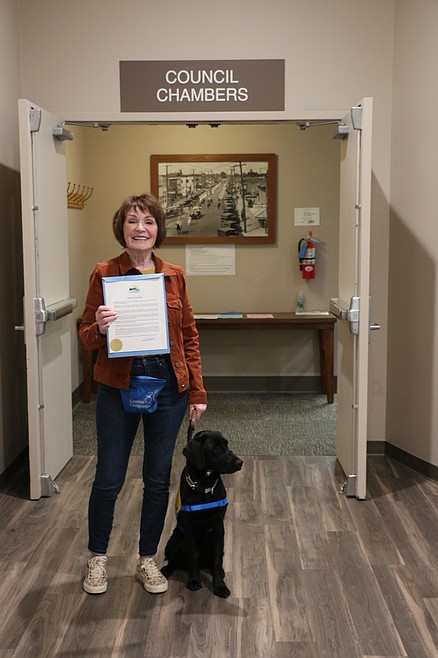 Lilly Mitsui holds the National Service Dog Month proclamation next to Willa
by
EVIE SEABERG
Staff Writer
|
September 8, 2023 1:00 AM
SANDPOINT — Lilly Mitsui, along with her service puppy-in-training, attended Wednesday's City Council meeting for the signing of an important document — a proclamation recognizing September as National Service Dog Month.
The proclamation, signed by Mayor Shelby Rognstad, encourages citizens to celebrate service dogs as well as acknowledges the contributions that the animals offer to society. Mitsui and 6-month-old "Willa" accepted the proclamation from the mayor. The document was prepared by Canine Companions, an organization that organizes service animal training and partnerships.
Mitsui, who is the organizer of the Inland Northwest Volunteer Chapter of Canine Companions, is raising Willa to be a service dog through the organization's program.
Willa will spend 16-18 months with Mitsui and learn around 30 cues by the time her training is done. Some of those cues are unique to service dogs because they help them behave in public, Mitsui said. For example, the command "under" tells the dog to lie quietly under a table in a restaurant.
After about six months of puppy training, the trainer begins taking the animal out in public to help them adjust to settings like grocery stores or banks.
"After we're done with our part of the training, which is the basic socialization part, (the dogs) return to Santa Rosa, Calif., for their professional training," Mitsui said.
"Those trainers are going to train them to be a service dog. They are going to teach them to go into the refrigerator with a pull on the door, open the door of the refrigerator, and get a bottle of water or whatever it is that the person needs."
Other skills could include picking up the remote control, turning light switches on and off, and even taking clothes out of the dryer, she said.
The Inland Northwest chapter of Canine Companions was first started by Mitsui about 5 years ago. She explained that there are larger chapters all over the country, but she saw a need locally.

"I moved over here and started raising a puppy," Mitsui said. "I had enough people asking me questions when I was out with my dog and they would see the vest on, so I thought I would do a workshop and see if there was interest and there was. That's kind of how the chapter got started."
Since then, the chapter has graduated 22 dogs with an additional 10 being raised currently.
"We are constantly looking for volunteer families to raise puppies. Without volunteer puppy raising, we have no service dogs," Mitsui said. "There are continually about 600 people on our waiting list to receive dogs from canine companions."
Information: https://canine.org/
Recent Headlines
---