Arrowleaf Groundsel makes nice addition to wildflower gardens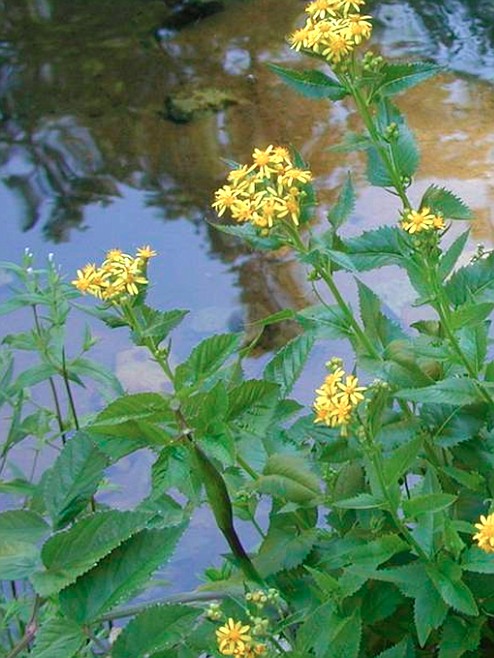 Strongly attractive to bumble bees, butterflies and other pollinators, Arrowleaf Groundsel is a nice addition to a wildflower garden or near a pond or water feature with sun to partial shade
(Photo courtesy B. NEWHOUSE/KINNIKINNICK NATIVE PLANT SOCIETY)
by
KINNIKINNICK NATIVE PLANT SOCIETY
|
September 10, 2023 1:00 AM
Arrowleaf Groundsel (Senecio triangularis) is a colorful member of the Aster family with buttery yellow, daisy-like flowers.
This hardy perennial is found throughout western North America in moist woodlands and meadows, in avalanche slopes and along streambanks. It grows at elevations from 300 to 11,000 feet.
First collected in the 1830s by Scottish botanist Thomas Drummond, Arrowleaf Groundsel was given its botanical name, described and published by Drummond's mentor, William Hooker in 1834. Other common names include Arrowleaf ragwort and Arrowleaf Butterweed.
Spring growth arises from a root caudex or rhizome as a single stem, occasionally branched. Numerous soft, green leaves are arranged alternately along the stem. They are triangular with pointed tips (hence the name Arrowleaf) with strongly toothed edges. Leaves near the bottom of the stalk have long stems which can shorten to no stem as they approach the top.
Arrowleaf Groundsel blooms from June to September, depending on elevation. Blossoms appear in flat-topped clusters at the top of a leafy stalk anywhere from four inches to four feet high, influenced by light, soil conditions and available water. Typical of flowers in the Aster family, both ray flowers (three to eight) around the edge and disk flowers (35-45) in the center make up each blossom. The ray flowers are toothed at the very ends and appear slightly lighter in color than the cluster of disk flowers in the center.
Strongly attractive to bumble bees, butterflies and other pollinators, Arrowleaf Groundsel is a nice addition to a wildflower garden or near a pond or water feature with sun to partial shade. In rich loam or clay soils with available moisture, it will reach a nice height showing up brightly when planted behind shorter species.
While deer, elk and mountain sheep will feed on Arrowleaf Groundsel, it can be poisonous to domestic animals. All members of the Senecio genus are toxic if ingested over time. They contain naturally occurring alkaloids that can accumulate and damage the liver and other organs. It is not known to be a human food source, though indigenous people have used it to treat chest pains, and modern pharmacology does recognize some pyrrolizidine alkaloid medicines as effective in treating angina.
Pictures and a description of Arrowleaf Groundsel are found on page 158 of Landscaping with Native Plants in the Idaho Panhandle, a KNPS publication available at local bookstores and the Bonner County History Museum. Additional native plants can be viewed at the North Idaho Native Plant Arboretum, 611 S Ella Ave., in Sandpoint.
Native Plant Notes is created by the Kinnikinnick Native Plant Society. To learn more about KNPS and the North Idaho Native Plant Arboretum, go online to nativeplantsociety.org.
Recent Headlines
---