FAS Youth Orchestra accepting new members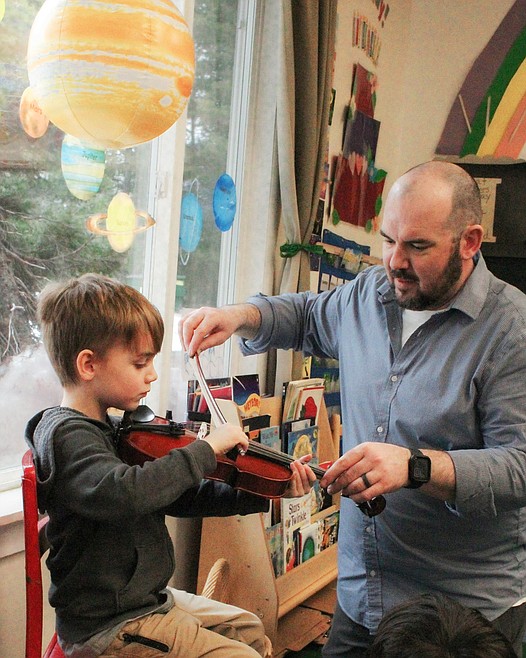 A young violin player gets some tips from Paul Gunter, production and education manager for the Festival at Sandpoint. The Festival has announced it is accepting new members for its Youth Orchestra.
(Photo courtesy FESTIVAL AT SANDPOINT)
|
September 12, 2023 1:00 AM
The Festival at Sandpoint's Youth Orchestra is accepting new members, with the first rehearsal being held Monday, Sept. 18.
Classes are free for all ages and held weekly Monday evenings.
Currently, the program is composed of two groups, a beginning orchestra and a continuing orchestra, both led by the Festival at Sandpoint's Youth Orchestra conductor, Karen Dignan. Both groups are open to any orchestral string players, including the violin, viola, cello, bass, and more.
The beginning orchestra is designed for students who are still getting started but have a basic knowledge of their instrument and reading music and students who are new to playing in an ensemble.
"Many of the beginning orchestra members are new to ensemble playing, and this is their first experience in an orchestra," Dignan said. "Having several players in the group who have been in the orchestra previously, even if only for a year, really helps the new students adapt quickly."
The continuing orchestra class is for intermediate and advanced students looking to hone their skills and expertise through ensemble playing.
"The students in our continuing orchestra rehearse and perform with the full group as well as creating their own smaller ensembles," Dignan explained. "It gives them the opportunity to choose their own said and music and figure out how to make it work for a performance."
The Festival Youth Orchestra is now also accepting new and seasoned instrumentalists to join as community mentors.
To learn more about joining the Festival Youth Orchestra, visit www.festivalatsandpoint.com/education or reach out to the Festival at Sandpoint office by calling 208-265-4554 or sending an email to info@festivalatsandpoint.com.
The Festival at Sandpoint is a non-profit organization that hosts an annual Summer Performance Series in Sandpoint, Idaho, that features a variety of genres, including rock, jazz, country, folk, indie, and more. The Festival at Sandpoint's 41st annual summer concert series will be held July 25-Aug. 4, 2024.
Information: festivalatsandpoint.com
Recent Headlines
---