PREP SOCCER: Sandpoint boys shut out Post Falls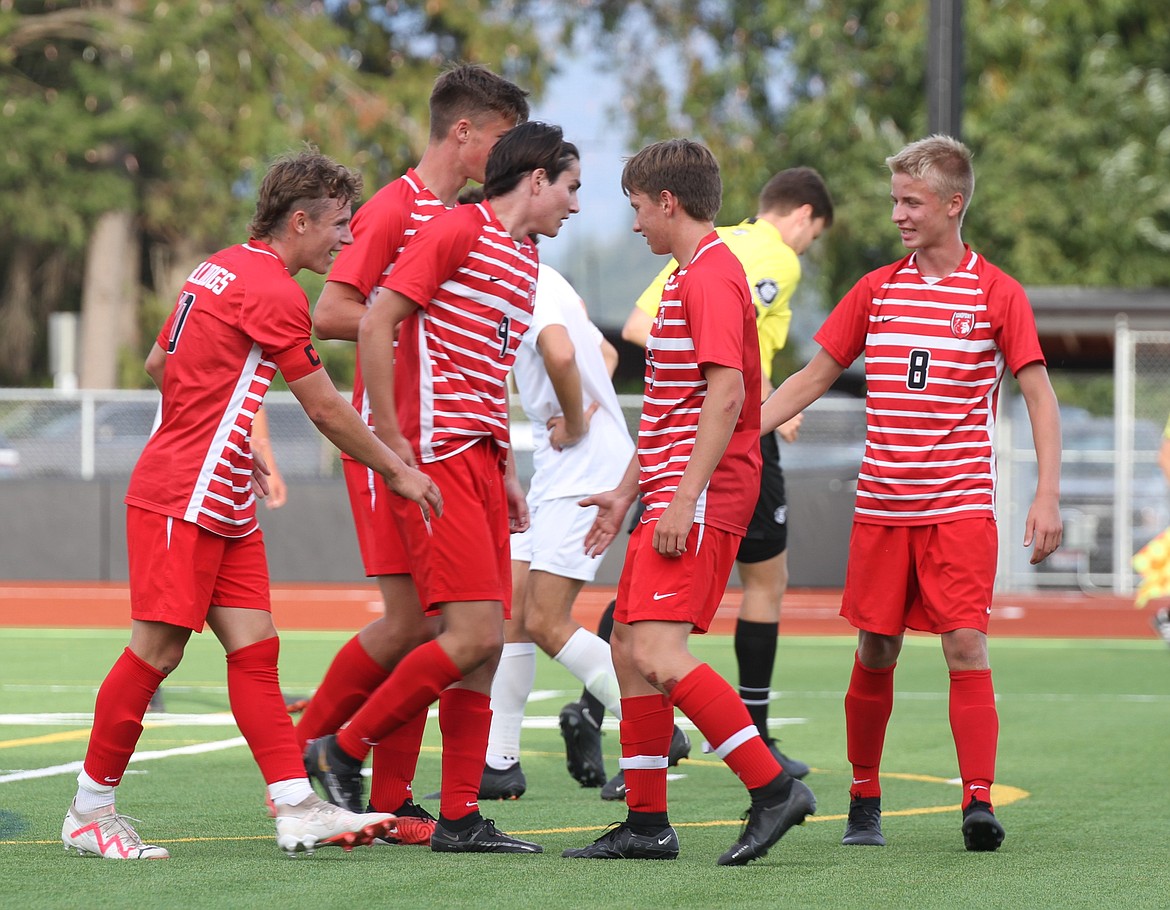 The Sandpoint boys soccer team celebrates after a goal scored by Jett Longanecker during the second half in Tuesday's 4-0 victory over Post Falls. Pictured, left to right, Jett Longanecker, Caiden Gion, Eoin Eddy, Isaac Schmit, and Huxley Hall.
Photo by MAX OSWALD
by
MAX OSWALD
Sports Reporter
|
September 13, 2023 1:00 AM
Boys Soccer
Sandpoint 4, Post Falls 0
SANDPOINT — Four different Bulldogs scored as Sandpoint boys soccer blanked Post Falls 4-0 at War Memorial Field Tuesday.
In the first half, the Bulldogs put a lot of pressure on Post Falls' defense, getting quality shots off shortly after the first whistle blew. Sandpoint's Logan McGrann was the first to score on a ball from Jett Longanecker during the 24th minute. Before halftime, Luke Leavitt was able to score a goal of his own, assisted by Issac Schmit, to put the Bulldogs ahead 2-0.
In the second half, Jett Longanecker scored off a pass from Caiden Gion during the 46th minute. Eoin Eddy would score the final goal for the Bulldogs, assisted by Jett Longanecker to help Sandpoint secure the 4-0 victory.
Kai Longanecker had four saves in goal for Sandpoint as he posted his third shutout of the year.
"We were able to find the outside and create multiple chances on goal," head coach Tanner French said. "Overall, it was a solid performance from the group, and we were able to play our entire roster as an added benefit. Dan (Anderson) and I will take a 4-0 win any day of the week."
Sandpoint (4-2, 4-2) will get some time off. Their next match will be Thursday, Sept. 21, at home against Moscow.
1st half – 1, SPT, McGrann (J. Longanecker), 26'. 2, SPT, Leavitt (Schmit), 29'. 2nd half – 3, SPT, J. Longanecker (Gion), 46'. 4, SPT, Eddy (J. Longanecker), 53'.
SOG: Sandpoint 11, Post Falls 4
SV: Sandpoint, Kai Longanecker, 4. Post Falls, Dominic Roberts, 7.
Girls Soccer
Lakeland vs. Priest River
The non-conference matchup between Priest River and Lakeland was postponed Tuesday due to Priest River player shortages. It is unknown as to whether or not the game will be rescheduled.
Priest River (3-4, 2-1) is scheduled to face off against St. Maries today on the road.
Recent Headlines
---