PREP VOLLEYBALL: Priest River takes down Genesis Prep; Sandpoint, Clark Fork swept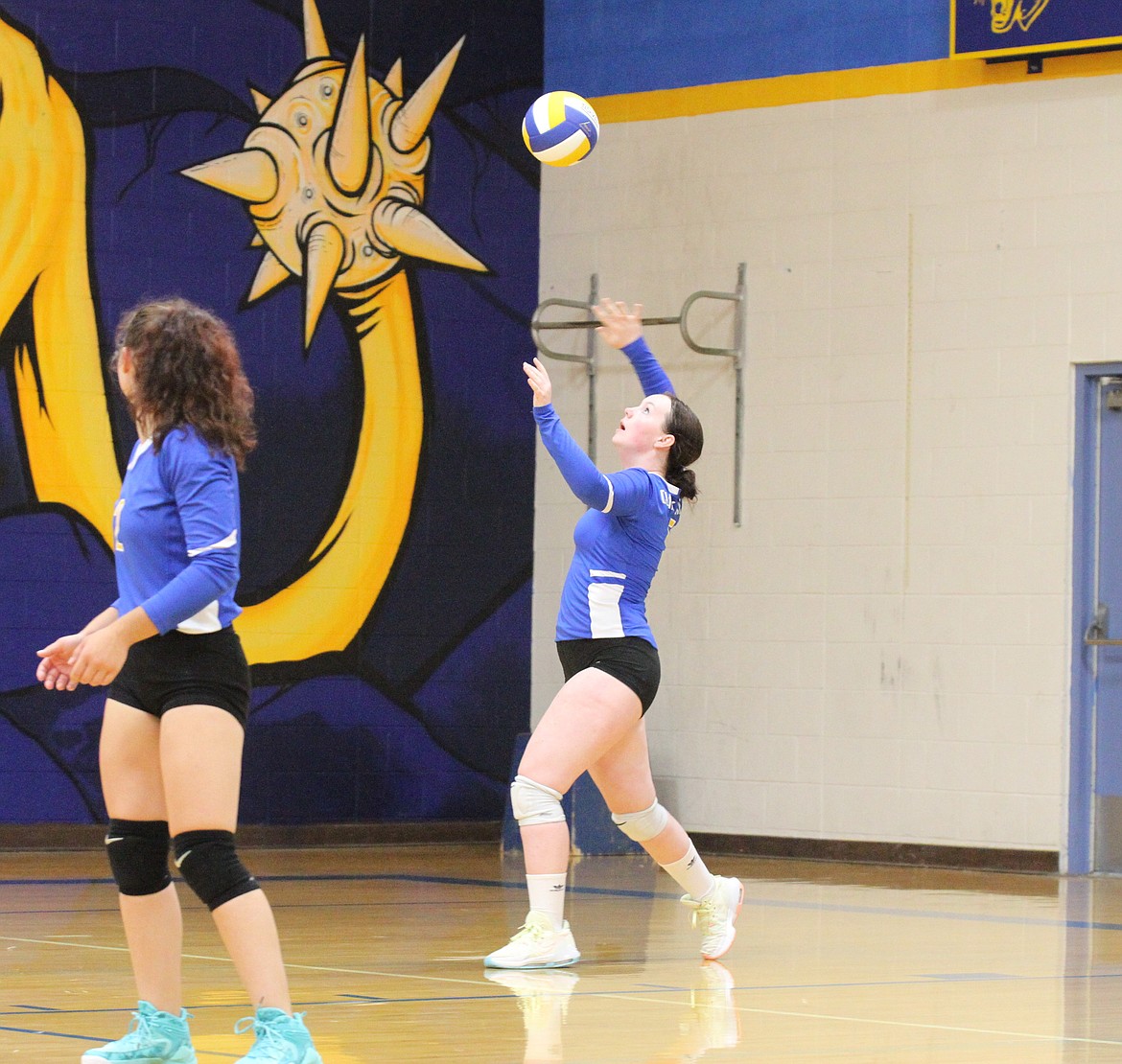 Clark Fork sophomore Aurora Lane serves in a game earlier this season for the Wampus Cats.
Photo by MAX OSWALD
by
MAX OSWALD
Sports Reporter
|
September 14, 2023 1:00 AM
- Tuesday, Sept. 12
Priest River 3, Genesis Prep 2
POST FALLS — After falling behind two sets, Priest River won three in a row to defeat Genesis Prep Academy, 3-2 (13-25, 23-25, 25-19, 26-24, 15-13) in non league play at the Courts at Real Life on Tuesday.
"We started slow then progressively picked up the pace," head coach Katlyn Ward said. Our goal was to come back from Saturday's loss. This game meant nothing for our league matches, but it meant everything in our season's momentum. These girls needed this."
Ward said Helena White had an amazing game for the Spartans, leading the way Tuesday with a team-high 15 kills. Jayda Storro had 20 digs for the second time this season; she also added four aces behind the service line.
On defense, Aleigha Jensen continues to remain consistent, picking up six blocks for Priest River. Toni Marinella kept multiple rallies alive with eight digs on the night.
Priest River (2-2, 0-1) will play a league game against Kellogg on the road Thursday, Sept. 21.
- Tuesday, Sept. 12
Lake City 3, Sandpoint 0
COEUR d'ALENE — Sandpoint was swept by Lake City, 3-0 (13-25, 18-25, 23-25) at Lake City High School on Tuesday.
"Unfortunately we couldn't put anything together to make it a competitive match," head coach Piper Wahlin said. "We struggled in serve receive early on and made a lot of uncharacteristic mistakes."
Wahlin said the team will look to improve in a few key areas before their next matchup. Sandpoint (2-4) takes on Post Falls at home today.
- Tuesday, Sept. 12
Timberlake 3, Clark Fork 0
SPIRIT LAKE — Clark Fork fell to 3A Timberlake 3-0 (17-25, 21-25, 16-25) in a non-conference matchup at Timberlake High School on Tuesday.
"Despite our inability to take a set from Timberlake, I told the team we should be proud of how they played," head coach Lyndsie Kiebert-Carey said. "It was really a fun matchup and we gave our home crowd a lot to cheer about. It wasn't a win on the books, but it was a win to see our team thriving in long rallies halfway through the season."
Aime Matteson has taken on a leadership role in the back row; she had 13 digs on defense against the Tigers. Kiebert-carey said it's exciting to see her take on this role as an underclassmen. Amari Printz-Hay also added three blocks on the defensive side of the ball.
On offense, seniors Lilly Reuter and Eloise Shelton took charge. Reuter had six assists and added 10 digs while Shelton piled up five aces behind the service line.
Clark Fork (4-3, 1-0) will be back in action today against Bonners Ferry on the road.
Recent Headlines
---