PREP ROUNDUP: Spartans soccer dominant in wins over St. Maries; Sandpoint volleyball falls to Post Falls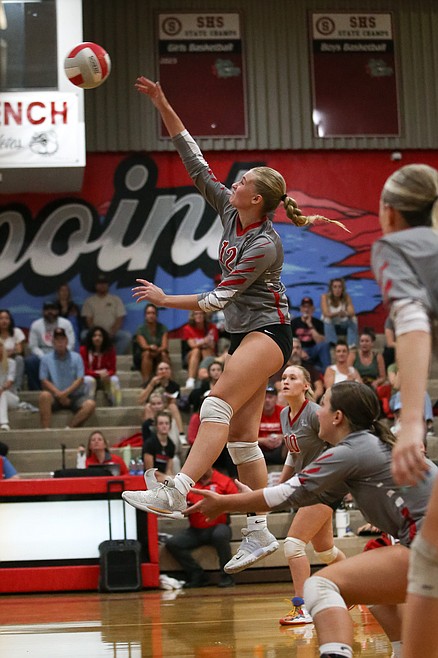 Sandpoint's Vivian Platte connects with the ball for a kill in Thursday night's 3-0 loss to Post Falls.
Photo by Jason Duchow Photography
by
MAX OSWALD
Sports Reporter
|
September 15, 2023 1:00 AM
Golf
WORLEY — Micah Young and Taylor Mire led Sandpoint at the Dizzy Bird Invite held at Circling Raven Golf Course Thursday.
The Sandpoint girls team, led by Mire's 80, finished second, in front of Lewiston and behind Coeur d'Alene. Head coach Mike Deprez said he was particularly pleased with Reagan Samuels and Claire Loutzenhiser's performances.
"Reagan and Claire are both finding consistency in their swing and short game," Deprez said. "All the girls hit the ball great today; holes two and four did sabotage some really good scores, however."
For the boys, Micah Young scored an 83, not too far off some of the top players in the state. Logan Roos had an eagle en route to a score of 96. Deprez said Tyler Weisz had a steady day as well, shooting a score of 91.
The Sandpoint golf team will be back in action Friday, Sept. 22. The girls will head to the Hayden Lakes Country Club while the boys will tee off at the Avondale Golf Club.
BOYS
MEDALIST — Trey Lambert, Lake City, 71.
TEAM SCORES — 1, Coeur d'Alene 303. 2, Lake City 326. 3, Lewiston 346. 4, Sandpoint 370.
COEUR d'ALENE — Grant Potter 77, Jameson Dale 77, Trey Nipp 73, Ben Crabb 77, Landon Stringham 76.
LAKE CITY — Trey Lambert 71, Max Hosfeld 83, Casen Miller 87, Henry Mace 85, Brayden Latscha 93.
SANDPOINT — Micah Young 83, Logan Roos 96, Tyler Weisz 91, Grady Kelly 109, Logan McGrann 100.
LEWISTON — Cody Ray 89, RJ Wagner 87, Dash Walker 84, Kayden Orton 87, Clayton Lee 88.
GIRLS
MEDALIST — Sophia Vignale, Coeur d'Alene, 75.
TEAM SCORES — 1, Coeur d'Alene 315. 2, Sandpoint 345. 3, Lewiston 348. Lake City, incomplete team.
COEUR d'ALENE — Mady Riley 77, Stella Deitz 79, Sophia Vignale 75, Chloe Orear 97, Aniston Ewing 84.
SANDPOINT — Alexa Tuinstra 84, Taylor Mire 80, Demi Driggs 97, Reagan Samuels 89, Claire Loutzenhiser 92.
LAKE CITY — Anne Trujillo 117, Lanie Carter 115, Emily Clausen 122.
LEWISTON — Mollie Seibly 80, Julia Brume 83, Shelby Arellano 92, Aleena White 93, Cara Lott 104.
Volleyball
Post Falls 3, Sandpoint 0
SANDPOINT — Sandpoint fell to a surging Post Falls squad 3-0 (19-25, 14-25, 17-25) at Les Rogers Court Thursday.
The Bulldogs stayed within reach, but gave up a four-point run late in the first set which allowed the Trojans to capture the 25-19 set win. In sets two and three, Sandpoint was not quite able to close the gap on the Trojans.
Post Falls is 6-1 on the year, their only loss coming against a tough Gonzaga Prep team.
Aubree Lane recorded a team-high 10 kills for the Bulldogs. Vivian Platte had some key kills in the third set; she finished with seven kills overall. Head coach Piper Wahlin said she was impressed with the play of Makenzie Eden, who had two blocks and three aces. On defense, Haley Hustead-Swaim led the way with 15 digs while libero Gretta Beck recorded nine of her own.
"Post Falls showed up as disciplined as always and put our defense to the test," Wahlin said. "Our performance was much stronger than Tuesday's, but we're still looking for our attackers to be more confident and efficient."
Sandpoint (2-5) will get a bit of a break, their next match will be against Lakeland Thursday, Sept. 21 on the road.
Girls Soccer
- Wednesday, Sept. 13
Priest River 3, St. Maries 0
ST. MARIES – Lizzie McCracken scored two first-half goals in the Spartans 3-0 conference win over the Lumberjacks at City Park Wednesday.
Also tacking on a goal for Priest River in the second half was Marley Burgess-Duquette. On defense, Haley Braee, Sam Pound and Clara Kennedy led the way, even compiling a few shots on goal each.
"We were strong defensively all game long even with a couple of new players getting time, one of which had never played in a soccer game before yesterday," assistant coach Nick Tucker said. "On top of that, what our defense did better the last couple games was not just getting the takeaway, but turning it into a pass to one of our midfielders or forwards."
It was the first time this season the girls had a full field plus one substitute on the bench.
Priest River (4-5, 2-1) will face Medical Lake on the road Thursday, Sept. 21
Boys Soccer
- Wednesday, Sept. 13
Priest River 10, St. Maries 0
ST. MARIES — Priest River had their highest scoring game of the season as they defeated St. Maries 10-0 in an Intermountain league game at City Park Wednesday.
Connor Stevens scored five goals for the Spartans. Carson Hughes scored four of his own. Baylor White also scored during the second half for Priest River. White also had a season-high five assists.
Henry White posted a shutout in goal, helped by great defense from Carter Cook and Ryan Bell.
Priest River (2-6, 2-2) will travel to Rathdrum to take on Lakeland Monday.
This information does not reflect today's print edition, in which incorrect statistics were received.
Recent Headlines
---