Abbey's American Dream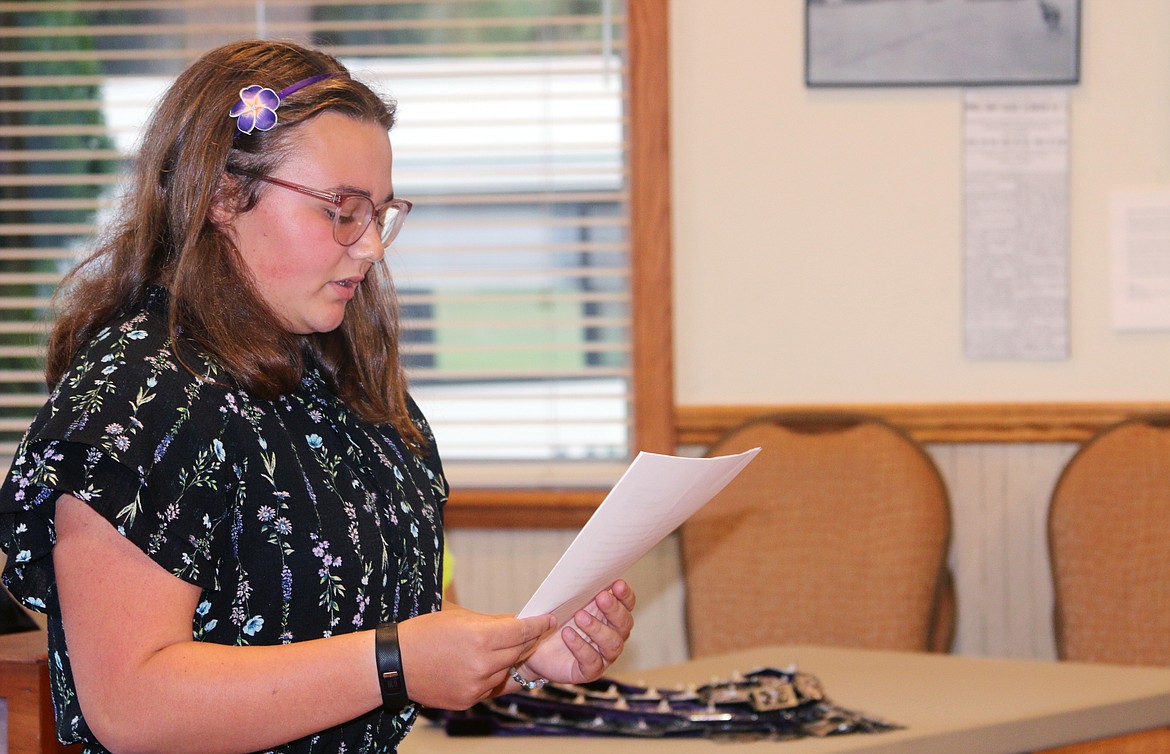 Abbey Schickendanz reads her essay before members of the Sandpoint after being honored for winning third-place national honors.
(Photo by CAROLINE LOBSINGER)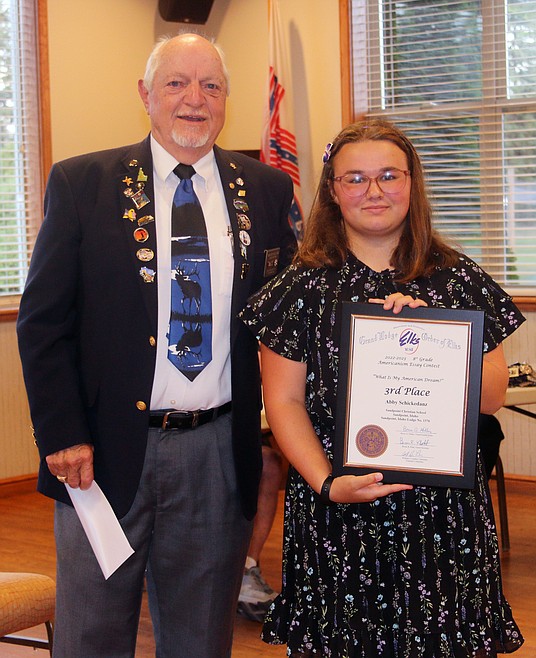 Bob Huyck, Elks Exalted Ruler for 2023, presents Abbey Schickendanz, right, with a certificate to honor the Sandpoint Christian School student for winning third place in her age division in the Elks national essay contest.
Previous
Next
by
CAROLINE LOBSINGER
Staff Writer
|
September 17, 2023 1:00 AM
SANDPOINT — To be honest, she wasn't sure what her American dream was.
Or what the concept meant.
But Abbey Schickendanz, an eighth-grader at Sandpoint Christian School, knew she wanted to write an essay for the Sandpoint Elks Lodge's annual contest. That decision would later lead to national recognition for the Sandpoint youth's essay.
"To be honest, I had no clue what the American dream was," Schickendanz wrote in her essay. "So I asked some friends and did some research."
She learned the definition of the American dream was the belief that "anyone, regardless of where they were born or what class they were born into, can attain their own version of success in a society in which upward mobility is possible."
After finding the definition, Schickendanz wrote that she thought long and hard about what that meant to her.
"I came to the conclusion that I want to own my own successful business," she wrote. "My business would be one of great value to me, an herb, spice, and natural healing place, a place where people could come to get advice about which herbs and/or spices can be used for aches, pains, cuts, and bruises."
In order to start the business, she wrote that she would have to work hard but noted that she had already taken steps to achieve that dream.
"In fact, I've already started. I am saving up to afford my own business and the employees I plan to hire," Schickendanz wrote. "I do chores around the house, and I have bake sales and lemonade sales to raise money."
Since she is starting early, half the money she raises is donated to an animal shelter. She works to increase both her already vast knowledge of herbs and spices as well as her collection of herbs.
"All of this will lead to me being able to achieve my American dream," she wrote.
Schickendanz recently achieved a small portion of her dreams when she learned her essay had won national honors in the Elks' annual essay competition. In addition to a certificate noting her achievement, Schickedanz received a $250 monetary prize.
The eighth-grader was celebrated by the Elks Lodge on Tuesday, where she received her certificate and was presented with her prize.
Bob Huyck, Elks Exalted Ruler for 2023, said he learned that Schickendanz's essay had won third-place honors while attending the Elks Grand Lodge Convention in Minneapolis this summer.
"Can you imagine my amazement, seeing in 2-foot-tall letters, on six 40-foot screens in front of over 5,000 assembled Elks, 'third place, eighth grade, Abbey Schickendanz, Sandpoint Christian School, Sandpoint, Idaho?" Huyck said. "And 5,000 people went where?"
However, having read the youth's essay, Huyck said he wasn't surprised. He was impressed by her attention to detail, how much research she put into it, and the care she took in crafting her thoughts.
"What I really liked about Abbey's essay … is the way she started," Huyck said. "She said I didn't know what that was, so I had to find out in order to write about it. What a great response, and probably one of the reasons she was so successful in this contest."
This year's theme asked students to write about their American dream, Huyck said. Hundreds of students from more than 41 state associations submitted essays for the annual competition. Awards were handed out for the first, second, and third in each of the age divisions, from fifth through eighth grade. This year, first-place winners received $1,000, second-place winners received $500, and third-place winners received $250.
Before winning third place in her age group in the national competition, Schickendanz placed first in the local competition, the district competition, and the state competition.
The Elks have been around since the late 1860s when the fraternal order was founded as a social club in New York City. Membership grew rapidly as social activities and benefit performances increased its popularity, according to the group's website.
"[Our] mission today is to promote the practice of the four cardinal virtues of charity, justice, brotherly love, and fidelity, to promote the welfare and enhance the happiness of our members, to quicken the spirit of American patriotism, and cultivate good fellowship," Huyck said.
On a more practical level, that means helping and supporting veterans, senior citizens, and youth. Programs include drug prevention and awareness, dictionary and literacy programs, and numerous scholarships. The Elks also host an essay contest, inviting fifth- through eighth-graders to write an essay about a topic that explores some aspect of patriotism.
"The purpose of the essay program started years ago, and it was to 'challenge young, inquisitive minds to explore American values,'" Huyck said. "It's all about American values, patriotism, and freedom."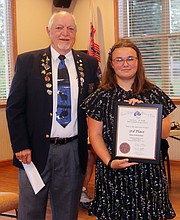 Recent Headlines
---