Apples star in new roles every day
by
VALLE NOVAK / Contributing Writer
|
September 17, 2023 1:00 AM
The ubiquitous apple takes center stage again this week in recipes that showcase its versatility.
Always a treat raw — eaten in hand or sliced onto peanut butter sandwiches — as well as in the classic apple, raisin and walnut salad — it shines too in myriad cooked recipes.
On a recent visit with apple vendor Charlotte Olson, she mentioned winning a "Taste of Home" recipe contest a few years back with her very own apple huckleberry cake. Naturally, I begged her for the recipe, so here it is for the home-town folks from a home-town gal.
Thanks, Charlotte.
Apple Huckleberry Cake
(by Charlotte Olson)
1/2 cup butter
1/2 cup EACH brown sugar and white sugar
2 eggs
1 teaspoon vanilla
2 teaspoons baking powder
1 teaspoon soda
1 teaspoon cinnamon
1/2 teaspoon nutmeg
3/4 cup applesauce
1/2 cup peeled, cored, chopped apples
1 cup huckleberries (dusted with flour)
1 3/4 cup flour
Cream butter and sugars, add eggs and vanilla, mix well.
Mix together dry ingredients. Add applesauce and apples to creamed mixture, stir in flour mixture.
Beat 1-2 minutes until well blended. Stir in huckleberries. Pour into prepared (greased and floured) cake pan. Bake about 45-50 minutes at 350 degrees.
Mama always served cheddar cheese with her incomparable apple pies, unfailingly quoting the old saying "apple pie without the cheese is like a kiss without the squeeze." Here's a neat recipe that combines the two in a dessert crassly named "apple pizza." It's really much better than that.
Apple 'Pizza'
1 frozen puff pastry sheet (from a 17 1/4-oz. pkg.) thawed
2 tablespoons fine dry bread crumbs
1 1/2 tablespoons unsalted butter
1 1/2 pounds (3 medium) Golden Delicious apples, peeled, cored, halved and thinly sliced
1/4 cup sugar
1/8 teaspoon salt
1 cup grated sharp or extra-sharp cheddar (white cheddar is best)
Put oven rack in middle position of oven and preheat to 400 degrees.
Roll out pastry sheet into a 15x12-inch rectangle on a lightly floured surface with a floured rolling pin. Transfer to a baking sheet lined with parchment paper, then prick pastry all over with fork. Sprinkle bread crumbs over pastry (this absorbs juices and keeps the puff pastry crispy).
Heat butter in a small saucepan over medium heat, swirling pan, until golden brown, about 1 minute — don't burn. Pour butter over apples in a bowl, then add sugar and salt and toss to coat. Spread apples evenly over pastry, leaving a 1-inch border on all sides. Fold edges in over apples, pressing in and down firmly on corners and sides.
Bake until apples are tender, 35-40 minutes; sprinkle cheese over apples and continue to bake until cheese is golden and bubbling — 5-9 minutes more. Serve warm. You may sprinkle a dash of nutmeg on servings if desired.
NOTE: This is definitely not a sweet dessert to be served with ice- or whipped cream. The apple-cheese combination makes it a great finale to a rich meal like a curry or perhaps roast duck or pork with gravy. Speaking of roast duck et al, don't forget to cut an apple up into your dressing/stuffing at turkey-time.
Our final recipe is a quickie breakfast stir-up the whole family will love — a healthy choice from "Fat-Blocker Foods."
Apple-Cinnamon Muffins
3/4 cup unbleached flour
3/4 cup whole wheat flour
1 1/2 teaspoons cinnamon
1 teaspoon baking powder
1/2 teaspoon baking soda
1 cup buttermilk
1/2 cup oat bran
1/4 cup firm packed brown sugar
2 tablespoons canola or grapeseed oil
1 egg
1 1/2 cups shredded peeled apples
Preheat oven to 400 degrees. Coat 12 muffin cups with oil or nonstick spray; set aside.
In medium bowl, combine the flours, cinnamon, baking powder and baking soda. In a large bowl, beat buttermilk, bran, brown sugar, oil and egg.
Add flour mixture and stir until just combined. Fold in the apples.
Spoon batter into muffin cups. Bake 18-20 minutes until done, let cool 5 minutes; remove from pan and cool on a wire rack. Makes 12.
A last word about apples in salads. To prevent them from darkening after chopping or slicing, toss the pieces in a shallow dish of lemon juice. Leave for a few minutes, then drain and toss into your salad — be it coleslaw with walnut; orange, apple and celery; the classic (mentioned previously) apple, raisin and walnut, often with shredded carrot — they're all delicious.
A tangy chutney proves a wonderful condiment for rich meats or turkey, or served as shown on cream cheese for a party dip par excellence.
Apple-Cranberry Chutney
2 tart apples, peeled, cored, coarsely chopped
6 cups fresh cranberries (1 1/2 pounds)
1 1/2 cups apple cider vinegar
1/2 cup cranberry juice cocktail
1 cup granulated sugar
1 cup firm packed brown sugar
1 cup golden raisins
1 orange with peel, seeded, coarsely chopped (I slice into rings, then cross-cut)
1 medium onion, chopped
1 tablespoon finely
chopped crystallized ginger
2 teaspoons salt
1 1/2 teaspoons ground cinnamon
1/2 teaspoon ground cloves or allspice
1/2 teaspoon red pepper seeds/flakes
In a large saucepot, combine all ingredients. Bring to a boil, reduce heat and simmer 45 minutes to 1 hour or until thick. (Stir occasionally at the beginning of cooking and constantly at the end of cooking).
When thickened, immediately fill hot half-pint jars with mixture, leaving 1/2-inch headspace.
Carefully run a chopstick (or non-metallic instrument) down inside filled jars to remove trapped air bubbles.
Wipe jar tops and threads clean. Place hot lids on jars and screw bands on firmly. Process in boiling water canner 10 minutes.
Carefully remove hot jars with holder to a towel-covered board to cool.
Tip: I add about 1/3 to 1/2 cup chopped walnuts to this recipe for a nice crunch.
Serve as an accompaniment to curries, chicken, game or turkey. Makes about 8 half-pints.
Editor's note: For many years, Valle Novak has written gardening and cooking columns for the Daily Bee. "Weekend Gardener" and "Country Chef" became renowned for their humor, information, and common-sense advice on how to do everything from planting to cooking. She left behind many columns to delight her many fans. This is one such column, originally published on Oct. 19, 2008.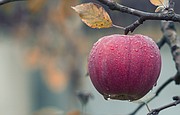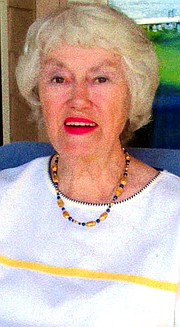 Recent Headlines
---