PREP FOOTBALL: Sandpoint's Max Frank scores four touchdowns in heartbreaking loss to Homedale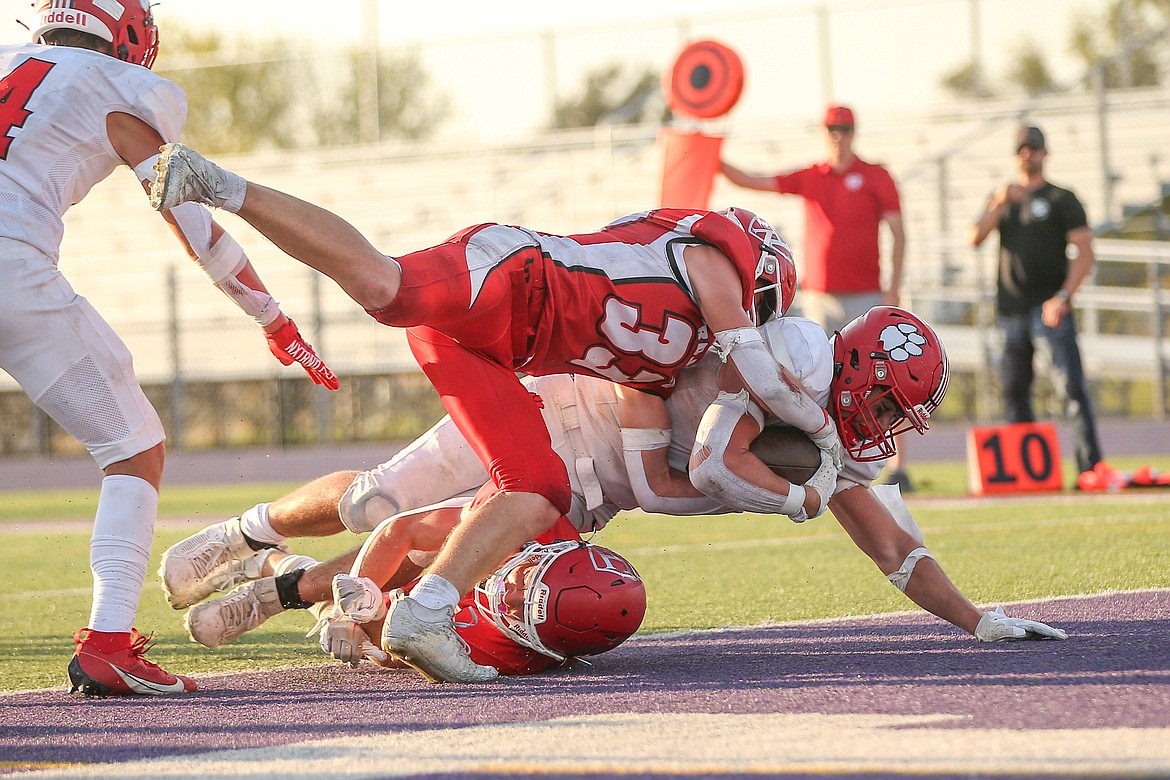 Sandpoint's Max Frank makes his way into the end zone for a touchdown in Saturday's 44-35 loss to Homedale. Frank had 105 yards and four touchdowns for the Bulldogs.
Photo by Jason Duchow Photography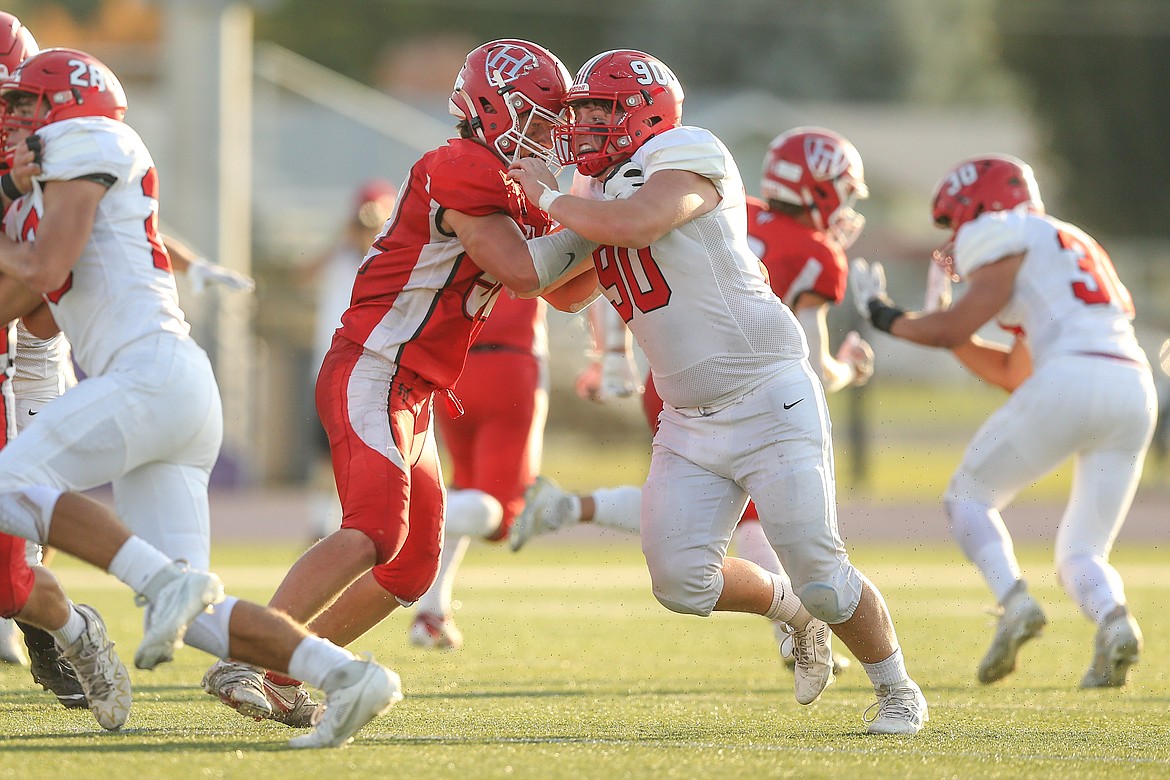 Sandpoint's Tyson Hodges battles hard on the defensive line Saturday. Hodges has recorded a sack or a tackle for loss in all four games this season for the Bulldogs.
Previous
Next
by
MAX OSWALD
Sports Reporter
|
September 17, 2023 1:00 AM
HERMISTON – Sandpoint's Max Frank had 105 total yards and four touchdowns in the Bulldogs' 44-35 loss Saturday to Homedale at Hermiston High School. The Bulldogs took the lead late in the contest, but came up short in the final minutes of play.
Homedale started off the game with the football and got to work right away on offense. The Trojans scored on their opening 78-yard drive, and then again a couple of minutes later to go ahead 14-0 just five minutes into the first quarter. However, the Bulldogs settled down and started making some plays of their own. Sandpoint capped off a 14-play, 79-yard drive with a two-yard rushing touchdown from Frank to make the score 14-7 heading into the second quarter.
In the second quarter, both teams scored touchdowns. Sandpoint's touchdown came from a four-yard run by Kody Brewster late in the quarter. Heading into halftime, the Bulldogs trailed 21-14.
Sandpoint came out of halftime strong. After letting up an opening drive touchdown to the Trojans, Sandpoint put together some nice drives in the third quarter, eventually tying the game 28-28. Frank had both of the Bulldogs' touchdowns in the third, a 4-yard rushing touchdown and a nine-yard receiving touchdown from quarterback Drew Lehman.
On the first drive of the fourth quarter, Homedale completed a 72-yard pass for a touchdown, but the extra point would be blocked by Sandpoint's special teams. The Bulldogs responded quickly, capping off a long drive with another 10-yard rushing touchdown by Frank. Sandpoint took the lead for the first time in the contest, 35-34 with just 9:35 remaining.
However, in the remaining minutes of the contest, Homedale took back the lead with a 36-yard field goal. On the ensuing kickoff, the Bulldogs fumbled the ball, which ultimately led to another Trojan touchdown after a short 15-yard drive. Homedale held off the Bulldogs offense in the final minutes of the contest, resulting in a 44-35 victory for the Trojans.
In addition to a huge performance by Max Frank, Kody Brewster led the Bulldogs with 17 carries for 115 yards and a touchdown. Jesse Turner had a team-high five receptions for 43 yards, most of those yards coming after the catch. Quarterback Drew Lehman went 12/23 for 125 yards, throwing one touchdown and an interception.
On defense, Wylie Wimmer, Van Lee, Kostas Bauck, Jorden Tyler, and Tyson Hodges all made tackles for losses. The Bulldogs were not able to generate any turnovers this week.
Homedale had 444 total yards of offense; Sandpoint had 420.
"We knew it was going to be a tall task defensively going into the game today," head coach Ryan Knowles said. "We had some great momentum and rhythm with our offense, but fell apart late. Drew (Lehman) is doing good running our offense. We're happy to be back at home next week against Lewiston, a tough 5A squad, and get back on track."
Sandpoint (1-3) will face Lewiston (2-2) at home Friday night.
Sandpoint 7 7 14 7 – 35
Homedale 14 7 7 16 – 44
First quarter
HOM – Unknown 25 pass, 9:54
HOM – Unknown 7 run, 7:52
SPT – Max Frank 2 run, 0:23
Second quarter
HOM – Unknown 19 pass, 7:33
SPT – Kody Brewster 4 run, 2:13
Third quarter
HOM – Unknown 72 run, 9:07
SPT – Frank 9 pass from Drew Lehman, 5:22
SPT – Frank 4 run, 0:27
Fourth quarter
HOM – Unknown 72 pass (Missed XP), 11:47
SPT – Frank 10 run, 9:35
HOM – Unknown 36 FG, 6:15
HOM – Unknown 2 run, 2:33
INDIVIDUAL STATISTICS
RUSHING – SPT, Brewster 17-115, Frank 12-70, Lehman 8-74, Sherrill 3-18, Gomez 1-3; HOM, N/A.
PASSING – SPT, Lehman 12-23-1-125; HOM, N/A.
RECEIVING – SPT, Frank 3-25, Brewster 1-12, Williams 1-29, Turner 5-43, Hindberg 2-16; HOM, N/A.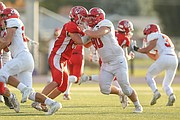 Recent Headlines
---