PREP SOCCER: Sandpoint defeated by Coeur d'Alene after late rally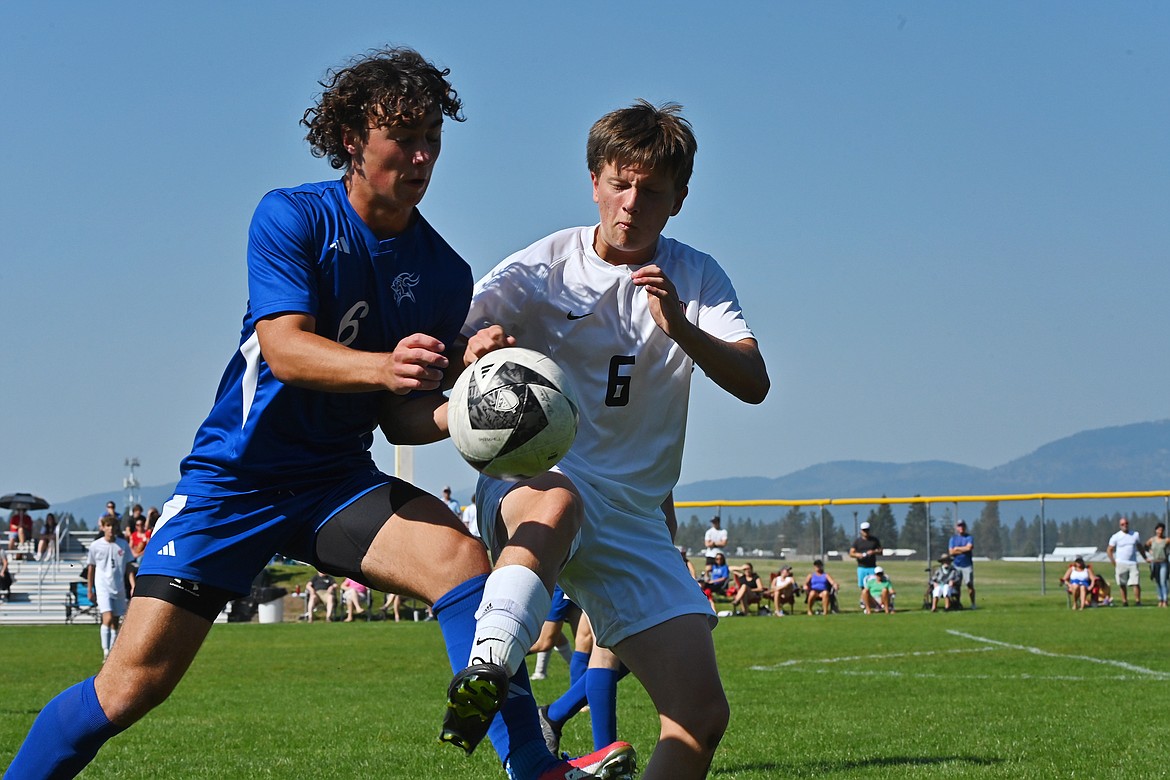 Sandpoint's Isaac Schmit (6) battles for possession against Coeur d'Alene's Kason Pintler (6) near midfield Saturday.
Photo by Cynthia Schmit
by
MAX OSWALD
Sports Reporter
|
September 17, 2023 1:00 AM
COEUR d'ALENE — Ronan Sternberg scored the go-ahead goal on an assist from Keaton Gust in the 75th minute to lift the Coeur d'Alene Vikings past the Sandpoint Bulldogs 2-1 in a nonleague match at the Coeur d'Alene High soccer field on Saturday.
After a scoreless first half, Sandpoint's Jett Longanecker opened the scoring on a free kick in the 57th minute. Coeur d'Alene tied the match on a goal by Garrett Scheuermann in the 73rd.
"Today was a net positive," Sandpoint assistant coach Dan Anderson said. "I thought the boys came out and played really hard — they played their hearts out. We had two tough calls, some tough chances; there are lessons to be learned and we'll keep our heads high."
Coeur d'Alene (7-1-0) hosts Lake City on Tuesday at Viking Field.
Sandpoint (4-3-0) hosts Moscow on Thursday.
First half — none. Second half — 1, Spt, Jett Longanecker (unassisted), 57:00. 2, Cd'A, Garrett Scheuermann (Maddox Le), 73:00. 3, Cd'A, Ronan Sternberg (Keaton Gust), 75:00.
Shots on goal — Spt 5, Cd'A 8.
Saves — Spt, Kai Longanecker, 7; Cd'A, Nolan Ludwig, 3; Grant Johnson, 1.
Recent Headlines
---