Reception to celebrate USS Idaho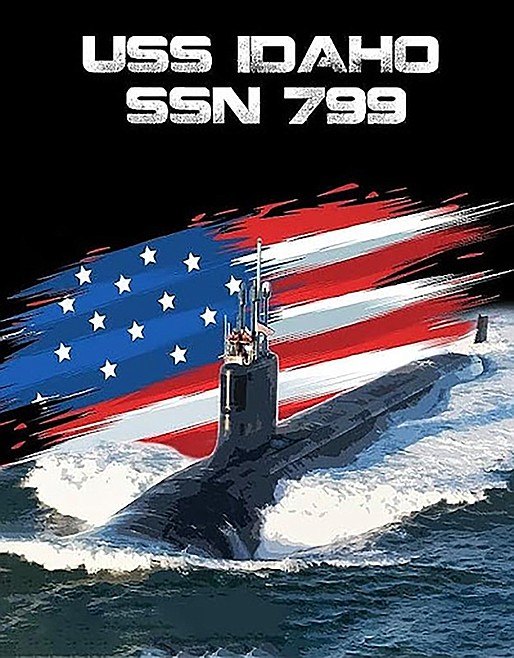 |
September 17, 2023 1:00 AM
A reception is being held to celebrate the USS Idaho on Monday, Sept. 18.
Attending will be Commander Randall Leslie, commanding officer of the USS Idaho SSN 799 and five crew members. The reception will be held from 6:30-8 p.m. at Sandpoint Community Hall, 204 S. First Ave.
The event is hosted by the Rotary Club of Idaho and the USS Idaho Commissioning Foundation.
A Virginia-class, nuclear-powered, fast-attack submarine, the USS Idaho is a 377-foot-long submarine, capable of diving more than 800 feet and traveling at speeds over 25 knots. The naval vessel is under construction at the General Dynamics Electric Boat shipyard in Groton, Conn.
It's the first time in nearly 100 years, Idaho will have a naval vessel named after it, according to Henry Netzer, North Region Chair of the USS Idaho Commissioning Committee.
There are three major milestone events in the life of a naval vessel: Keel laying, christening (breaking the bottle and touching water for the first time), and commissioning (placed in service).
The USS IDAHO's keel was laid in August 2020 with the boat's sponsor, Ms. Terry Stackley, welding her initials in the hull steel. The christening ceremony is the first time she'll touch water.
A bottle of champagne is usually broken for this event. However, for the USS Idaho, Ms. Stackley will christen her with waters from the state of Idaho (Lake Pend Oreille, Redfish Lake and Henry's Fork). Christening is planned for late 2023 or early 2024. The commissioning will follow approximately a year later.
The vessel's pre-commissioning crew is being assigned now, Netzer said. Fully manned, the USS Idaho will have 15 officers and 117 enlisted sailors with a mixed-gender crew. The crew is trained in the operation of the sophisticated sensors, the advanced reactor plant and the deployment of weapons. They will participate in sea exercises to gain proficiency in diving, surfacing, sensor employment, maneuvering, and response to casualties.
The USS IDAHO Commissioning Foundation is a nonprofit organization headed by former Idaho governor, U.S. senator and Secretary of the Interior, the Honorable Dirk Kempthorne.
To learn more and become involved, please visit SSN799.org to sign up for the Foundation newsletter and see ways to support this once-in-a-lifetime opportunity.
Recent Headlines
---