College Notebook: Area athletes contributing on campus this fall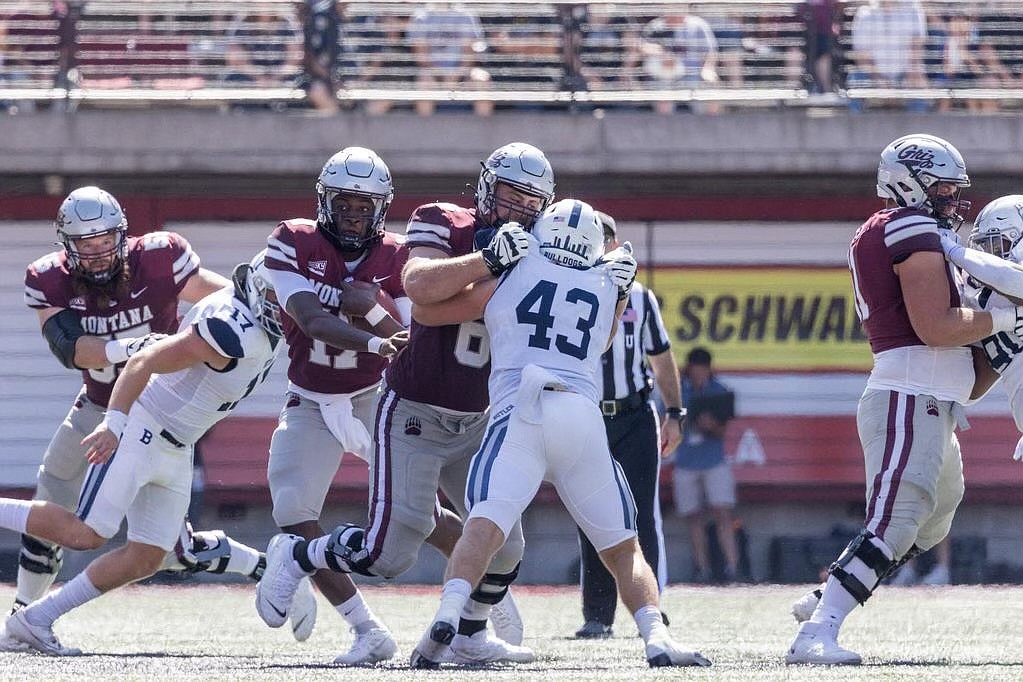 Brandon Casey (66) drives back Butler linebacker Mike Wymer (43) creating a hole for University of Montana quarterback Clifton McDowell in the Grizzlies 35-20 win over the Bulldogs earlier this season.
(Courtesy Photo)
by
MAX OSWALD
Sports Reporter
|
September 19, 2023 1:00 AM
Eli Larson, Carroll College football
Sandpoint's Eli Larson has been seeing plenty of time on defense for the Saints this season, who are the No. 10 ranked NAIA team in the nation. In the first game of the season against Montana Tech, Larson had five total tackles, four assisted and one solo.
Connor Alexander, Lewis-Clark State College cross country
Bonners Ferry's Connor Alexander started off his sophomore year strong, posting a new personal best 8K time of 26:51 at the Cougar Classic Invitational hosted by Washington State University. He finished 61st in a field made up of mostly Division I runners from Gonzaga, Washington State, Idaho and Eastern Oregon, the No. 9 ranked NAIA team in the country.
Camille Usher, Spokane CC cross country
Bonners Ferry's Camille Usher ran a new 4K personal best time of 16:02 at the Clash of the Inland Northwest hosted by Eastern Washington University earlier this fall. She finished 64th in a field that largely consisted of Division I runners. She was the fourth runner to cross the finish line for the Sasquatch.
Evan Dickinson, Walla Walla CC soccer
Sandpoint's Evan Dickinson, in his freshman year, has already scored three goals for the Warriors. He scored one goal each in games against Chemeketa, Highline and Tacoma this season. It is expected he will continue to see major minutes in what appears to be a promising freshman campaign.
Kate McGregor, Walla Walla CC soccer
Sandpoint's Kate McGregor may not have scored a goal yet this season, but she has played an active part in the Warriors offense during her sophomore year. She has seven shots so far, four of them being on goal. McGregor scored three goals for Walla Walla during her freshman campaign.
Brandon Casey, University of Montana football
Sandpoint's Brandon Casey made his 18th career start at right tackle for the Grizzlies this past Saturday against Ferris State. Casey said the season is off to a great start, that Montana is looking better every week, and that the Grizzlies best football is yet to be played. Casey started every game last year for Montana as a sophomore; he is undoubtedly one of the most talented right tackle's in Division I FCS football at the moment.
Payton Betz, Pacific University (Oregon) cross country
Sandpoint's Payton Betz ran in her first collegiate cross country race recently. Betz posted a 4K time of 16:06 and finished 57th out of 112 runners at the Linfield Harrier Classic hosted by Linfield University. A majority of her competition was Division I runners from Oregon State, Oregon, Portland and Portland State. She was the sixth Pacific University runner to cross the finish line.
If you know of any former Sandpoint, Clark Fork, Priest River or Bonners Ferry athletes who are competing in collegiate athletics and want to make sure they are recognized this season, please email moswald@bonnercountydailybee.com. A new bi-weekly/monthly column will run highlighting local athletes' success on campus.
Recent Headlines
---