ITA named 'Defender Service Awards' finalist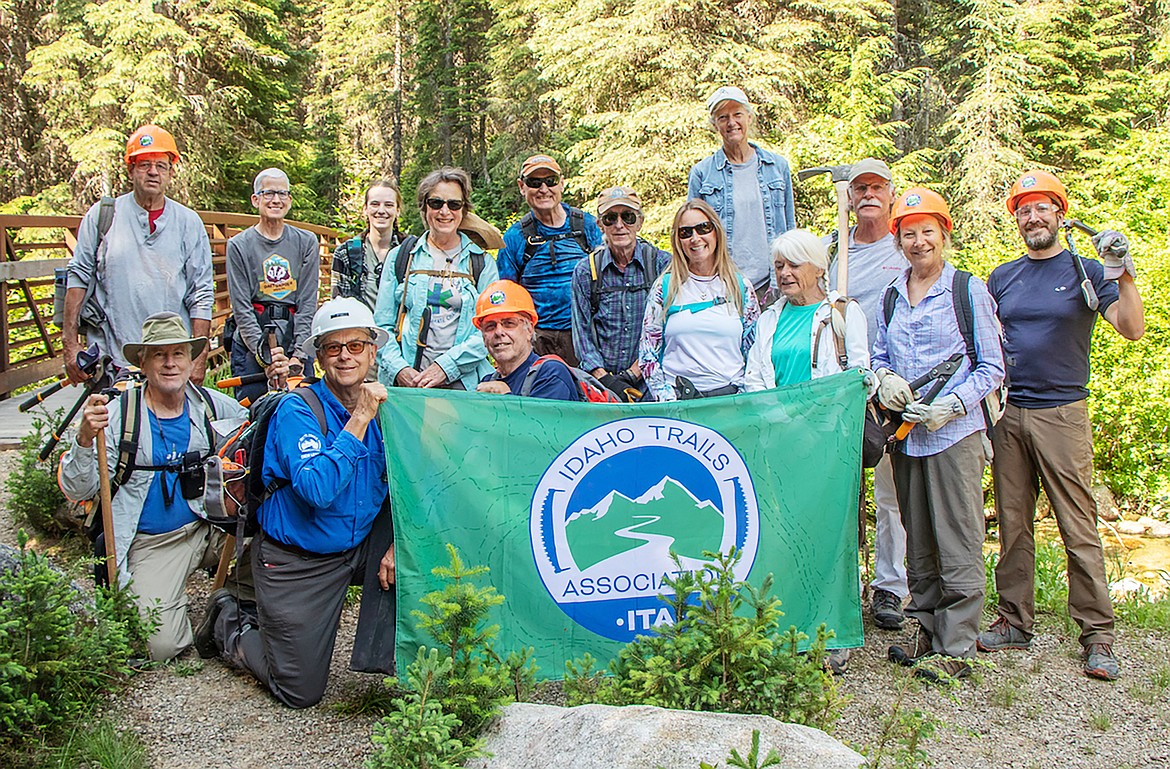 Members of the Idaho Trails Association pose for a photo after a recent event. The association was recently named a finalist in the Outdoor Accessibility and Education Award in the third annual "Defender Service Awards" presented by CHASE.
(Photo courtesy IDAHO TRAILS ASSOCIATION)
|
September 19, 2023 1:00 AM
Defender has always embraced the impossible, opening new horizons for humanitarian work on every continent. Now, the Idaho Trails Association was named a finalist in the Outdoor Accessibility and Education Award in the third annual "Defender Service Awards" presented by CHASE.
The association has an active membership in Bonner and Boundary counties, regularly hosting trail building and other activities.
The finalists across five categories are:
Animal, Wildlife and Marine Mammal Welfare Award (presented by Animal Planet): Appalachian Wildlife Refuge (Candler, N.C.); Lowcountry Marine Mammal Network (North Charleston, S.C.); Manitoba Underdogs Rescue (Winnipeg, Manitoba, Canada); Midwest Animal ResQ (Raytown, Mo.); and Sea Turtle Inc. (South Padre Island, Texas).
Veterans and Civil Servant Outreach Award (presented by Hearts & Science: Big Red Barn Retreat (Blythewood, S.C.); Calgary Veterans Services Society (Calgary, Alberta, Canada); Heroes Homestead (Clayton, Wash.); Honour House Society (New Westminster, British Columbia, Canada); and Warriors Choice Foundation (Jupiter, Fla.)
Community Service Award (presented by ei3): Connecting Kids to Meals (Toledo, Ohio); Chattahoochee Riverkeeper (Symrna, Ga.); Enjoy Detroit (Detroit, Mich.); Kairos Adventures Inc. (Orlando, Fla.); and LiveOnNY (New York, N.Y.)
Search, Rescue and Emergency Services Award (presented by Pelican): Allegheny Mountain Rescue Group (Pittsburgh, Pa.); Resources in Search & Rescue, Inc. (Connecticut); Squamish Search & Rescue Society (Squamish, British Columbia, Canada); Taos Search & Rescue (Taos, N.M.); and Texsar (Wimberley, Texas).
Outdoor Accessibility and Education Award (presented by Outside Interactive Inc.): Camp Rainbow Gold (Boise); Idaho Trails Association (Boise); The Bethlehem Center (Chattanooga, Tenn.); Vermont Adaptive Ski & Sports (Killington, Vt.); and Youth Sports Alliance (Park City, Utah).
The awards embrace the Defender's inner spirit of heroism and recognize those who embody it. The 25 U.S. non-profits and Canadian registered charities are recognized for making a positive impact in their local communities and embodying the ethos of Defender as a beacon of liberty.
The six winning organizations will each receive a customized Defender 130 and be awarded $25,000 by their category sponsor, empowering them to further their respective missions. Corporate partners provide additional support for the respective organizations across the different categories.
CHASE, as the presenting sponsor, is donating $5,000 to each of the five finalists per category, for a total of $150,000. As a premier sponsor, Warner Bros. Discovery will contribute $75,000, awarding $2,500 to each of the category finalists. Category sponsors, including Outside Interactive Inc., ei3, Pelican, Hearts & Sciences, and Animal Planet, and will donate $25,000 to the ultimate winners.
"Through their compassionate acts of service and integrity, it is with great honor that we recognize these organizations that embody the heroism of Defender," said Charlotte Blank, U.S. chief marketing officer for Jaguar Land Rover North America. "The Defender ethos is centered around achieving the impossible with a focus on giving back, and these organizations are nothing short of that. We are proud to celebrate their extraordinary achievements and dedication to their missions."
Public voting began Friday and continues through Wednesday, Oct. 4. The vote will determine the winners of the six categories of the 2023 Defender Service Awards. To view the finalist videos and vote, please visit Defender Service Awards online at tinyurl.com/3mdacvst.
A sixth category has been added to the 2023 Defender Service Awards, celebrating 2021 and 2022 Defender Service Awards honorees. Over 20 previous award finalists resubmitted their entries for this category, with all going direct for public vote.
The winning organization from each category will be announced at a weekend celebration in Nov. 10-12.
ITA's mission is to keep Idaho's hiking trails open for all. The group works with volunteers to preserve Idaho's trail system through education, maintenance projects, and public lands advocacy. Federal and state funding for the care of Idaho's trails is far short of what is needed to keep most of them open and usable.
ITA was founded in 2010 to help address this problem by creating a community of outdoor enthusiasts who recruit and teach volunteers how to do trail work to maintain access to Idaho's incredible public lands. Caretaking of trails fosters a deeper love for nature and a desire to preserve wild places for generations to come. This work benefits volunteers who participate in projects, trail users who experience well-maintained trails, and fragile ecosystems that will see a reduced human impact from users going off trail.
"We were just floored — and so flattered — to hear we were selected as finalists in the Land Rover Defender Service Awards and are honored to be in the running with four other outstanding organizations," Melanie Vining, Idaho Trails Association executive director, said.
Winning a Land Rover Defender is a chance for ITA to remove a major barrier many face when it comes to volunteering on trails: transportation to the trailhead.
"We are grateful to Land Rover for providing this opportunity and to our fellow finalists for all they do to help get more people outside across the country," Vining said.
Information: tinyurl.com/3mdacvst
Recent Headlines
---