Schools celebrate Constitution Day
SANDPOINT — Since its creation in 2005, Constitution Day has been celebrated Sunday — the anniversary of its signing.
The Lake Pend Oreille School District uses this opportunity to teach unique lessons and conduct patriotic activities to help students capture the importance of "the highest law in the land."
On Monday, schools across the district participated in various activities. Because Constitution Day fell on a Sunday this year, the school district celebrated the day afterward. Students at Hope Elementary began their day with a flag raising and sang "We the People" in music class. Sixth graders at Northside Elementary performed a "readers theater," recounting the events of the Constitution. Sandpoint Middle School students played "preamble scramble," where players organized the introductory words of the Constitution. Other activities included games about checks and balances, craft projects, singing the national anthem and the creation of class constitutions.
At Kootenai Elementary, Callie Welch's class, as did other classrooms, wrote their own constitutions with feathers and ink after watching an informative video. Each student was offered the opportunity to document their personal values at their current stage of life on a paper designed to look like the U.S. Constitution. Values ranged from "taking care of pets" to "protecting family" and "doing well in school." Students were encouraged to talk about their values with their table as they dipped and re-dipped their feathers in black paint to continue creating their own personal document. Once they were done, students were instructed to sign their own "John Hancock" at the bottom.
The remembrance has become an annual celebration for the district with similar activities enjoyed by students last year. Students played games where they were assigned their own branch of government, teachers dressed in patriotic colors, and class was offered lessons that reflected their grade's abilities.
Casey McLaughlin, LPOSD director of secondary education, said observations like the ones experienced Monday are an important part of preparing youth for the future.
"Constitution Day in schools is a reminder that our collective strength as a nation is rooted in understanding, upholding, and cherishing the rights, principles, and ideals set forth by our Founding Fathers," McLaughlin said.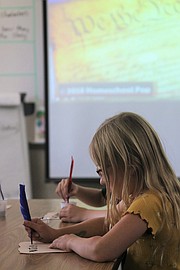 Recent Headlines
---