Arts and outdoor school opens downtown
SANDPOINT — Nova High School, a new school inspired by Waldorf education concepts, celebrated its first day Monday.
Nova, meaning "new star," was chosen to reflect the founders' vision of offering a new form of education to the community's youth.
Ideas were born among a trio of individuals to create a new approach to learning that highlights community, experiential learning and connecting with nature.
Curriculum subjects were selected by organizers to provide an education targeted at equipping students through immersive learning, art, theater, music, and literature. Material is presented to each student differently based on their stage of life, Michele Burkey, co-founder, said.
"For example the ninth grader is connected to the physical world," Burkey said. "So we study 'Moby Dick' in the spring and focus on the physical description of the boating and the whaling, that really meets their need — versus the eleventh grader who is looking into the world of relationships, so they might focus on the relationships between the captain and crew."
Burkey teaches many of the main classes, with other Waldorf teachers hired to lead classes on choir, math and other block subjects.
Jessica Prentice, co-founder, is heading up the culinary and nutrition program. This program is expected to grow into a full breakfast and lunch program where students will be participating in making their own lunches, Burkey said.
"Eventually we'll have land and they'll grow part of their food — all in good time," she said.
This year, 11 students started the school year with Nova, though enrollment is ongoing. The student body is made up of a mix of backgrounds, with a majority of students joining from homeschooling or previous Waldorf backgrounds. Doors opened for their first day in the former Belwood's building in Sandpoint, where students studied on desks they built themselves the week before.
This is just a starting place, Natalie Britton, co-founder, said. Founders have a flexible five-year plan for a future property. Here, Nova students could have the opportunity to build their own campus and buildings, and grow their own food.
While organizers don't plan to pursue full certification from Waldorf, their curriculum is heavily inspired by education models developed by Rudolf Steiner, founder of Waldorf education and anthroposophy, she said.
"We definitely hold a vision that's very living and we feel that there is something that Sandpoint and beyond needs right now," Britton said. "So we use the Waldorf curriculum as a base point to jump off from, but it's not something we're dedicated to pursuing a certification for."
Students sign a document saying they won't engage in substance use while a student at Nova High, Burkey said. They are not allowed to use cell phones during the school day. They also will be handwriting assignments until their junior year.
"There is so much research on handwriting and how good it is for your brain and your body," Burkey said. "It does mean that they write papers twice. They write a draft, it gets corrected, then they write it again in their main lesson book and that's their final draft."
Off-campus Fridays are one trait that set Nova apart from many traditional Waldorf schools. These days will offer opportunities for more immersive learning experiences that aren't as regimented. For example, this Friday, students will be visiting the Kaniksu Land Trust's Folk School to learn how to make spoons. Other Fridays will include activities like community service, skiing, a mentor in training program with Twin Eagles Wilderness School and geology activities.
Nova High School was created to meet unique education needs through a Waldorf style lens, Britton said.
"The most simple way to state the way it evolved from then until now is that it's a very nature-based education, it is all concentrated on the developmental needs of children through adolescence so it offers a very hands-on approach," Britton said. "We are an arts and outdoors school."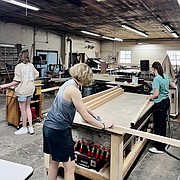 Recent Headlines
---