PREP SOCCER: Sandpoint boys dominate Moscow on senior night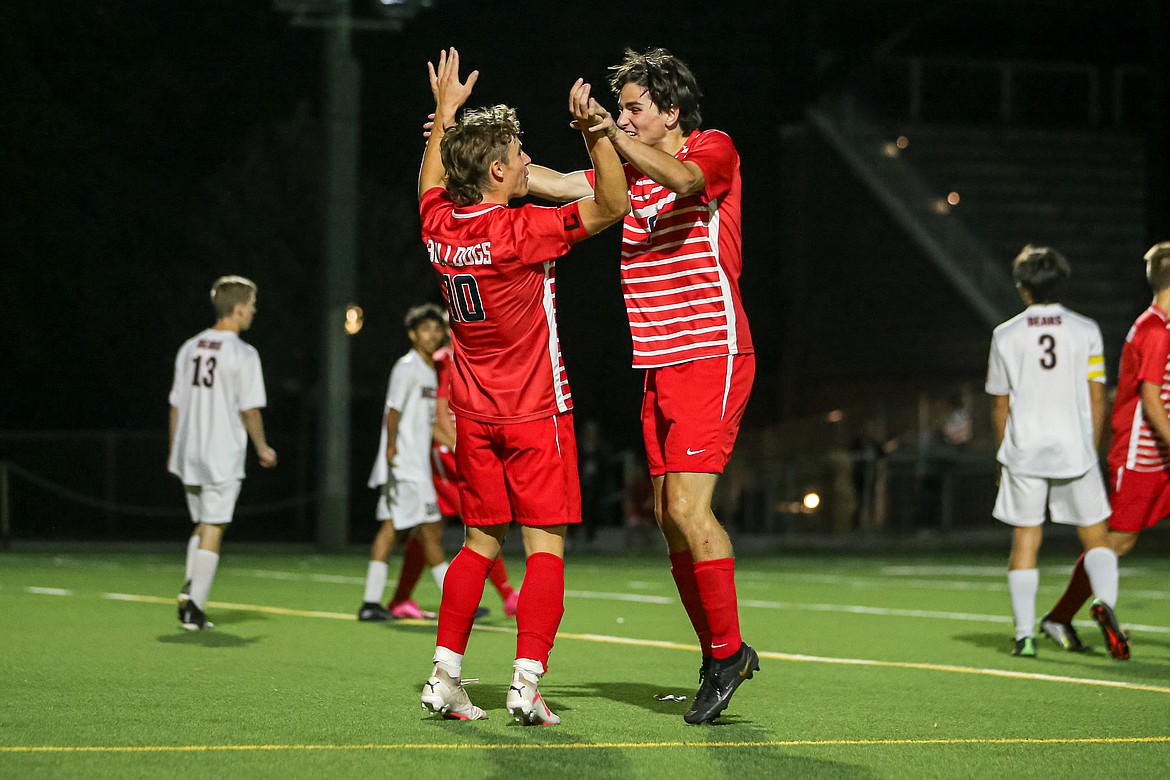 Senior Eoin Eddy (right) celebrates with Jett Longanecker (left) after scoring a goal in Thursday's 4-0 victory over Moscow.
Photo by Jason Duchow Photography
by
MAX OSWALD
Sports Reporter
|
September 22, 2023 1:00 AM
Boys Soccer
Sandpoint 4, Moscow 0
SANDPOINT — Sandpoint, led by two goals from Jett Longanecker, defeated Moscow 4-0 on senior night at War Memorial Field on Thursday.
During the 28th minute, Sandpoint's Luke Leavitt delivered a great ball into the box and Longanecker dove head first and scored just inside the left goal post to put the Bulldogs on the board. Sandpoint headed into halftime with a 1-0 lead.
In the second half, Longanecker was fouled inside the box and scored on a penalty kick during the 49th minute to extend the Bulldogs' lead. Later in the half, Leavitt scored on a header of his own off a great pass from Logan McGrann. Fittingly, on senior night, senior Eoin Eddy helped secure the 4-0 victory scoring on a pass from Longanecker during the 67th minute.
"Anytime we play Moscow it's a battle physically, but tonight we had to push ourselves mentally to overcome a team that plays with five in the back," head coach Tanner French said. "In that department, I thought Jett was our breakthrough player. He is the epitome of "big dog" and leads this team with a strong heart."
French said the boys enjoyed playing under the lights on senior night and he hoped that fans enjoyed watching the game too.
Sandpoint (5-3) will face off against Lewiston at home Saturday.
1st half – 1, SPT, J. Longanecker (Leavitt), 27'. 2nd half – 2, SPT, J. Longanecker (penalty kick), 49'. 3, SPT, Leavitt (McGrann), 57'. 4, SPT, Eddy (J. Longanecker), 67'.
SOG – Sandpoint 6, Moscow 1.
SV – Sandpoint, Kai Longanecker, 1. Moscow, Wyatt Thronycroft, 2.
- Monday, Sept. 18
Lakeland 8, Priest River 0
No further information was available.
Priest River (2-7) faces Immaculate Conception Academy at home Wednesday.
Girls Soccer
Sandpoint 2, Moscow 2
MOSCOW — It was quite the roller coaster of a game Thursday night as Sandpoint tied Moscow 2-2 at Moscow High School.
The Bears had few chances in the first half, but were able to go ahead 1-0 during the first few minutes. Sandpoint settled down and controlled the tempo, but the Bulldogs were not able to get on board before halftime.
10 minutes into the second half, the Bulldogs were razzled as Sandpoint's star goalkeeper Lilliana Brinkmeier got into a collision and was taken to the hospital. Freshman Izzy Stark would fill in for Brinkmeier, and although nervous, head coach Conor Baranski said she played bravely, made great decisions, and exceeded expectations.
Stark would let up just one goal off a corner kick with 15 minutes left to play. Now down 2-0, the Bulldogs knew they had to shift gears.
During the 73rd minute, Aliya Strock scored off a header after a great corner kick from Ava Glahe to put the Bulldogs on the board. During the 78th minute, Sandpoint scored again to tie the game 2-2. Strock created an opening on the left side of the field and sent a pass into the box which was eventually bobbled by the Moscow goalkeeper and scored on by Marlee McCrum. Neither team would score again, which resulted in each teams' first tie of the season.
"The girls wanted to play well for Lilliana and so the comeback felt good; the girls love her so much," head coach Conor Baranski said. "To add, Aliya (Strock) was on another level tonight. She was everywhere at the end of the game."
Sandpoint (6-2-1) will hit the road once again to face Lewiston on Saturday.
Recent Headlines
---