PREP FOOTBALL: Sandpoint takes down Lewiston in homecoming victory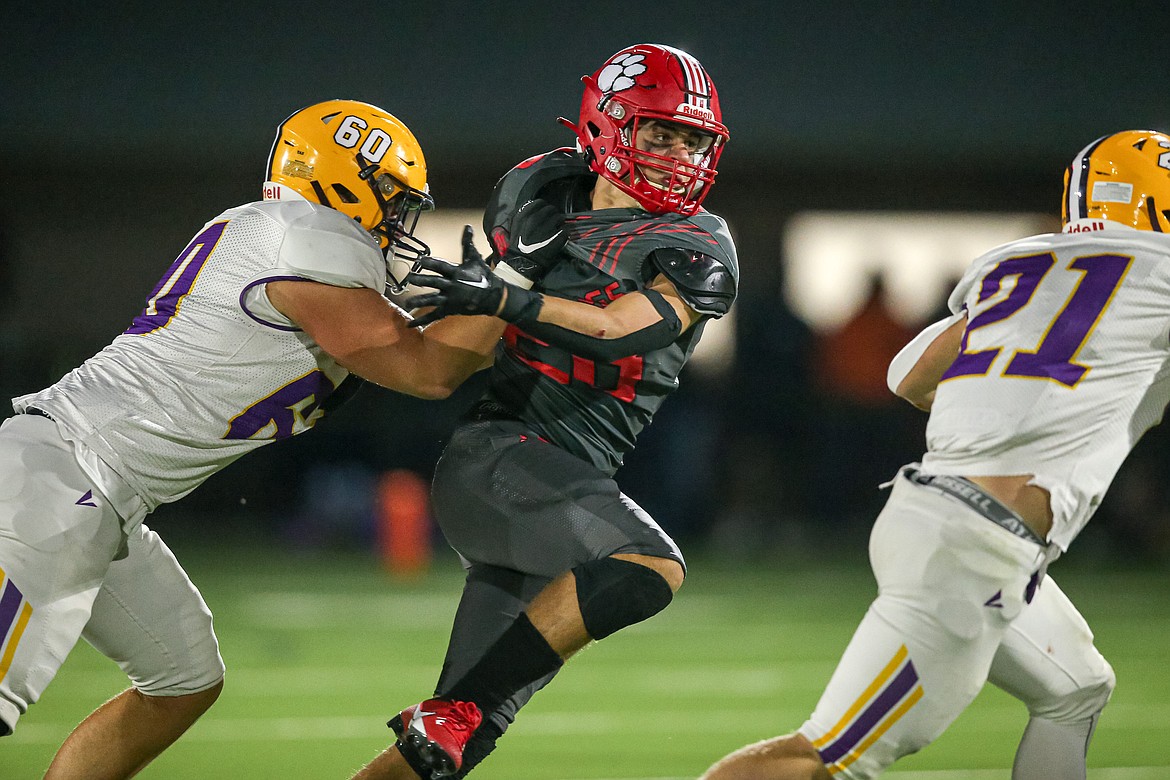 Sandpoint senior Ty Eacret rushes Lewiston quarterback Drew Hottinger in the Bulldogs' 41-22 victory over the Bengals at War Memorial Field Friday.
Photo by Jason Duchow Photography
by
MAX OSWALD
Sports Reporter
|
September 23, 2023 1:00 AM
SANDPOINT — Sandpoint not only beat Lewiston, but did so convincingly, as the Bulldogs cruised to a 41-22 victory in Friday's homecoming game at War Memorial Field.
After a shaky first drive, Sandpoint shook things off and got to work. The Bulldogs forced a fumble early on and drove down the field. Kody Brewster made his way into the end zone via a five-yard rushing touchdown to put the Bulldogs ahead 7-0. However, the second quarter is where Sandpoint really took off.
On their opening second quarter drive Sandpoint converted a 4th-and-5 to move the chains. Eventually, Brewster rushed into the end zone again to make the score 14-0. After forcing the Bengals to go three-and-out on the ensuing series, Shane Sherrill set Sandpoint up on the Lewiston 31-yard line after a 25-yard punt return. That drive was capped off by a five-yard rushing touchdown from Max Frank and Sandpoint would go ahead 21-0.
Immediately after, Sandpoint's Gage McElroy intercepted the ball on Lewiston's very next play and Sandpoint drove down the field once again. Drew Lehman completed a 17-yard pass to Brewster for a touchdown just minutes later. The Bulldogs took a commanding 27-0 lead into halftime.
Sandpoint showed no signs of slowing down in the second half as McElroy picked off another pass early in the third. On the very next play, Frank scored on a 10-yard rushing touchdown to extend the Bulldogs' lead to 34 points. Lewiston would score on a 3-yard rushing touchdown late in the quarter and convert a two-point conversion to make the score 34-8, but it was too little, too late.
In the fourth quarter, Lewiston put together some nice drives and scored a few times, but ultimately the Bulldogs came away with bragging rights. Sandpoint recovered a fumble which led to a 4-yard rushing touchdown by Sherrill midway through the quarter. The Bulldogs spent most of the fourth quarter running the ball and cruised to a 41-22 victory.
The standout stars of the game were Brewster who finished with 123 total yards and three touchdowns and Sandpoint's defense, which produced four turnovers in the form of two fumbles and two interceptions.
"After two overtime games against Lewiston these last couple of years, this was a big deal for us," head coach Ryan Knowles said. "I was really hoping we would get off to a fast start and we did. Our defense had plenty of turnovers; we ran the football successfully with multiple backs. I'm proud of the guys for getting the job done."
Sandpoint (2-3) will head to Lake City next Friday to take on the Timberwolves.
Sandpoint 7 20 7 7 – 41
Lewiston 0 0 8 14 – 22
First quarter
SPT – Kody Brewster 5 run, 5:44
Second quarter
SPT– Brewster 8 run, 9:34
SPT – Max Frank 5 run, 6:01
SPT – Brewster 17 pass from Drew Lehman (missed XP), 1:56.
Third quarter
SPT – Frank 10 run, 10:49.
LEW – Unknown 3 rush, 4:38
Fourth quarter
LEW – Unknown 12 pass, 11:49
SPT – Shane Sherill 4 run, 4:37
LEW – Unknown 7 pass, 0:03.
INDIVIDUAL STATISTICS
RUSHING – SPT, Brewster 16-106, Frank 11-82, Lehman 5-13, Sherrill 5-25, Gomez 1-5, Burnett 4-8, Hawkins 1 (-1); LEW, N/A.
PASSING – SPT, Lehman 7-10-1-71; LEW, N/A.
RECEIVING – SPT, Frank 3-32, Brewster 1-17, Williams 1-12, Turner 1-7, Hindberg 1-3; LEW, N/A.
Recent Headlines
---