PREP VOLLEYBALL: Sandpoint, Priest River defeated in closely contested matches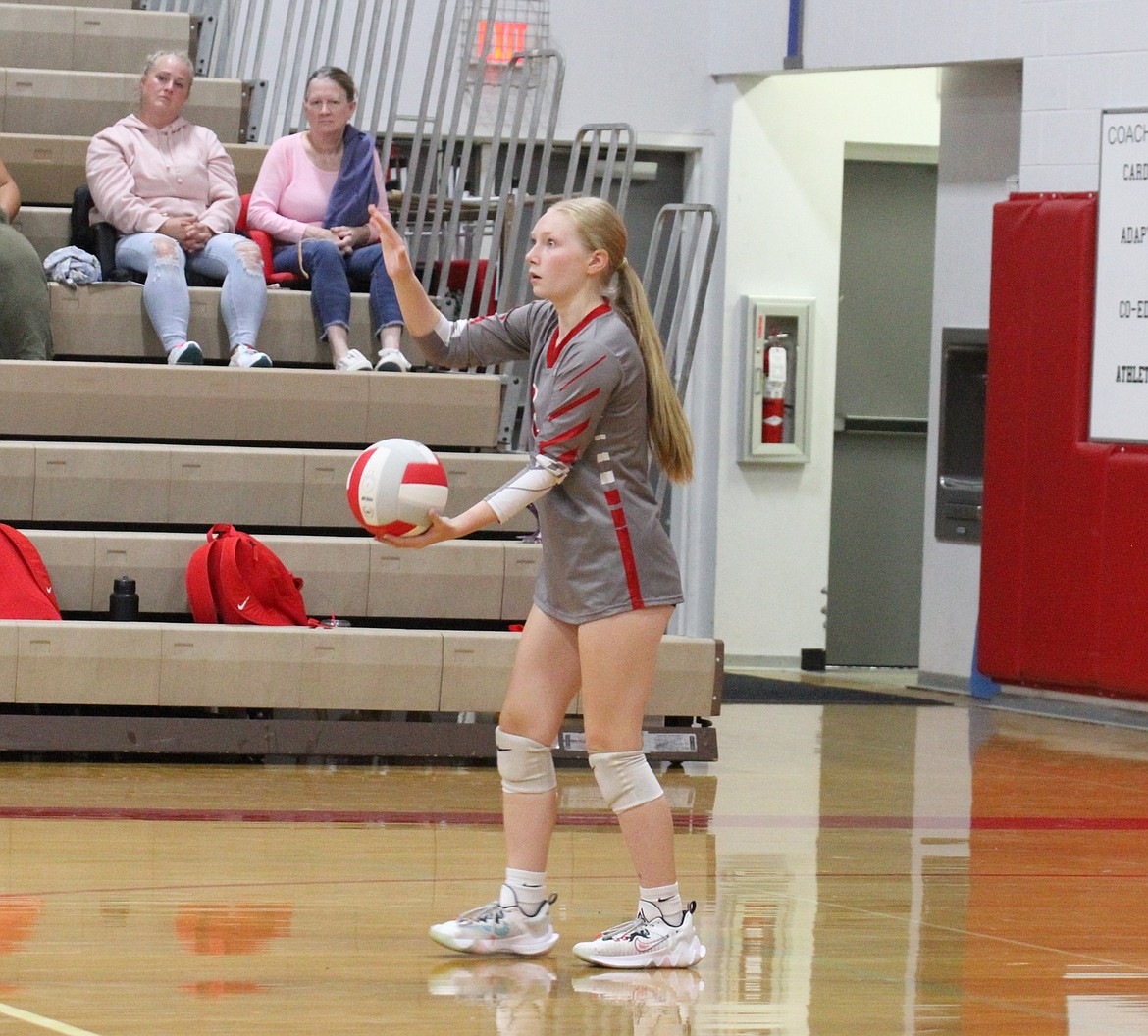 Sandpoint's Gretta Beck gets ready to serve in a game earlier this season at Les Rogers Court.
Photo by MAX OSWALD
by
MAX OSWALD
Sports Reporter
|
September 23, 2023 1:00 AM
- Thursday, Sept. 21
Lakeland 3, Sandpoint 1
RATHDRUM — Sandpoint fell to conference foe Lakeland, 3-1 (25-23, 15-25, 20-25, 11-25) in a 4A Inland Empire League match held at Hawk Court on Thursday.
"We started off strong in the first set and looked very controlled," head coach Piper Wahlin said. "Unfortunately, in the following three sets, we dug ourselves into a hole at the beginning that was hard to climb out of."
Sandpoint senior Vivian Platte led the team with 16 kills and 13 digs. Sophomore Hazel Pierce made a statement Thursday night as she added five kills and four blocks. Senior setter Haley Swaim racked up a team-high 16 digs.
"We learned a lot from the match tonight," Wahlin said. "We're looking forward to playing them again in a couple weeks."
Sandpoint (2-6, 0-4) will host Lewiston for senior night Thursday.
- Thursday, Sept. 21
Kellogg 3, Priest River 2
KELLOGG — The Spartans fell just short in a highly-contested five set match (13-25, 25-19, 23-25, 28-26, 7-15) against the Wildcats at Kellogg High School on Thursday night.
"We knew Kellogg's main hitters and we knew the holes on their court, and we took advantage of their weaknesses tonight," head coach Katlyn Ward said. "Our team needs confidence."
Desi Humphrey had an outstanding game Thursday, amassing 18 kills, 22 digs, and two aces.
"Desi Humphrey was an absolute stand out," Ward said. "Her communication and leadership is unmatched. She is a huge role model to our younger athletes. Desi's hard work is paying off for our team."
Offensively, Toni Marinello and Jayda Storro also had great games. Marinello had 30 digs and five aces, both team-highs. Storro had a team-high 26 assists at the setter position. Aleigha Jensen was the team leader in blocks once again with four.
Priest River (2-3) plays Grangeville today at home.
Recent Headlines
---