PREP SOCCER: Eddy, McClure, Wagner lift Sandpoint boys over Lewiston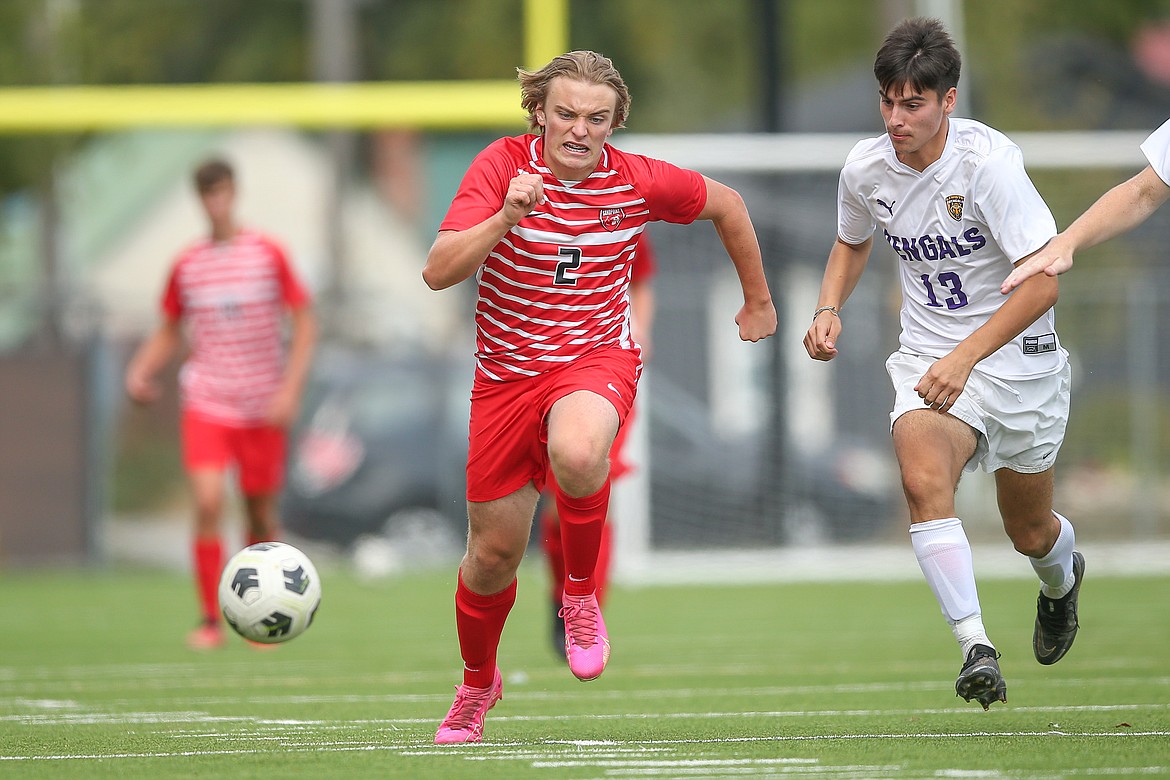 Sandpoint's Noah Wagner chases down the ball while fending off Lewiston's Michael Nattell in the Bulldogs' 9-0 victory Saturday.
Photo by Jason Duchow Photography
by
MAX OSWALD
Sports Reporter
|
September 24, 2023 1:00 AM
Boys Soccer
Sandpoint 9, Lewiston 0
SANDPOINT — The Bulldogs wasted no time Saturday afternoon, scoring six goals in the first 20 minutes en route to a 9-0 victory over Lewiston at War Memorial Field.
Eoin Eddy scored on a penalty kick four minutes into the contest to start things off. Eddy would score again during the 6th and 15th minute to complete a hat trick; both of those goals were assisted by great lead passes from Jett Longanecker.
Crosby Schmidt, Longanecker, and Connor McClure would also score in the first 20 minutes of the contest, which gave the Bulldogs a 6-0 lead heading into halftime.
In the second half, Henry Barnes was able to score off a great lead pass from Isaac Schmit to extend the Bulldogs' lead. Later in the half, senior Noah Wagner scored two goals, both assisted by McClure, in the 65th and 66th minute to help Sandpoint capture a commanding 9-0 victory.
"Our mission for this game was to come out strong, press, get some goals early, and then relax, and we did that," head coach Tanner French said. "To get some of the guys who don't get major minutes on the score sheet, that is just awesome. We're looking forward to Tuesday's matchup against Coeur d'Alene."
Sandpoint (5-3) will travel to CDA to take on the Vikings Tuesday.
1st half – 1, SPT, Eddy (penalty kick), 4'. 2, SPT, Eddy (J. Longanecker), 6'. 3, SPT, McClure (Eddy), 12'. 4, SPT, J. Longanecker (Gion), 13'. 5, SPT, Eddy (J. Longanecker), 15'. 6, SPT, Schmidt (McGrann), 19'. 2nd half – 7, SPT, Barnes (Schmit), 56'. 8, SPT, Wagner (McClure), 65'. 9, SPT, Wagner (McClure), 66'.
SOG: Sandpoint, 11. Lewiston, 2.
SV: Sandpoint, Kai Longanecker 2. Lewiston, Lincoln Acord 2.
Girls Soccer
Sandpoint 1, Lewiston 1
LEWISTON – Sandpoint would settle for its second tie of the season in a battle with the Bengals at Lewiston High School Saturday.
In the first half, Lewiston scored the first goal of the game on a shot from about 30 yards out. With Lilliana Brinkmeier still out at goalkeeper, the Bulldogs knew they had to put pressure on the Bengals to keep things close.
"The first half was slow, but we had a much stronger second half and scored right away to tie the game," assistant coach Madi Schoening said.
Around the 50th minute, Hope Barnes scored on a corner kick from Ava Glahe. Sandpoint would have lots of opportunities to score in the second half to take the lead, but could not convert any chances.
"We had so many more goal scoring opportunities, but just couldn't quite get a finish," Schoening said. "I am proud of their response in the second half. The girls did better finding feet and playing the ball into space for our forwards to run on to. We continued to work on the opening and closing of space, but had to adjust playing on a field that was wider and shorter."
Schoening said the defense also stepped in the second half as they focused more on marking and protecting the goal.
Sandpoint (6-3-2), after a six-game road trip, will play Coeur d'Alene at home Tuesday.
Recent Headlines
---