Prescribed burns in Montana felt in North Idaho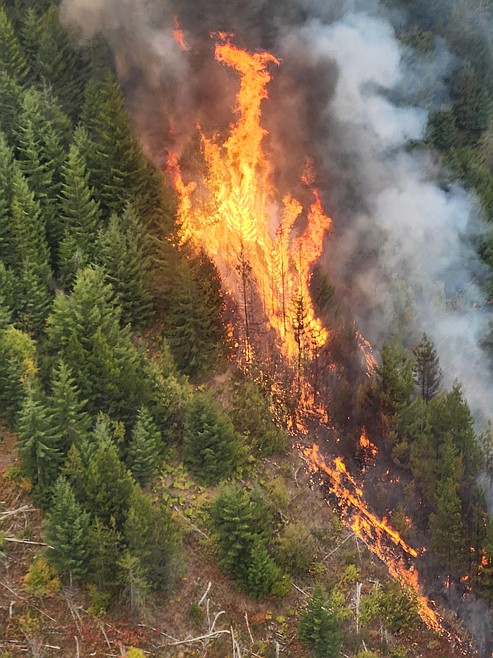 North Idaho has received ash and smoke from prescribed burns in Montana that were ignited Thursday. This aerial photo shows the Elk/Gem prescribed fire in the Cabinet Ranger District of the Kootenai National Forest. Burning objectives include improving the quality, quantity and distribution of forage for big game species; reducing the risk of uncharacteristic fire behavior in the event of wildfire; and reducing slash created in recent logging operations.
Photo by DUSTY PIERSON/Kootenai National Forest, Cabinet Ranger District
Smoke from the Elk/Gem prescribed fire in the Cabinet Ranger District of the Kootenai National Forest is seen from above Thursday.
Previous
Next
by
DEVIN WEEKS
Hagadone News Network
|
September 24, 2023 1:00 AM
The ash and wildfire smoke North Idaho experienced the past couple days is from prescribed burns in the Kootenai National Forest.
"As far as we can tell, what we were impacted by yesterday was all from Montana," Kary Maddox, public information officer with Idaho Panhandle National Forests, said Friday.
Kootenai National Forest officials took advantage of a burn window Thursday to ignite prescribed burns across more than 1,500 acres. The Elk Creek project in Montana is approximately 40 air miles from Hayden. Easterly winds pushed the smoke to North Idaho.
Burning objectives include improving the quality, quantity and distribution of forage for big game species, reducing the risk of uncharacteristic fire behavior in the event of wildfire and reducing slash created in recent logging operations.
Idaho Panhandle National Forests recently ignited prescribed burns just east of Coeur d'Alene past Fernan Saddle, as well as more than 1,000 acres in the Lost Creek area past Pritchard toward the Montana state line.
"People were concerned we were still seeing smoke from a fire that is nearly out, or prescribed burns we did last week," Maddox said. "All of our prescribed burns went well. Nothing in the area is showing a heat signature."
Just as doctors prescribe medication, fire scientists and fuel specialists write "prescriptions" for areas that need fuels removed from the ground and old, dead trees to be removed so new trees can come in, Maddox explained.
"It can be for post-harvest timber cleanup or ecological restoration, or usually a mix of both," she said.
Maddox said this is a good time for homeowners to work on reducing hazardous fuels on their properties to prepare for next fire season.
"Fall prescribed fire season should be a cue for people to start thinking about defensible space around their own home," she said.
Kootenai National Forest officials shared in a Sept. 14 news release that each project follows a prescribed fire burn plan. Current projects are in the Cabinet Ranger District northwest and south of Trout Creek, Mont., and south of Heron, Mont.; in the Libby Ranger District near Libby, Mont.; in the Rexford/Fortine Ranger District near Fortine, Mont.; and in the Three Rivers Ranger District around Troy, Mont.
"The prescribed fire projects are located and designed to be controlled to reduce the potential for adverse effects," the release said. "These projects will comply with Montana air quality standards and be guided by the Montana/Idaho State Airshed Group to reduce the impacts of smoke to our neighbors, cooperators and surrounding communities."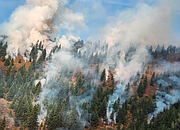 Recent Headlines
---