Durst stepping down as West Bonner superintendent
PRIEST RIVER — West Bonner Superintendent Branden Durst announced his resignation Monday and said he is seeking an "amicable and fair exit."
In a letter posted to his account on X, formerly known as Twitter, Durst said he made the decision to resign from the post he's held for just under three months after much thought.
"Legendary Notre Dame head football coach, Lou Holtz, once said, 'I follow three rules: Do the right thing, do the best you can, and always show people you care,'" Durst wrote. "These are the principles I tried to uphold throughout my time as superintendent. To that end and to promote healing and unity within the community, I believe it is necessary for me to step aside as superintendent. It may not be entirely fair, but life rarely is."
Acting West Bonner County School Board chair Margy Hall declined to comment on Durst's announcement.
Durst's decision to step down comes in the wake of the State Board of Education's rejection of his application for an emergency provisional administrator's certificate. It also follows months of outcry, raucous board meetings, and the recall of two of the three board members who voted to hire Durst.
Durst's selection to lead the rural school district drew controversy, with many supporting longtime teacher and principal Susie Luckey, saying she both understood the community and had the necessary qualification to lead the financially struggling district. Luckey served as interim superintendent for several months after former superintendent Jackie Branum unexpectedly stepped down.
Some applauded Durst's hire, saying major changes were needed to improve academic performance and set the district's schools on a solid foundation. However, others criticized the move, calling it a political vote that made pawns of the community's children. They said Durst lacked the qualifications to run a school district as well as an understanding of the community.
Durst acknowledged his critics, saying he was aware that many had not wanted the board to hire him. He said some, such as the State Board of Education, hoped to see him fail, even if it meant hurting the students they claimed to support.
"I was undeterred by the naysayers, and their negativity only strengthened my resolve to do what needed to be done to put this district on a path towards success," he said.
Durst said that in the face of "relentless obstacles" from those who wanted him to fail, he was able to accomplish a great deal in a short time.
"However, despite these challenges, I persevered and with the help of great staff achieved remarkable milestones that I hope will have a positive impact on the district long into the future," he said.
Among those achievements, Durst cited staff enhancement, including West Bonner's first curriculum director; the launching of a forensic audit; implementation of a five-year strategic plan; investment in professional development; and a comprehensive reassessment of the district budget. In addition, he cited a restructuring of the district office which led to savings for district taxpayers, and a community outreach effort to foster open communication.
One of Durst's challenges was becoming certified to work as a superintendent of an Idaho public school district.
State Board of Education officials said Durst did not meet the five requirements necessary for an emergency provisional administrator's certificate. As a result, the state board did not have the "legal authority to grant such certificates," despite having done so three times since 2015.
The board realized its limitations after conducting a "legal review" prompted by "the decision by West Bonner trustees to hire an uncertified individual to serve as superintendent this summer," said State Board of Education Director Matt Freeman.
The board previously granted emergency certification to Luckey, who also holds teaching and principal certifications; as well as certifications for two other principal positions.
Before coming to West Bonner, Durst worked as senior analyst of education policy research for the Idaho Freedom Foundation. He's also a former Democratic Idaho legislator, who sought the Republican nomination for state superintendent of instruction in 2022.
Durst said he would work with the board on an exit date and that he was committed to facilitating a smooth transition for the district and supporting the new superintendent.
"While my last day as superintendent will be up to the board, until then, I will continue to work diligently to uphold the district's mission and support students' success," he said.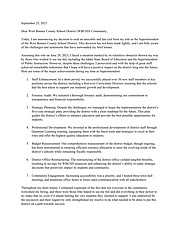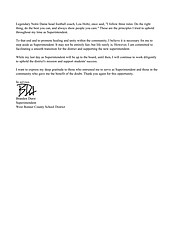 Recent Headlines
---