Locals compete in Long Bridge Half Marathon/10K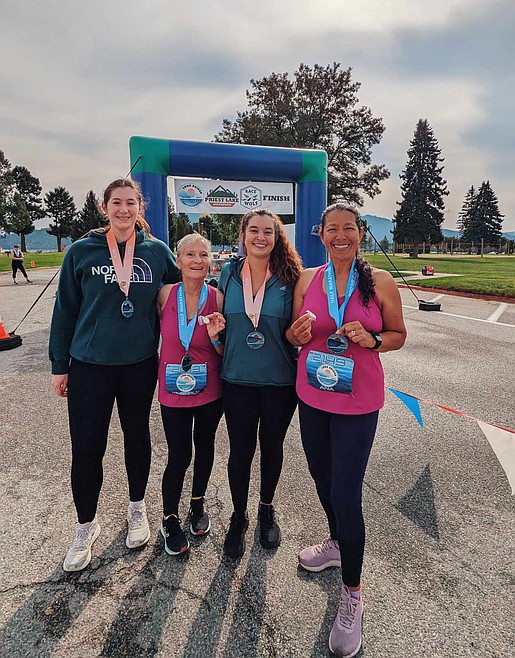 Daily Bee reporter Lauren Reichenbach poses for a photo with her friends and family after finishing the Long Bridge 10k Sunday. Pictured, left to right, Havalah Evans, Kim Bell, Lauren Reichenbach, Ana Reichenbach.
(Courtesy Photo)
by
MAX OSWALD
Sports Reporter
|
September 27, 2023 1:00 AM
SANDPOINT — Plenty of locals came out to compete in the first Long Bridge Half Marathon/10K held Sunday at Sandpoint City Beach. One local, Sandpoint eighth grader Miro Parr-Coffin, finished first in the half marathon race with an impressive time of 1:22:40.
Parr-Coffin's time averages out to roughly 6 minutes, 19 seconds per mile. If that wasn't impressive enough, Parr-Coffin also happened to be the youngest finisher Sunday. The middle schooler is no stranger to running success; he posted a 4:51 mile at the SMS junior high cross country time trial Monday, Sept. 11.
Some other local finishers included Josh Burt and Matt Gillis, who took third and fourth place in the half marathon with times of 1:26:17 and 1:26:58, respectively. Former Sandpoint star athlete Hattie Dussault, formerly known as Hattie Larson, was 25th overall (fourth overall female), with a time of 1:48:49.
In the 10k race, former Moscow High School cross country standout Emmett Brooks took home first place with a time of 33:58, which equates to 5 minutes, 29 seconds per mile. Priest River soccer player Gage Ehrmantrout finished in 12th place with a time of 52:59.
A total of 329 runners competed in one of the two races Sunday. 187 runners competed in the half marathon while 142 ran in the 10k.
Local participants said they enjoyed the race and hope that the Long Bridge Half Marathon/10K will become an annual event. Sunday's race was the first half marathon held within Sandpoint city limits since the Scenic Half Marathon, which was last held in 2019.
Recent Headlines
---