Panhandle Bluesfest raises funds for music program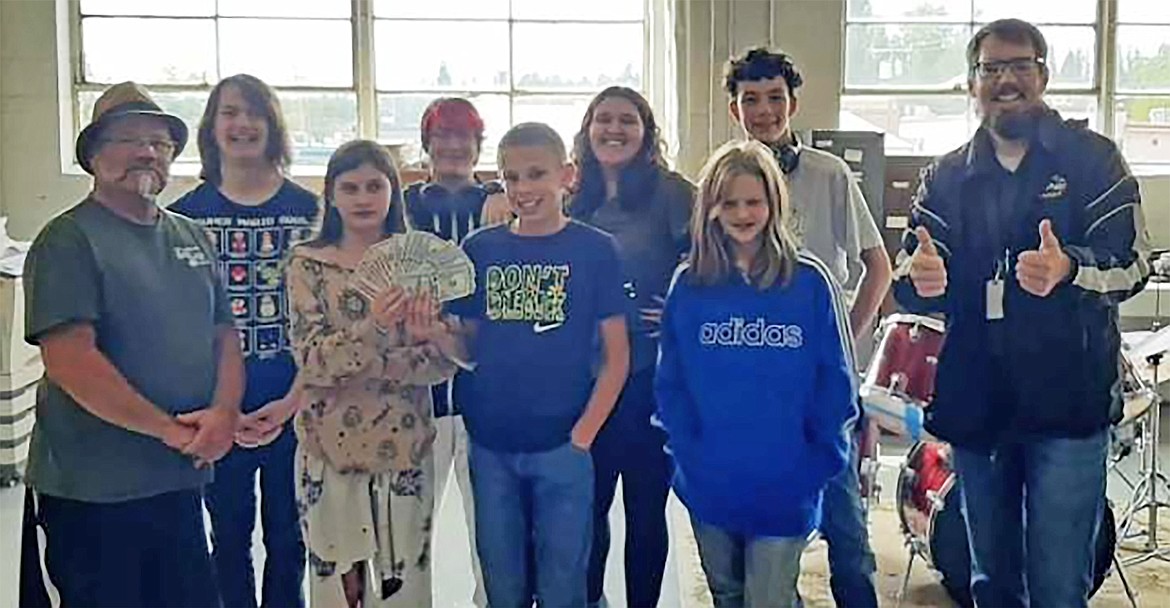 Billy Mullaley is joined by West Bonner County School District students and staff after the Panhandle Bluesfest raised $2,000 for the district's music program.
(Courtesy photo)
|
September 27, 2023 1:00 AM
Thanks to volunteers and the community, several thousand dollars was raised for the Spartan music department, officials said.
Billy and Patty Mullaley of Panhandle Bluesfest and Dick and Janice Blaine of Prater Mountain said the support of their staffs, Donner's, and community made the event a success and they wanted to give a "huge shoutout" to them.
"We couldn't do it without you all," Billy Mullaley said. "We raised $2,000 for the Spartan Music department."
Also helping, and deserving of thanks were those who kept things running smoothly at the gate/parking — Tamra Byrd, Nate Millward Karen Stifle and Ted Moss. Helping out in the kitchen and grounds were Dicky and Janice Blaine, Luke and Angelina, Blaine Diana Pappas, William Blaine, Scott and Jenifer Blaine, Ralph, Scott and Jessica, Jagger Blaine, Elijah Blaine, Kiera Blaine, Elourera Pappas, and Kerry Tallman.
Donations also were key to the event's success, Mullaley said. He thanked Vicki Rae's Pizza, the Flaherty family, Diana Dynum and Sam's Produce, Ranch Club Golf, Sheri's Home Interior, Tommy Blaine, Dicky Blaine, Kevin, Melissa and Bradley, Jukebox Jennie, Popeye's, Lou's Place, the Newport Roxy, Priest River Ace Hardware, AJ's Café, The Falls Inn, Timber Town Brewery, Patty's Action Auto, 57 Store, Mama Mac's, Les Schwab, AutoZone, The Village Kitchen, 57 Blends, Mi Pueblo, Kelly's Bar and Grill and Two Tones at the Ranch.
Recent Headlines
---