PREP SOCCER: Sandpoint boys defeat CDA for first time since 2017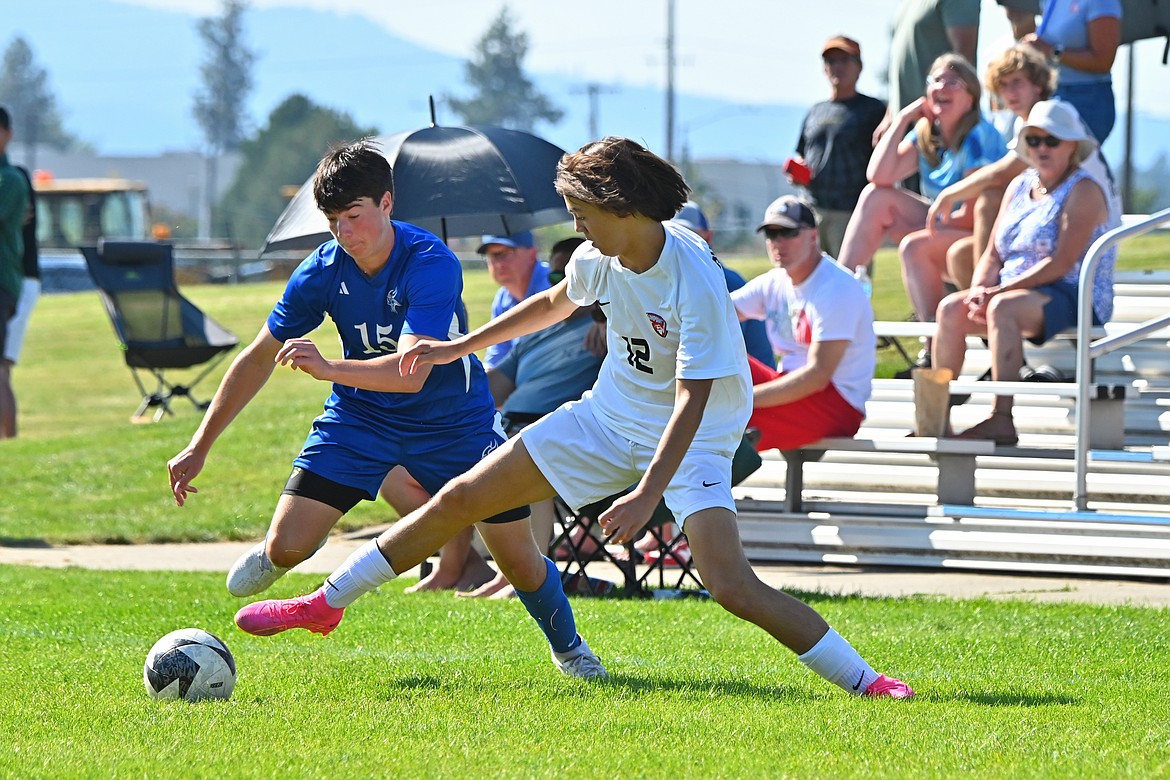 Sandpoint's Jack Treman fights for possession of the ball against Coeur d'Alene's Jackson Nickel in a game earlier this season at Viking field.
Photo by Cynthia Schmit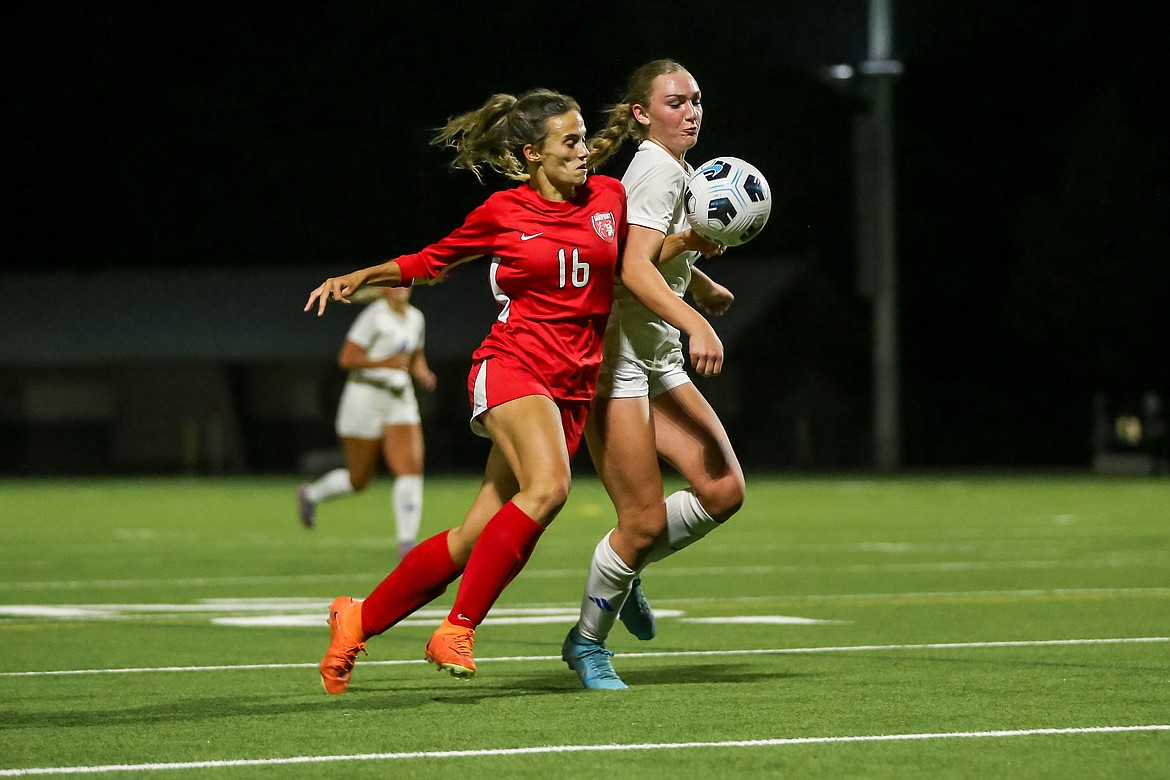 Sandpoint's Aliya Strock looks to control the ball as she fights off a Coeur d'Alene defender in Tuesday night's 0-0 tie at War Memorial Field.
Previous
Next
by
MAX OSWALD
Sports Reporter
|
September 27, 2023 1:00 AM
Boys Soccer
Sandpoint 4, CDA 2
COEUR d'ALENE — The Bulldogs took home a big road victory Tuesday, defeating Coeur d'Alene 4-2 on CDA's senior night at Viking Field.
Jett Longanecker set the tone with two first-half goals. He also assisted on a goal scored by Luke Leavitt late in the half. After trailing 2-1 early, Sandpoint went into halftime with a 3-2 lead and the Bulldogs would not only maintain their lead but extend it.
Just three minutes into the second half, Henry Barnes scored off a great lead pass from Longanecker to put the Bulldogs ahead 4-2. Longanecker finished the game having a part in all of Sandpoint's goals Tuesday with two goals and two assists. It was Sandpoint's first win over Coeur d'Alene since 2017.
"What a night for this team," head coach Tanner French said. "Going down a goal on an opposition's senior night is never easy. The boys brought energy and passion tonight for the entire 80 minutes. Jett had one of his best performances, but he also had a massive supporting cast."
French noted the play of Fisher Dail and Logan McGrann who provided much-needed strength in the midfield, and the entire backline who sorted things out and began to resolve the team's attack after going down 2-1.
"I am proud of the grit and sportsmanship displayed by our team tonight," French said.
Sandpoint (7-3) will be back in action against Lakeland today on the road.
First half — 1, Spt, Jett Longanecker (unassisted), 9:00. 2, Cd'A, Ronan Sternberg (Garrett Schuermann), 13:00. 3, Cd'A, Kason Pintler (Sternberg), 21:00. 4, Spt, J. Longanecker (penalty kick), 28:00. 5, Spt, Luke Leavitt (J. Longanecker), 31:00. Second half — 6, Spt, Henry Barnes (J. Longanecker), 43:00.
Shots on goal — Spt 5, Cd'A 6.
Saves — Spt, Kai Longanecker, 4; Cd'A, Nolan Ludwig, 3.
Girls Soccer
Sandpoint 0, CDA 0
SANDPOINT — Despite the 0-0 tie between Sandpoint and Coeur d'Alene on Tuesday, things were pretty exciting at War Memorial Field on the Bulldogs' senior night.
In the first half, Sandpoint limited the Vikings to just one shot on goal. The Bulldogs had two close chances in the half, one on a great lead pass to Marlee McCrum during the 13th minute, the other on a shot from Aliya Strock during the 31st minute. Going into halftime, Sandpoint had momentum, and they carried it with them into the second half.
In the second half, Sandpoint continued to put pressure on the Vikings defense. The Bulldogs put up five more shots on goal, but Coeur d'Alene goalkeeper Macy Walters was able to save every shot. Near the end of the game, Sandpoint dominated in terms of time of possession, but were not able to convert a couple of close chances in the final minutes.
Freshman goalkeeper Izzy Stark had another great game in net filling in for the injured Lilliana Brinkmeier. Stark had four saves, got her hands on a number of crosses, and recorded her first varsity shutout.
"With Lilliana out, CDA wanted to test Izzy as often as possible," head coach Conor Baranski said. "Tons of credit to our defenders and midfielders for stepping up to their attackers any time they went to shoot. Izzy was really sick, so we wanted to protect her as much as possible. We had a few chances at the end that would've been awesome to convert, but all in all it's a good result for us."
Sandpoint (6-3-3) will play at home today against Lakeland.
1st half – None. 2nd half – None.
SOG: Sandpoint 7. Coeur d'Alene 4.
SV: Sandpoint, Izzy Stark 4. Coeur d'Alene, Macy Walters 7.
Riverside 7, Priest River 1
CHATTAROY — The Spartans were defeated 7-1 in a non-conference game against Riverside at Riverside High School on Tuesday.
"We used this game as a bit of an experiment and a chance to get our newer, younger players some good playing time," assistant coach Nick Tucker said.
Marley Burgess-Duquette scored Priest River's lone goal off a beautiful cross from Haley Braee. In goal, Brooklyn Best had another amazing game making 18 saves.
Priest River (4-6, 3-0) will look to stay undefeated in conference play as the team will take on Grangeville, a team they defeated 4-0 earlier this season, on Saturday.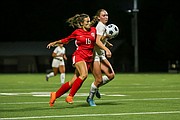 Recent Headlines
---