West Bonner OKs vacancies in truncated meeting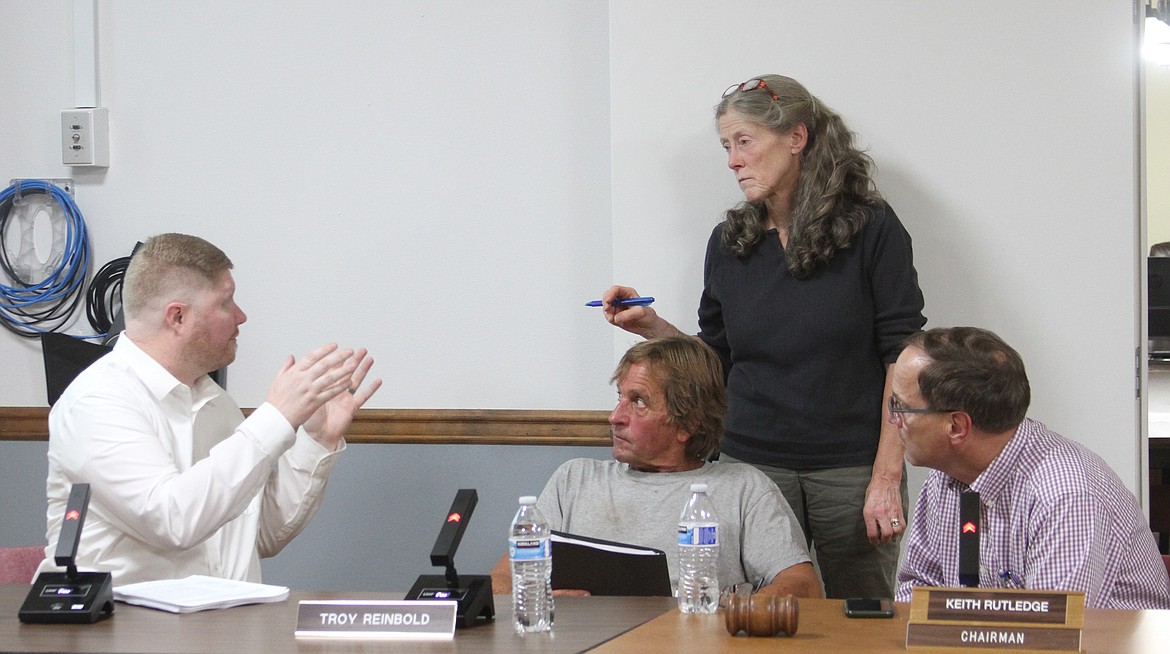 West Bonner Superintendent Branden Durst listens as Troy Reinbold, Margy Hall and Keith Rutledge talk after a board meeting in late June.
(Photo by MAX OSWALD)
PRIEST RIVER — Shortly before it was scheduled to start, the West Bonner school board meeting was paused for a phone call.
Superintendent Branden Durst and trustees Margy Hall and Carlyn Barton then broke from a huddle near the front of the almost-full room and left the cafeteria.
When they returned about 10 minutes later, missing trustee Troy Reinbold was on the phone, having promised to attend a truncated board meeting, but one that allowed the district to pay its bills and declare two open board seats vacant.
Hall later said she had called Reinbold to see if there was any way for him to at least attend enough of the meeting to allow the district to pay its bills and issue an amended contract with certified staff pending approval of a negotiated agreement. They were also able to secure Reinbold's agreement to participate in a vote to formally declare two seats left vacant by a recall open, outlining the process to fill the positions.
"I think we're making small steps," Hall said. "I think everybody wanted to make big leaps of change, and when you make a leap one way or the other, it's too much, then it gets kicked back. If we can make small steps, taking us forward, that would be the thing I would hope."
Quickly shifting items around so key votes were moved to the front of the meeting and other items deleted, the meeting began.
After voting to make Hall interim board chair until a full board can be established, the board voted to make Barton vice chair.
The board then voted 3-0 to declare the two posts left open by the recall of former board chair Keith Rutledge and vice chair Susan Brown formally vacant.
The board will accept applications for the two seats until 5 p.m. Friday, Oct. 13. Interviews would then likely be conducted before the regularly scheduled board meeting Oct. 18.
Hall said the vote to declare the two seats vacant was critical.
"We really can't function very well with only the three of us," Hall said. "If one person can't make it, it ends the meeting, and we may or may not be able to hold another meeting."
After votes on the essential items were done, Reinbold abruptly asked if he could leave.
"Are we done with business, can I go?" he asked. "I'm sitting by the side of the highway."
Reinbold's agreement to attend virtually followed a Wednesday late morning post on X, formerly known as Twitter, by Durst, who cast doubt on the trustee's attendance.
"While the other trustees may opt to meet in hopes that a quorum is in attendance, I can confirm on Monday Trustee Reinbold informed me that he would not be available for a meeting today," Durst said in the post.
Hall later confirmed the trio had left the meeting to give Hall a chance to talk with Reinbold to try and "coordinate the meeting" a little better so the district could address critical business.
"I think we were encouraging him, and I was trying to give him opportunities to be here," Hall said after the meeting. "I was very glad that he was here. I know he works very hard. … He was basically joining us from his truck, so I'm appreciative."
While some items, including two executive sessions and a discussion on Durst's surprise resignation, were pulled from the agenda, Hall said the board got the key items accomplished.
Hall said she expected Durst's resignation to be placed on a future agenda.
"We were going to have our discussion, but all three of us had to be there," said Hall. "I don't know what the outcome would have looked like if we would have come out with an action item or a non-action item, but we would have had to have a quorum to start with."
Recent Headlines
---