Sandpoint teen heading to Idaho's DYW program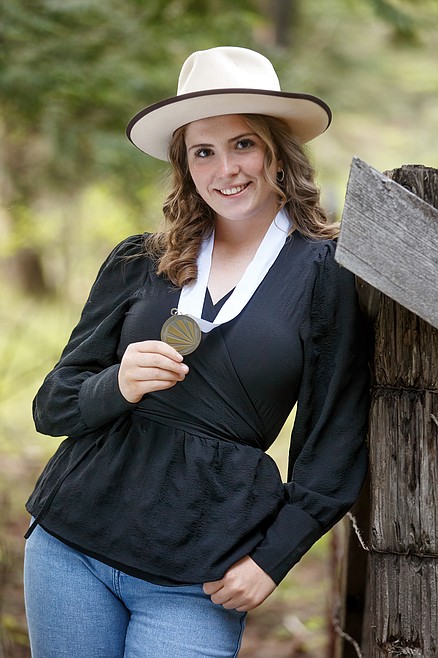 Aurla Palmer, a senior at Sandpoint High School, will head to the Distinguished Young Woman of Idaho program on Sunday to take part in the state program. The teen, who hopes to become a nurse, was selected as Sandpoint's Distinguished Young Woman in March 2023.
(Photo courtesy JASON DUCHOW PHOTOGRAPHY)
by
CAROLINE LOBSINGER
Staff Writer
|
September 30, 2023 1:00 AM
SANDPOINT — In a few days, a Sandpoint teen will be headed to the state Distinguished Young Women program.
Aurla Palmer, a senior at Sandpoint High School, will be joining dozens of young women in Idaho Falls this coming week to take part in the Distinguished Young Woman of Idaho program.
The teen, who hopes to become a nurse, was selected as Sandpoint's Distinguished Young Woman in March 2023, following an intimate ceremony held in the Music Conservatory of Sandpoint's Carnegie Hall.
In her original monologue about 10 girls who changed the world, Palmer spoke about how the youth used their talents to help others. That was when she knew she wanted to be a nurse, Palmer said.
Palmer plans to deliver the monologue in the state program. The teen, who will be participant No. 17, will perform Friday, Oct. 6, in the self-expression and fitness categories. On Oct. 7, she will perform her "Ten Girls Who" monologue.
Palmer, who leaves Sunday for the state DYW program, plans to attend Utah State, where she plans to receive her degree in nursing or education. Palmer is involved in Bonner County 4-H as well as softball, wrestling, Business Professionals of America, and Future Health Professionals.
The Distinguished Young Women of Idaho program is being held Oct. 6-7 at the Civic Center. Participants will compete for $40,000 in college scholarships and the opportunity to represent the state as the Distinguished Young Woman of Idaho for 2024.
The program is open to the public, and preliminaries will begin at 7 p.m. Oct. 6 and 10 a.m. Oct. 7. Finals begin at 7 p.m. Saturday, Oct. 7.
The 36 young women competing will be evaluated by a panel of five judges in the following categories: scholastics (25%), interview (25%), talent (20%), fitness (15%), and self-expression (15%). The participant selected as the Distinguished Young Woman of Idaho will advance to the national level at the 67th Distinguished Young Women National Finals in Mobile, Ala., on June 23, 24, and 25, 2024, where she will join with 50 other representatives from across the country in competing for cash scholarships and the opportunity to represent the program as the Distinguished Young Woman of America.
Taking part in the state program in Idaho Falls are: Genevieve Fullmer, Caribou County; Brynlee Shippen, Rigby; Ana Chase, Bonners Ferry; Reese Baldwin, Snake River; Mikah Jones, North Mini-Cassia; Maya Conklin, Lewiston; Kacie Clyde, Moscow; Akirah Lewis, Sugar/Salem; Madison Wood, Franklin County; Caralena Humphrey, St. Maries; Anna Lepchenske, Pocatello/Chubbuck; Emma Olsen, Canyon Valley; Lila Cude, Ashton; Ainsleigh Thompson, Potlatch; Jolee Ecklund, Troy; Kendalyn Anderson, Blackfoot; Brooke Trimble, Ririe; Adelia Rowlan, Aberdeen; Ethnie Shaffer, West Jefferson; Breelyn Clark, South Fremont; Sydney Eaton, Kuna; Harley Heimgartner, Kendrick/Juliaetta; Ashley Preece, Bonneville County; Alexus Tarbet, Malad; Mattilin Rose, American Falls; Aurla Palmer, Sandpoint; Malia Jensen, Genesee; Kelsie Fielding, Firth/Shelley; Mary Palmer, Madison; Scarlett Cromwell, Boise Valley; Kaya Higbee, Marsh Valley; Cheyenne Thompson, Priest River; Haddie Woolstenhulme, Teton; Kadrian Klingler, Magic Valley; Reagan Jones, South Mini-Cassia; and Katelyn Moylan, Kootenai County.
The current Distinguished Young Woman of Idaho is Claire Neibaur, daughter of Mitchell and Rachel Neibaur, from North Mini-Cassia.
If Palmer is selected as the state's Distinguished Young Woman for 2024, she would be the second from the community to be picked to serve in the role. Previously, Camille Neuder served as the Distinguished Young Woman of Idaho in 2021 after being named to represent the local program.
"The Distinguished Young Woman program is a life-changing opportunity to empower and launch strong females into a successful future," Neuder wrote in the letter presented at the March 2023 Sandpoint program. "I greatly attribute my time in the DYW program for helping me reach academic success and grow into the woman I am today, and I'm grateful for each minute that I was blessed to be part of something so special."
Founded in 1958, Distinguished Young Women is a free program that encourages participants to reach their full individual potential. Its mission is to empower young women by providing over $1 billion in scholarship opportunities, connecting with a nationwide network of women, developing their self-confidence, and participating in its Life Skills Workshops that prepare them for success after high school. National sponsors include the Barbara Barrington Jones Family Foundation, Mobile County, the city of Mobile, the Alabama Power Foundation, Master Boat Builders, Shoe Station, the Barkin Family, Gant Travel Management, the Coffeen Family, Regions Financial Corporation, Jostens, and Alabama Media Group.
For more information about Distinguished Young Women, go online to www.DistinguishedYW.org.
Recent Headlines
---