7 local athletes named to all-state football teams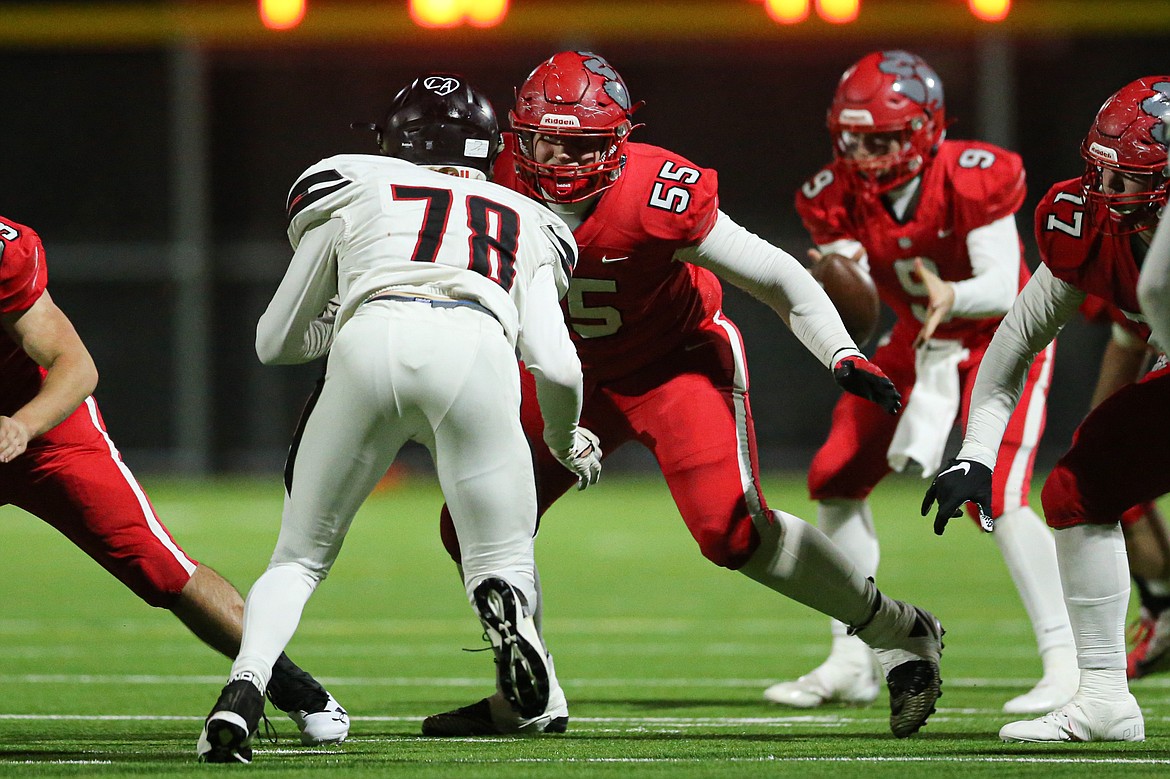 Junior Carson Laybourne (55) looks to make a block in the 4A state quarterfinal game against Shelley. Laybourne was ranked as one of the best offensive lineman in the state of Idaho.
(Photo courtesy of JASON DUCHOW PHOTOGRAPHY)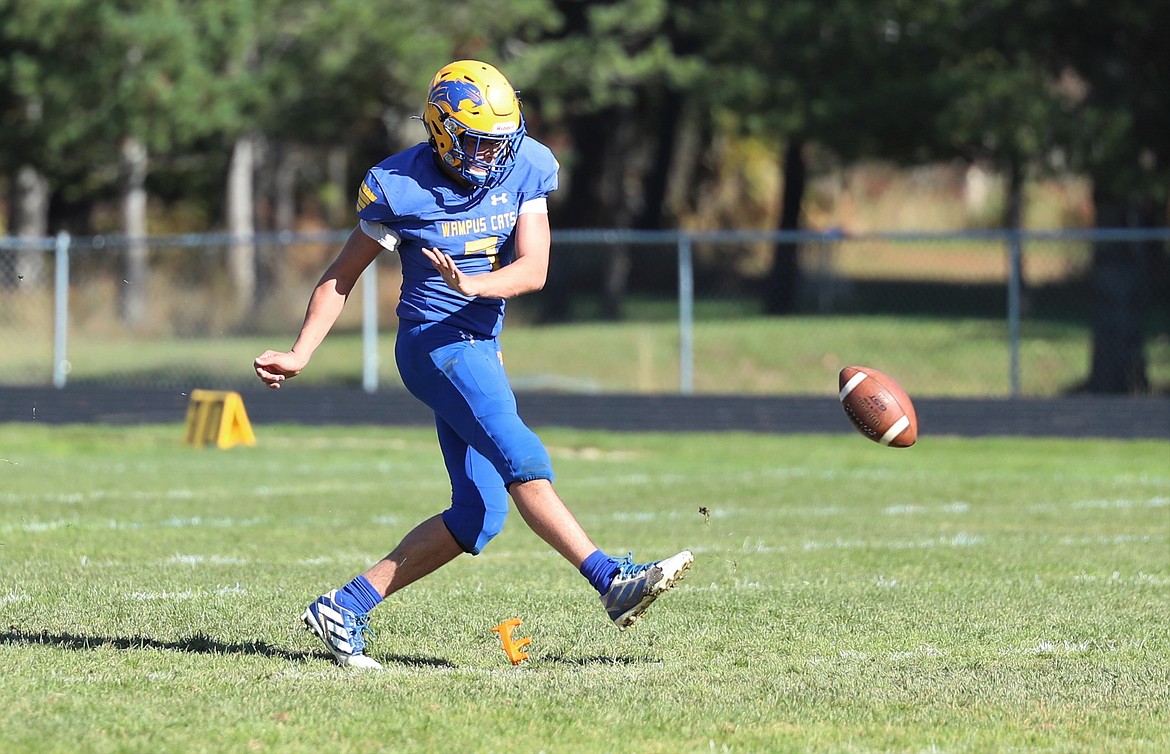 Senior Carter Sanroman attempts an onside kick during a game against Kootenai this fall.
(File photo by DYLAN GREENE)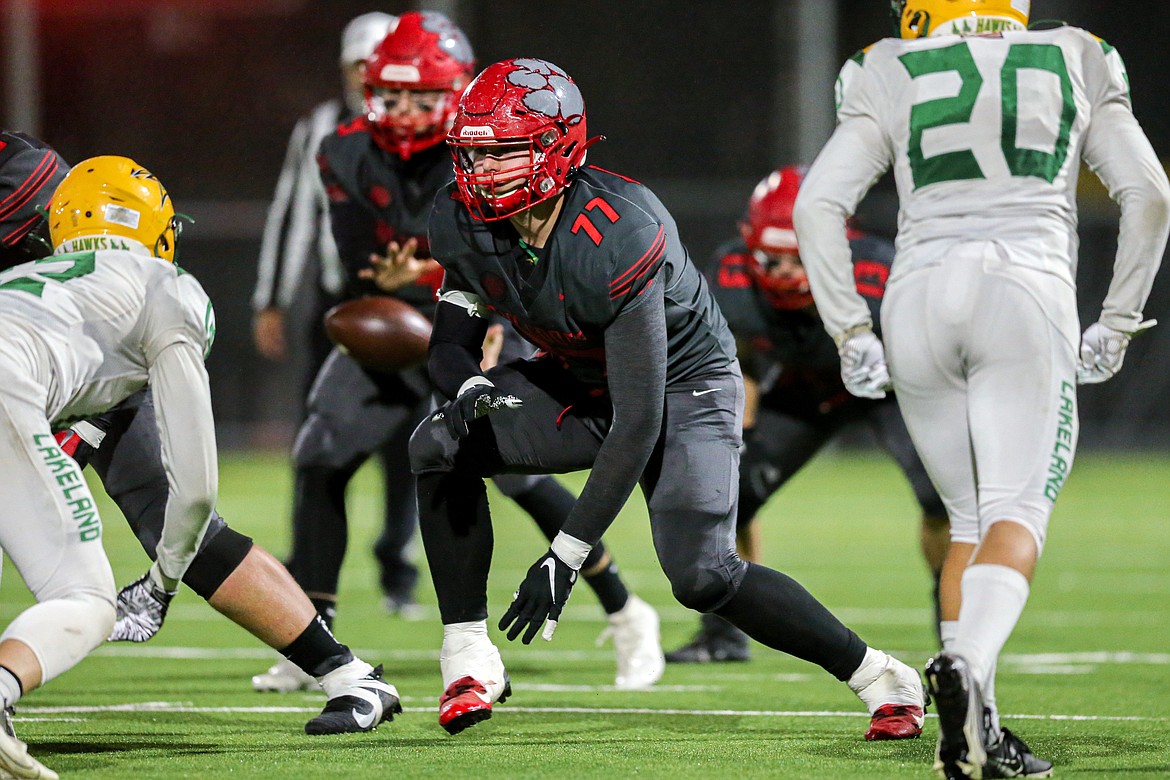 Junior offensive lineman Wylan Dorrel looks to make a block during the game against Lakeland on Oct. 22 at War Memorial Field.
(Photo courtesy of JASON DUCHOW PHOTOGRAPHY)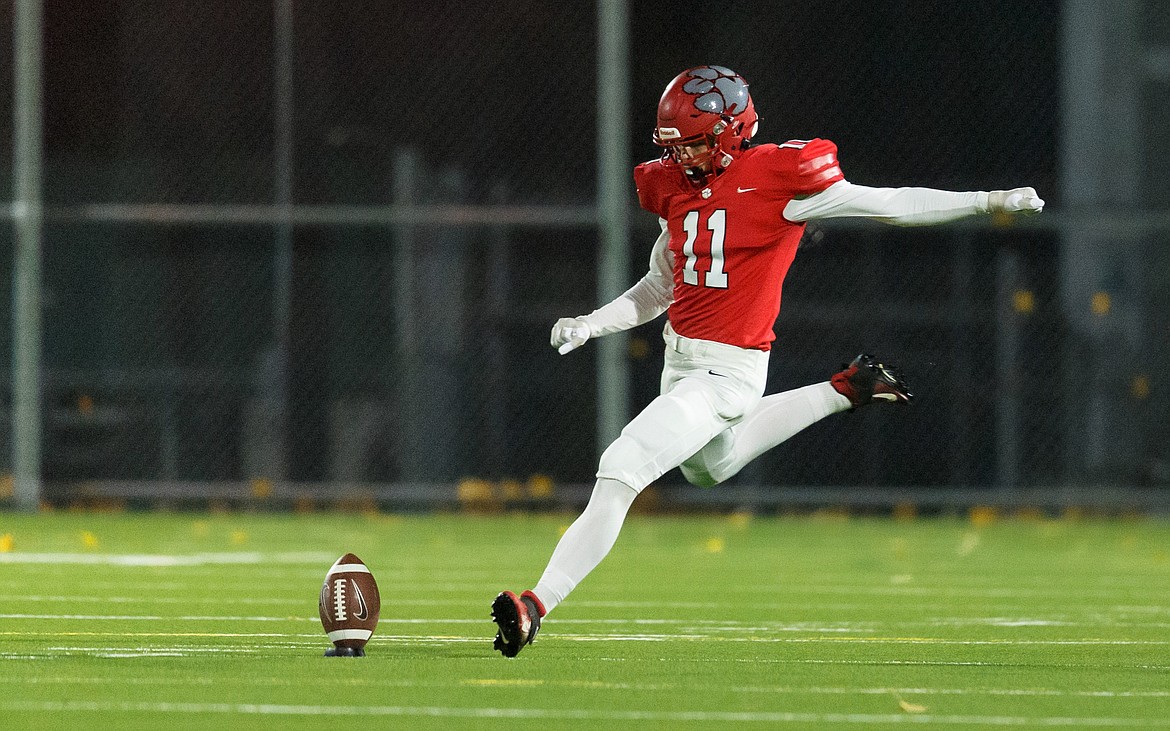 Senior Lasse Kuhn, a foreign exchange student from Germany, blasts a kickoff during the 4A state playoff game against Mountain Home on Oct. 29 at War Memorial Field.
(Photo courtesy of JASON DUCHOW PHOTOGRAPHY)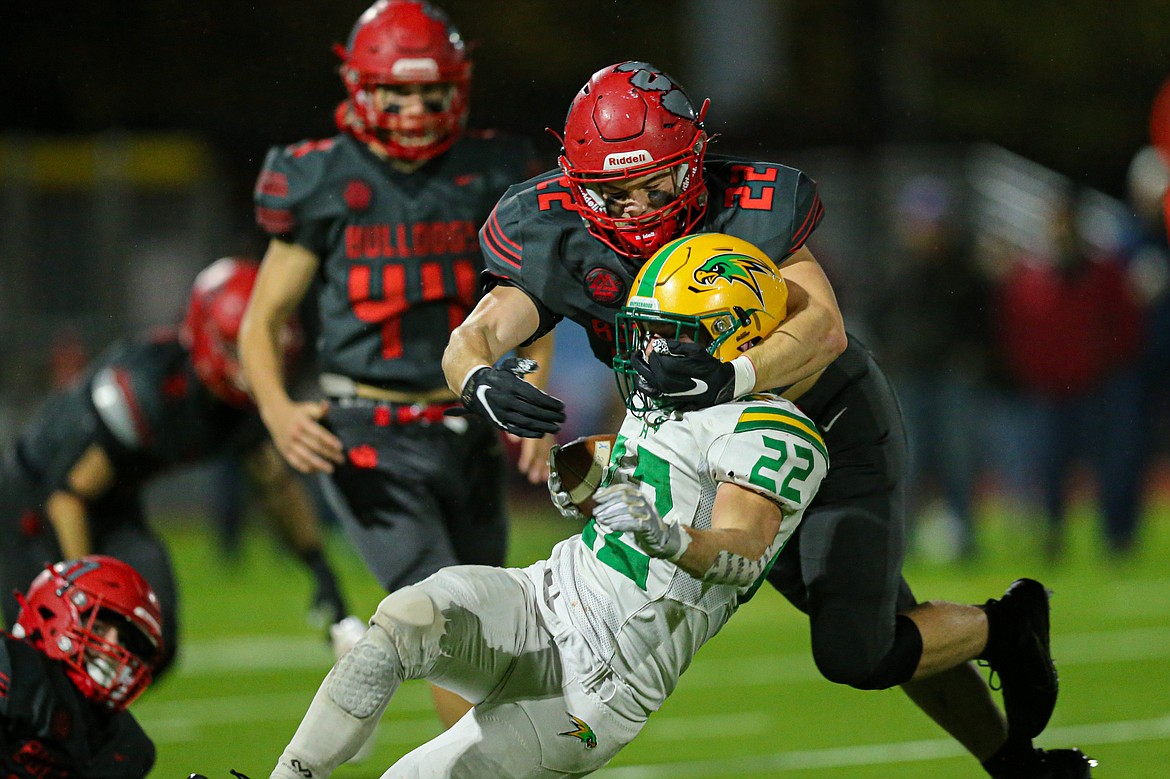 Junior linebacker Wes Benefield tackles Lakeland's John Cornish during a game on Oct. 22 at War Memorial Field.
(Photo courtesy of JASON DUCHOW PHOTOGRAPHY)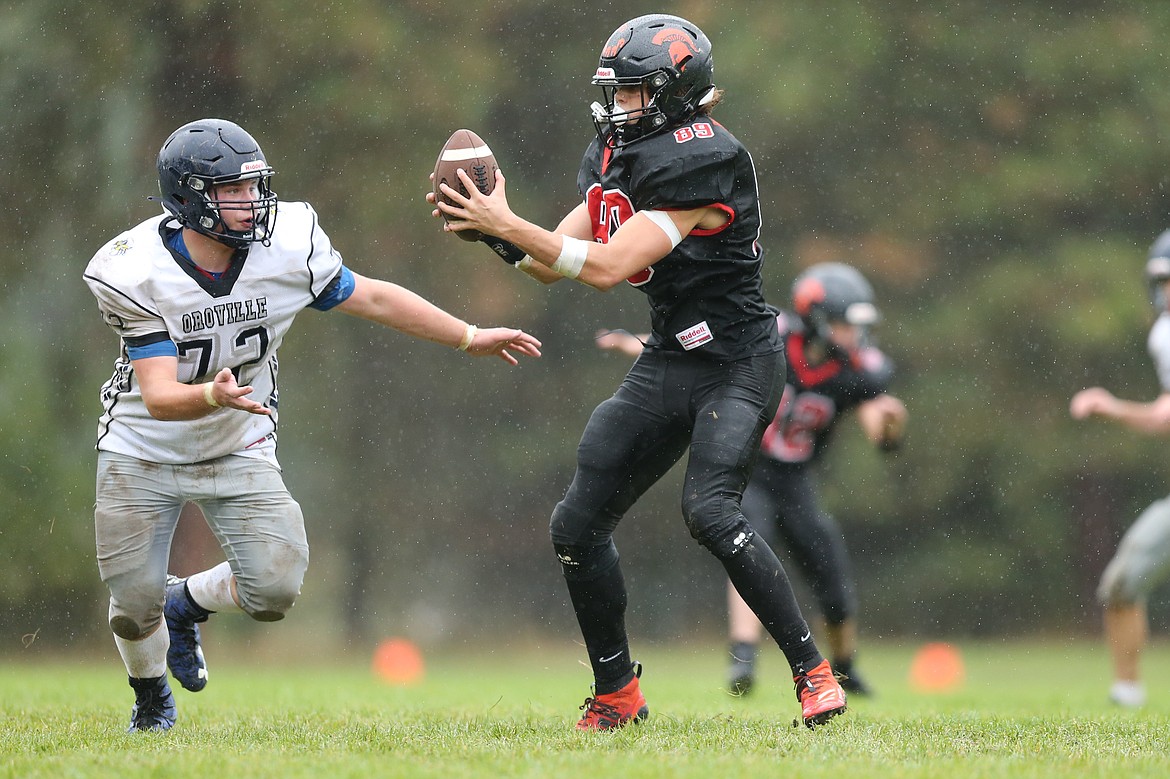 Junior defensive lineman Matyus McLain intercepts a pass during a game against Oroville this fall.
(Photo courtesy of JASON DUCHOW PHOTOGRAPHY)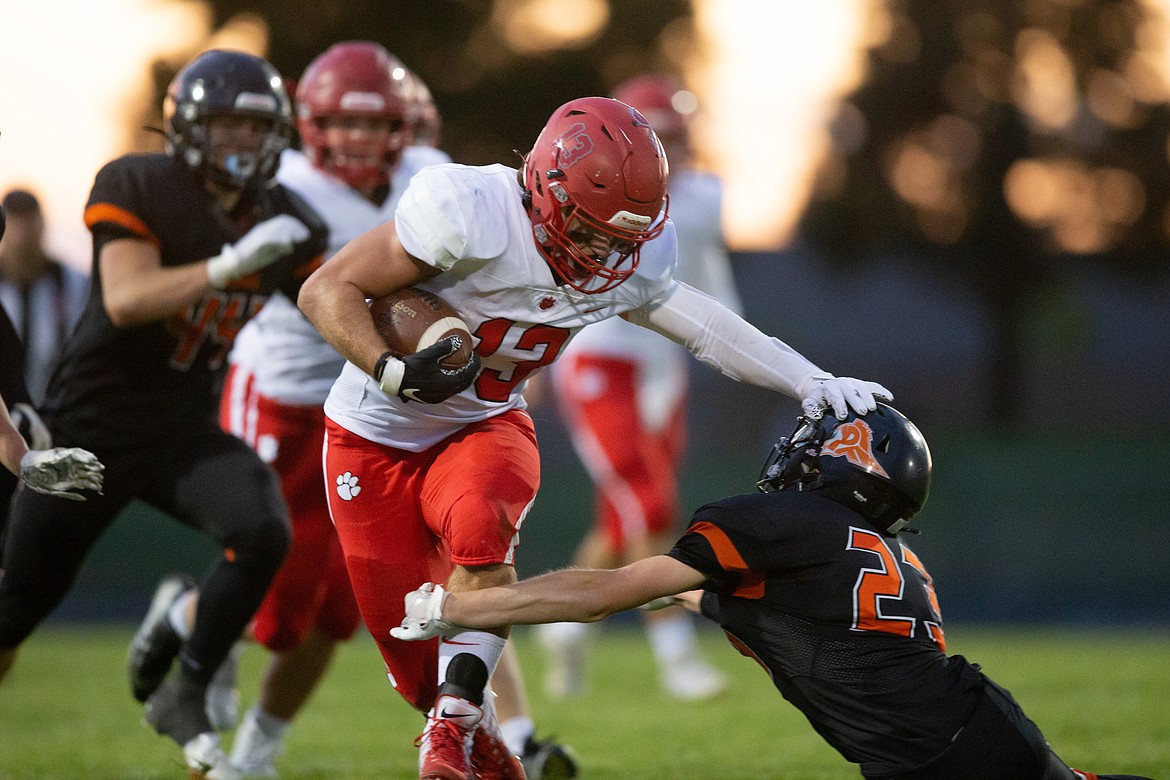 Senior running back Gerrit Cox stiff arms a Post Falls defender during the season opener on Aug. 27.
(Photo courtesy of JASON DUCHOW PHOTOGRAPHY)
Previous
Next
|
December 16, 2021 1:00 AM
The all-state football teams were released Wednesday and seven local athletes made the cut.
Five Sandpoint players received spots on the 4A all-state team following a run to the state championship game — senior running back Gerrit Cox, junior offensive lineman Carson Laybourne, junior linebacker Wes Benefield, junior offensive lineman Wylan Dorrel and senior kicker Lasse Kuehn.
Priest River's Matyus McLain, a junior defensive lineman, was named to the 3A all-state team and Clark Fork senior Carter Sanroman secured a place on the 1A Division II all-state team for his play at kicker.
The team is selected by coaches around the state by way of a voting process hosted by the Idaho Statesman.
Cox, Laybourne and Benefield all earned first-team honors. Dorrel, Kuehn, McLain and Sanroman all grabbed second-team honors.
Player of the Year — Kenyon Saqid, Skyline.
Coach of the year — Scott Berger, Skyline.
FIRST TEAM
OFFENSE
QB — Caden Young, Emmett. RB — Seth Knothe, Bishop Kelly; Gerrit Cox, Sandpoint. WR — Javonte King, Blackfoot; Trais Higgins, Nampa; Tyler Medaris, Middleton. OL — Marcus McFadden, Bishop Kelly; Carson Laybourne, Sandpoint; Tui Edwin, Skyline; Ross Lyon, Blackfoot; Gunnar Clark, Mountain Home. K — Lance Hanna, Nampa.
DEFENSE
DL — Dantee Ruiz, Minico; Jaxon White, Skyline; Kolton Dallimore, Bonneville. LB — Chandler Robinson, Skyline; Hunter Killian, Pocatello; Weston Benefield, Sandpoint; Carson Trejo, Blackfoot. DB — Krue Hales, Pocatello; Matt Christensen, Pocatello; Gabe Lamey, Bishop Kelly; Teagen Severe, Twin Falls. P — David Torres, Canyon Ridge.
SECOND TEAM
OFFENSE
QB — Ky McClure, Middleton. RB — Jafeth Bendele, Minico; Ryker Clinger, Shelley. WR — Julian Bowie, Pocatello; Caden Taggart, Skyline; Jace Mahlke, Twin Falls. OL — Luke Arthur, Minico; Alexander Daniluc, Nampa; Jaxon Williams, Pocatello; Wylan Dorrel, Sandpoint; Tyson Krupp, Skyline. K — Lasse Kuehn, Sandpoint.
DEFENSE
DL — Jonny Baczuk, Skyline; Rowan Hynes, Bishop Kelly; Michael Edwards, Blackfoot. LB — Braxton Marlatt, Blackfoot; Jack Dennis, Bishop Kelly; Carson Fox, Vallivue; Easton Arthur, Minico. DB — Ian Galbreaith, Skyline; Tate Johansen, Middleton; Deegan Hale, Blackfoot; Ashton Madsen, Preston. P — Martin Connington, Bishop Kelly.
Recent Headlines
---