Humble onion wears crown of world's top veggie
by
VALLE NOVAK Contributing Writer
|
February 21, 2021 1:00 AM
Recently assured by the Idaho/E. Oregon onion consortium that onions are the oldest known vegetable eaten throughout the entire world, I took it upon myself to pay honor to the pungent orb in a gathering of great recipes.
Since the "average American consumes more than 18 pounds of onions each year" and they are "used in more recipes than any other ingredient" (except salt and pepper), today's column will pay them their due. No matter what your favorite onion is — Brown Spanish, sweet white or red Spanish — you may mix and match as you see fit. By the way, one onion has only 60 calories, as much Vitamin C as an orange, and more than an apple! Enjoy!
Onion-Raisin Sweet Relish
3 large onions, peeled, thinly sliced
2 Tbsps. unsalted butter
1 Tbsp. Sugar
1 tsp. water
1/2 cup dark raisins
1/4 tsp. EACH salt and pepper
Melt butter in a saucepan over low heat. Add onions, sugar and water. Cook over very low heat, stirring occasionally for 45 minutes until onions caramelize. Stir in raisins, salt and pepper; cook 15 minutes longer. Remove from heat, cool completely before spooning into a container; store in refrigerator.
Winter Sunshine Onion Salad
1 large onion
3 navel oranges
2 pounds spinach
8 sliced crisp cooked bacon*, crumbled
2 Tbsps. cider vinegar
1 Tbsp. sugar
1/4 tsp. salt
1/4 tsp. dry mustard
1/3 cup olive oil
Peel and thinly slice onion; separate into rings. Peel and slice oranges; cut slices in half. Wash spinach thoroughly, remove stems and cut leaves into bite-size pieces. In salad bowl, combine onion, oranges and spinach, tossing to mix well. Sprinkle with bacon. Combine dressing ingredients, shaking or beating well. Toss with salad to incorporate well. Serves 8.
Our beautiful illustration is as tasty as it looks — a winner.
Onion Tomato Salad
5 large ripe red tomatoes, sliced
1 large red onion, peeled, halved, thinly sliced
1/2 cup olive oil
1/2 cup red wine vinegar
1/4 cup chopped fresh parsley
3 large garlic cloves, thinly sliced, finely chopped
4 ounces feta cheese, crumbled (about 1 generous cup)
1/3 cup Kalamata olives, halved lengthwise *
Overlap tomato and onion slices (as pictured) on a large platter. Whisk oil, vinegar, parsley and garlic in small bowl, season to taste with salt and pepper; pour over salad (do not toss!). Let stand at room temperature 1 hour. To serve, sprinkle salad with crumbled Feta cheese and garnish lavishly with olives.
*I frankly can't stand Kalamata olives, and use good drained black olives, halved lengthwise. It's your choice.
Now, the ne plus ultra of soupdom!
French Onion Soup
2 large onions (6 cups of onion rings)
1/4 cup butter
1 Tbsp. flour
2 cans (10 1/2 oz. each) condensed beef bouillon
2 1/2 cups water
6 slices French bread, cut 1-inch thick
1/2 cup grated Parmesan cheese
1/2 cup shredded Swiss cheese
Peel and slice onions, separate into rings. Saute in butter until soft and golden, about 20 minutes. Stir in flour; gradually add bouillon and water. Bring to boil and simmer 20 minutes. Meanwhile toast bread lightly. Place in 6 oven-proof soup bowls. Ladle soup over bread; sprinkle with cheese. Bake at 425F for 10 minutes. Serves six.
Beer Batter Onion Rings
3 med. onions (6 cups of onion rings)
1 1/3 cups flour
2 Tbsps. grated Parmesan cheese
1 Tbsp. parsley flakes
1 tsp. salt
Dash pepper
1/2 tsp. garlic powder
1 Tbsp. salad or olive oil
2 eggs, separated
1 1/4 cups stale beer (let stand open 1 hour)
Peel and slice onions 3/8-inch thick. Separate into rings, set aside. Beat together remaining ingredients except egg whites. Beat whites until stiff, fold into batter. Dip onion rings in batter and fry in hot oil (375 Deg.) until golden, about 5 minutes. Remove rings with large fork or tongs, drain over pot and pile loosely in serving basket, sprinkle with salt and serve.
Next time you bake potatoes, bake onions with them for a great dinnertime go-with. Here's how.
Baked Onions
(for 4)
4 medium onions, peeled
Salt and pepper
Butter
Topping of choice: Sour cream, bacon bits, grated Parmesan or crumbled blue cheese, chopped chives, savory bread crumbs — or other.
Slash tops of onions with an X. Place each in a square of foil, sprinkle with salt and pepper and dot with butter. Wrap tightly in the foil and bake at 350F for 60 minutes or until tender. Remove from foil and spread open, spoon on topping of choice and serve.
I just have to include this old-timey recipe that still offers a great dinnertime go-with.
Quick Onion Casserole
(Serves 8)
2 large onions, peeled, sliced in rings, cut in half
1 box Jiffy Corn Bread mix
8 ounces sour cream
1 cup shredded Cheddar cheese
Heat oven to 350F. Saute prepared onions in a little butter until soft but not browned. Mix cornbread according to instructions on box. Arrange cooked onions in bottom of an 8x12-inch casserole dish. Place cornbread batter evenly over top of onions. Carefully spread sour cream over top of cornbread layer, then top evenly with the shredded cheese. Bake 25-30 minutes, remove from oven. Let stand about 10 minutes before serving.
A final word from the "onion people" reminds us to choose onions that are dry and firm with no sprouts , soft spots or green areas. Outer skins should be dry and papery. Store whole in a cool, dry area with no bright lights and good air circulation, preferably in a basket or mesh bag. Do not store under sinks or in plastic bags, and never store with potatoes or other produce. A cut onion will keep for a week when sealed in a plastic bag and refrigerated.
Valle Novak writes the Country Chef and Weekend Gardener columns for the Daily Bee. She can be reached at bcdailybee@bonnercountydailybee.com. or by phone at 208-265-4688 between the hours of 8 a.m. to 7 p.m.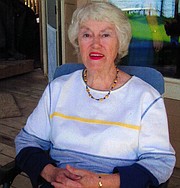 ---