9 in a row: SHS cross country sweeps regionals, girls make history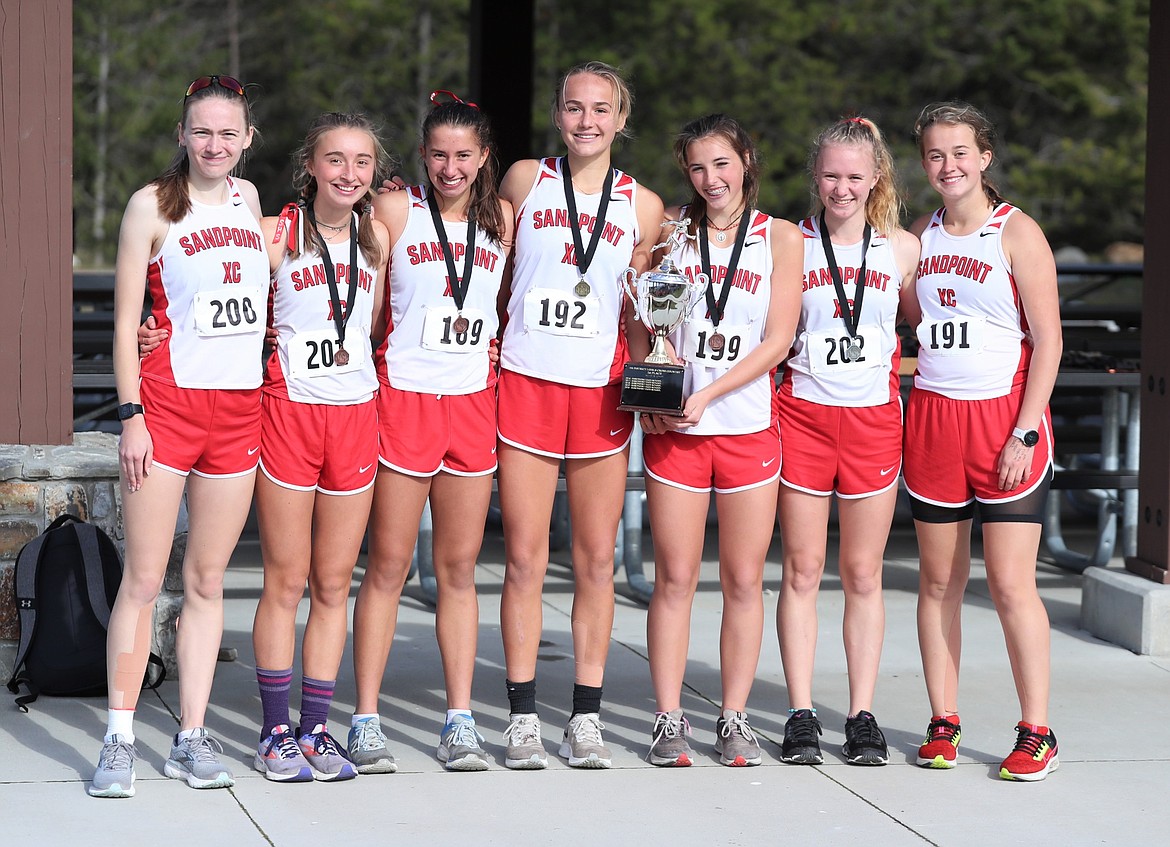 The varsity runners for the Sandpoint girls cross country team pose for a photo with the 4A Region 1 title on Thursday. Pictured (from left): Jillian Primgaard, Grace Rookey, Payton Betz, Ara Clark, Megan Oulman, Mackenzie Suhy-Gregoire and Tiffany Brown.
(Photo by DYLAN GREENE)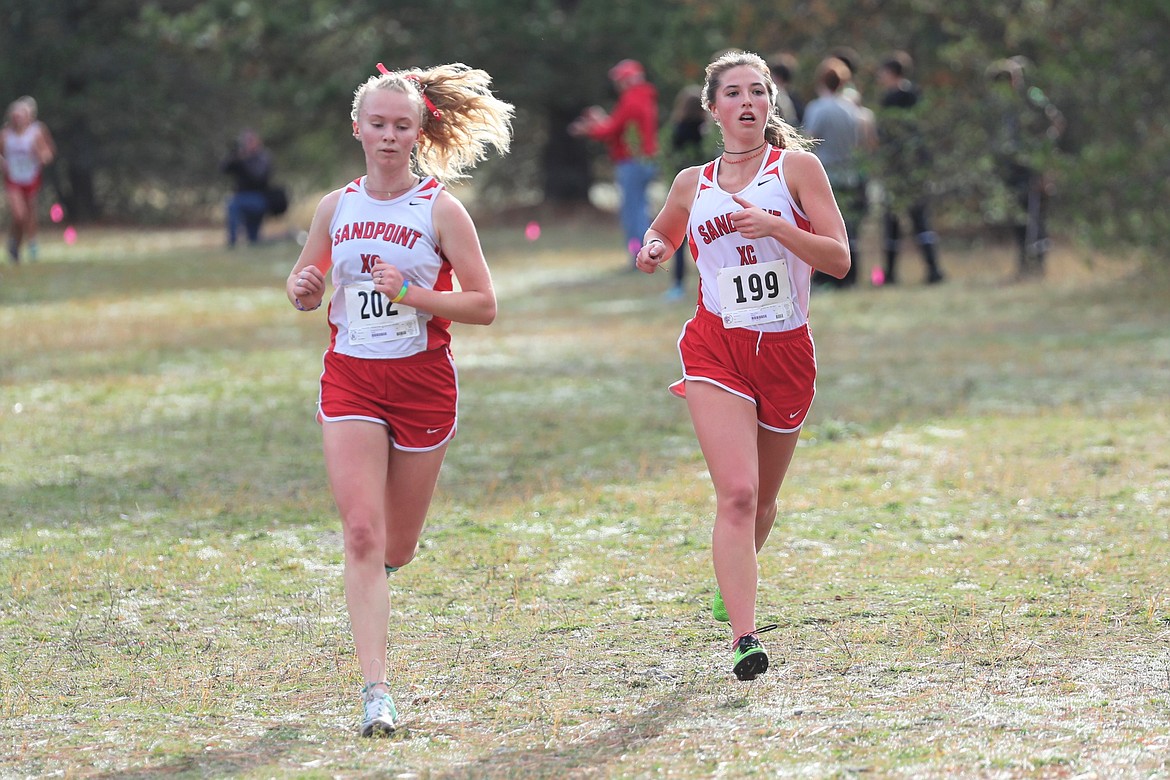 Mackenzie Suhy-Gregoire (left) and Megan Oulman run side-by-side during Thursday's regional meet.
(Photo by DYLAN GREENE)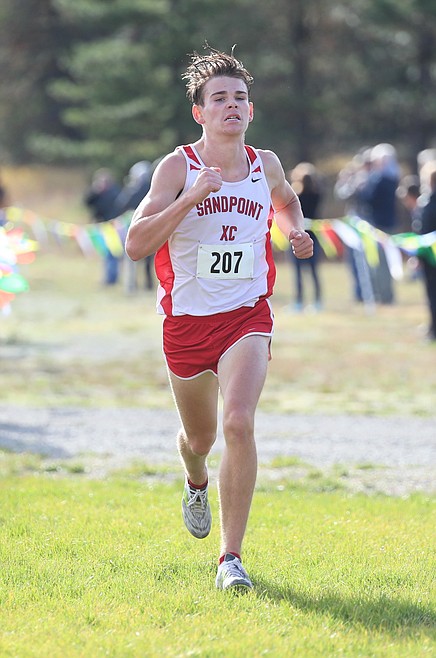 Trey Clark nears the finish line Thursday.
(Photo by DYLAN GREENE)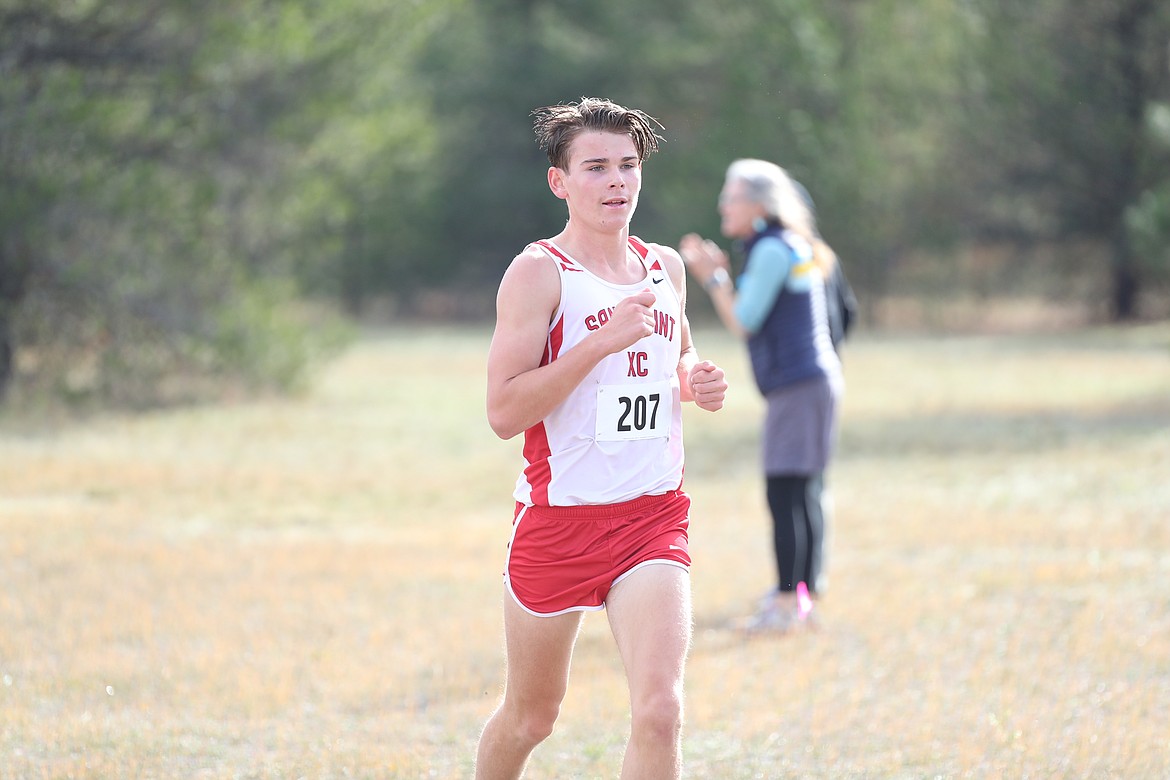 Trey Clark competes Thursday.
(Photo by DYLAN GREENE)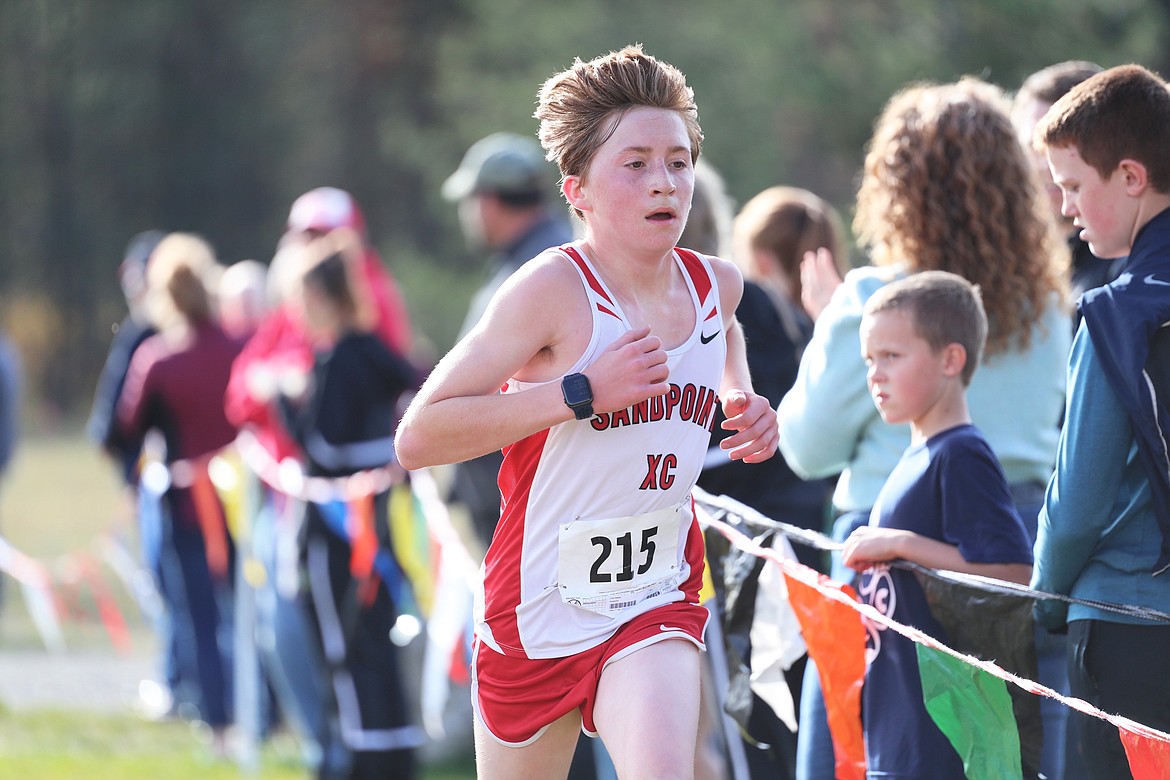 Torin Haesle crosses the finish line on Thursday.
(Photo by DYLAN GREENE)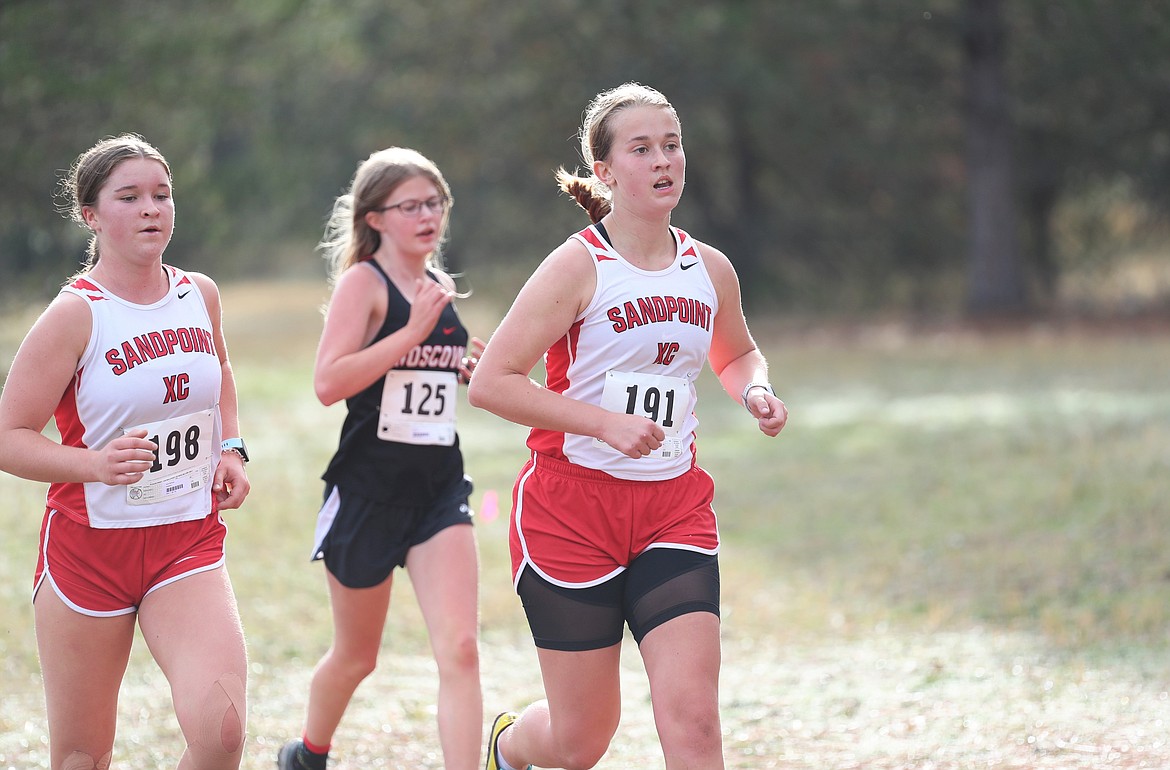 Tiffany Brown competes in Thursday's regional meet.
(Photo by DYLAN GREENE)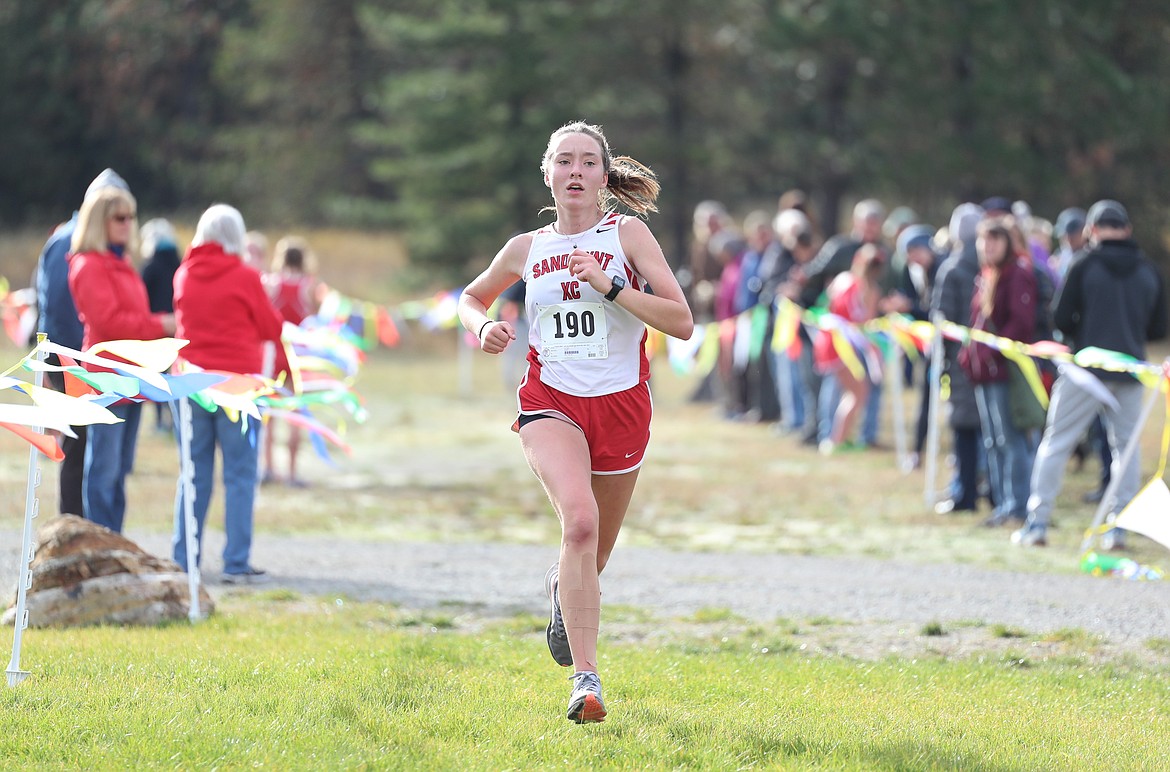 Terra Bode nears the finish line Thursday.
(Photo by DYLAN GREENE)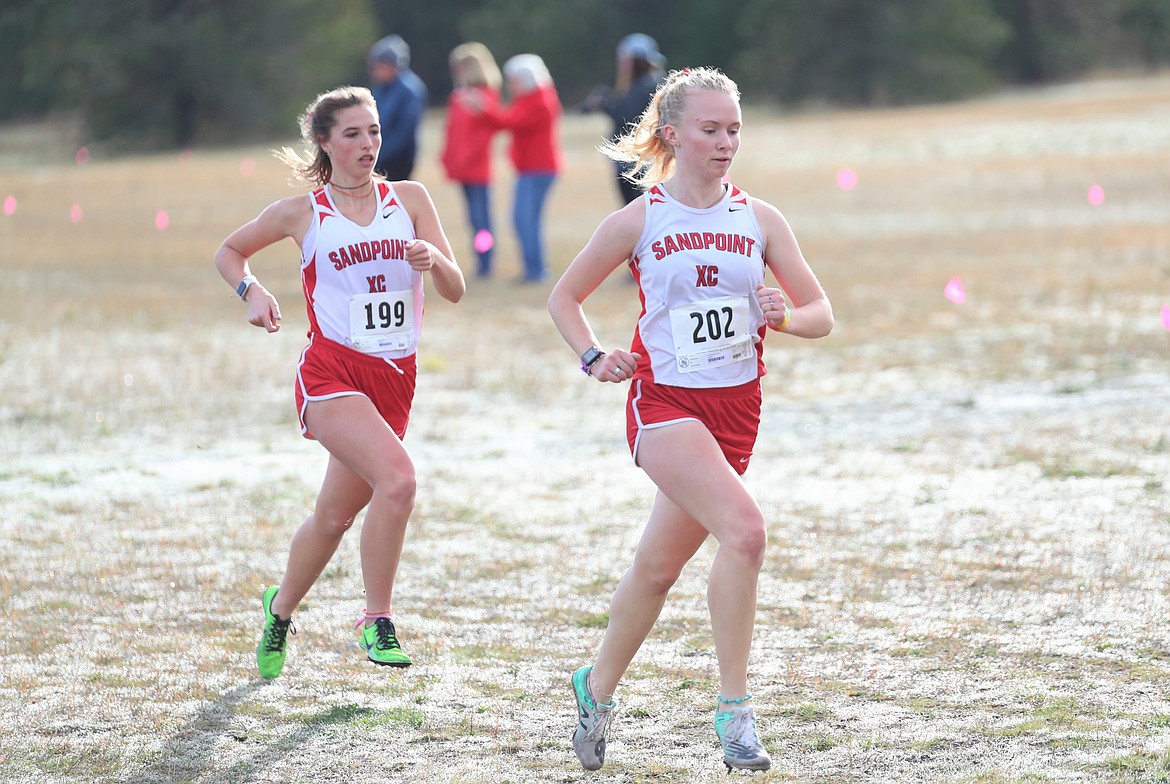 Mackenzie Suhy-Gregoire (right) gets off to a fast start during Thursday's regional meet.
(Photo by DYLAN GREENE)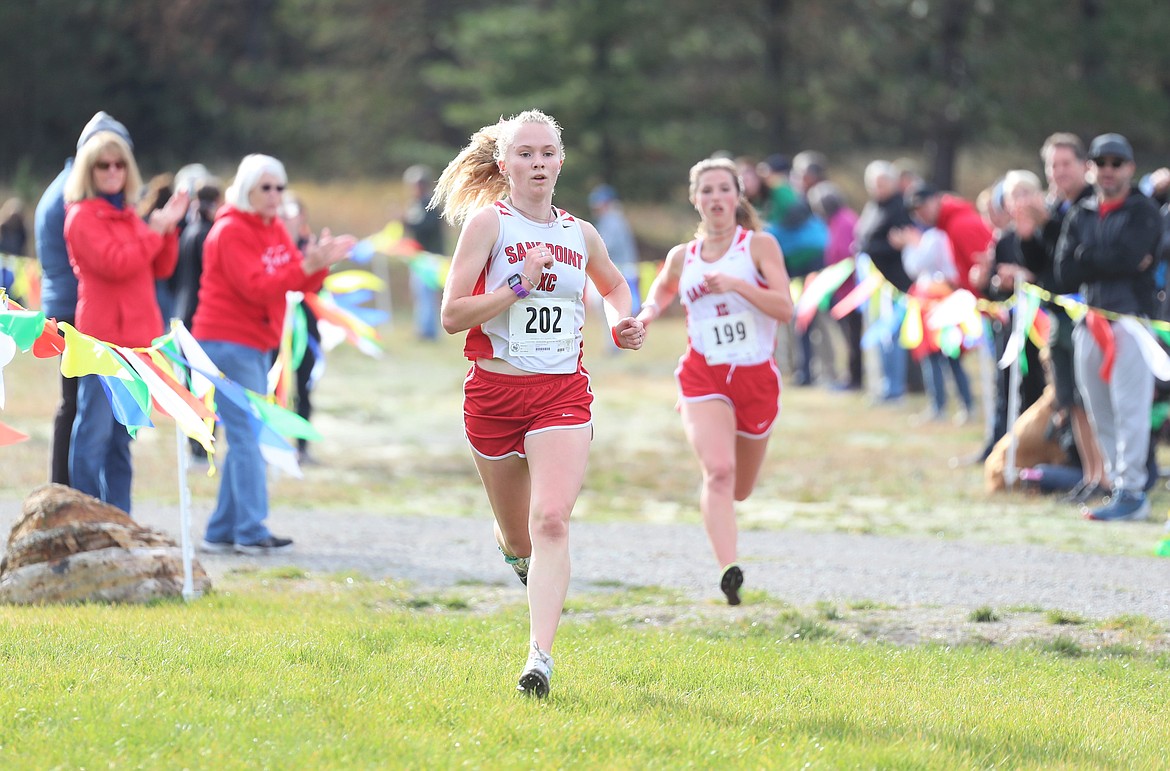 Mackenzie Suhy-Gregoire nears the finish with Megan Oulman close behind.
(Photo by DYLAN GREENE)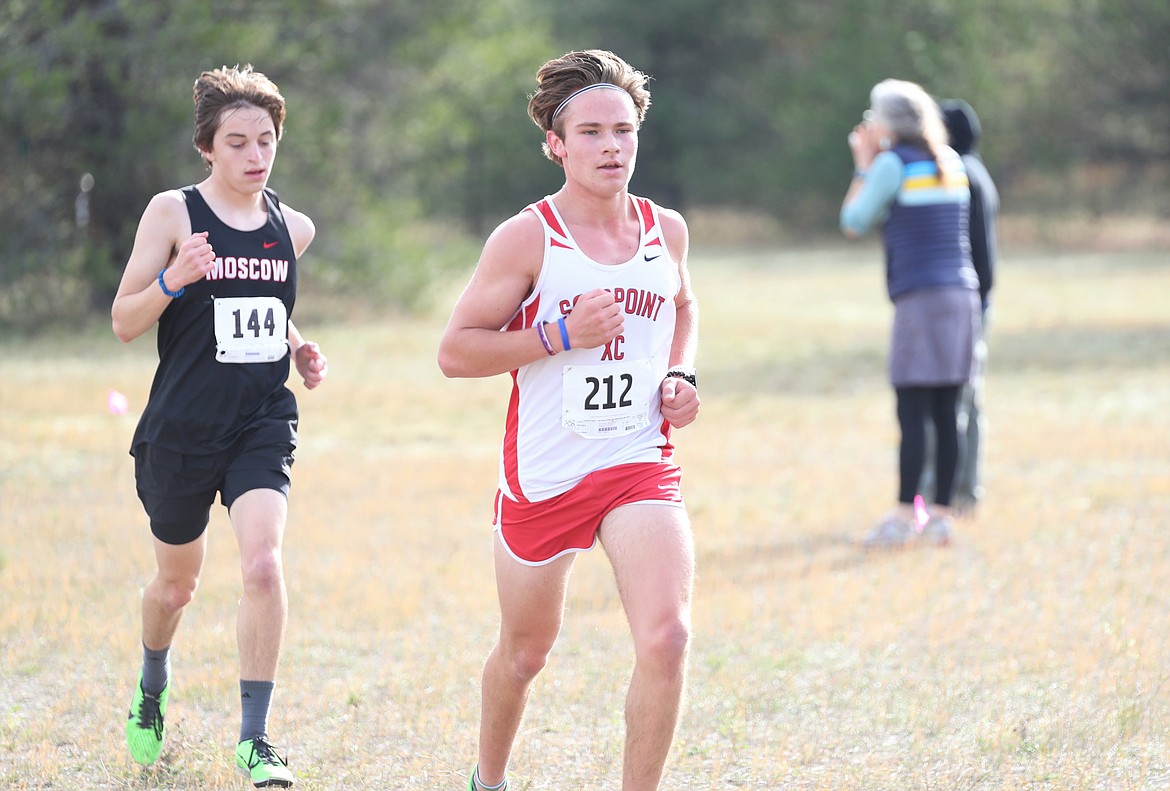 Slate Fragoso competes in Thursday's regional meet.
(Photo by DYLAN GREENE)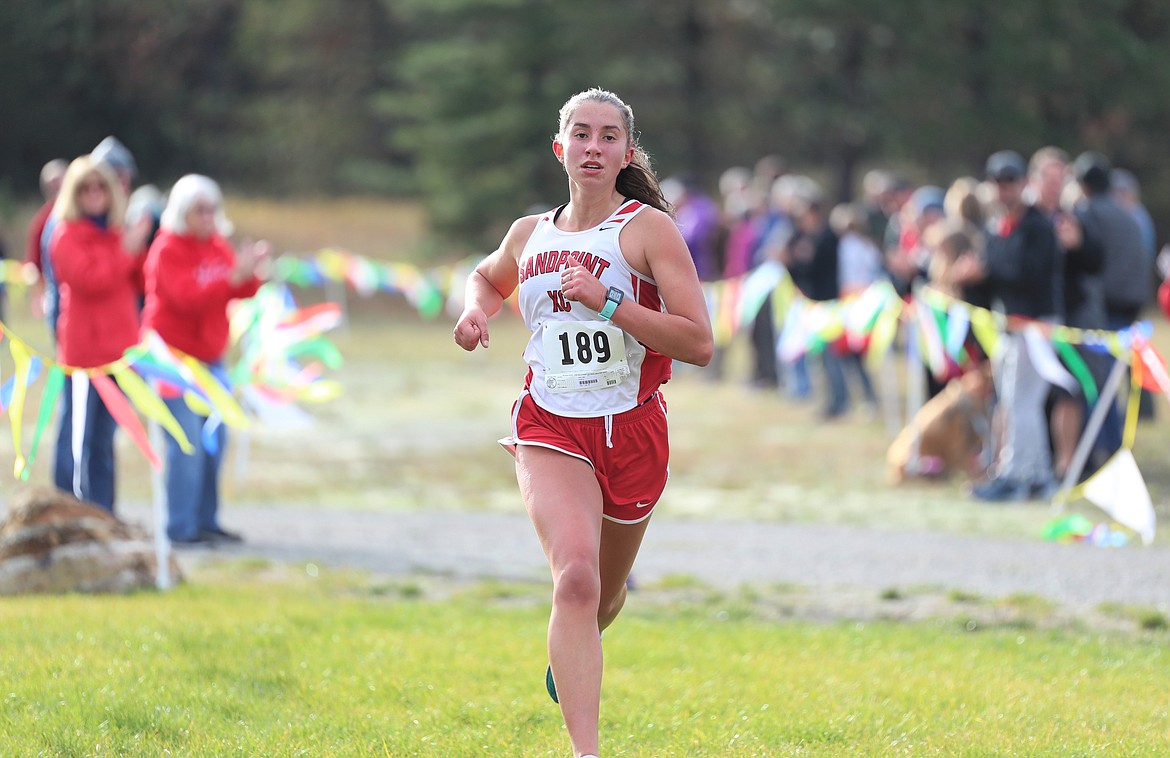 Payton Betz nears the finish line Thursday.
(Photo by DYLAN GREENE)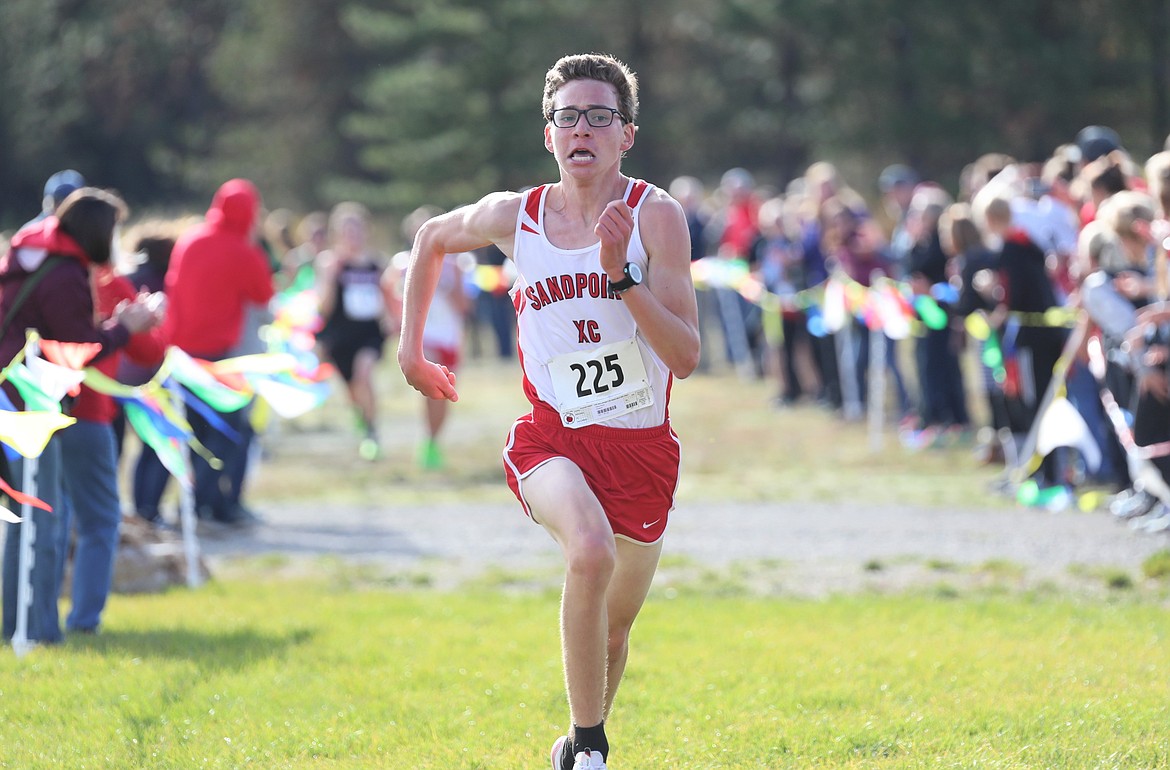 Sophomore Nathan Roche digs deep as he nears the finish of the 4A Region 1 meet.
(Photo by DYLAN GREENE)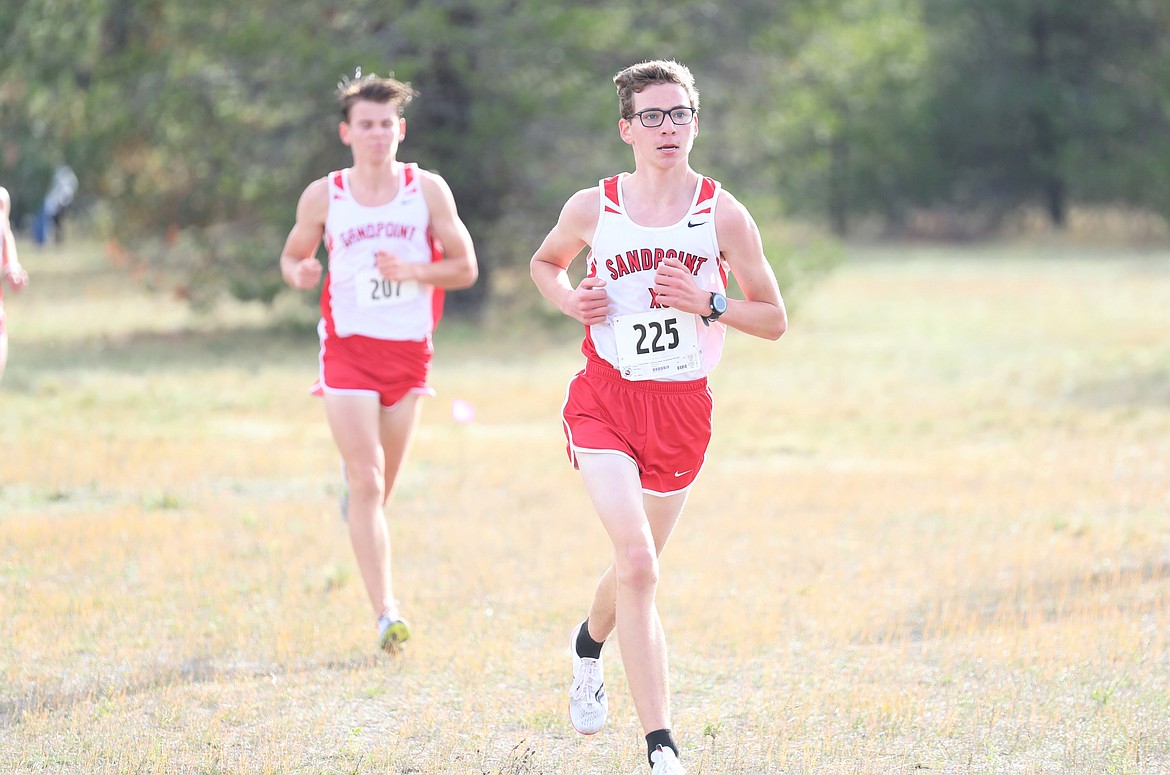 Nathan Roche competes on Thursday.
(Photo by DYLAN GREENE)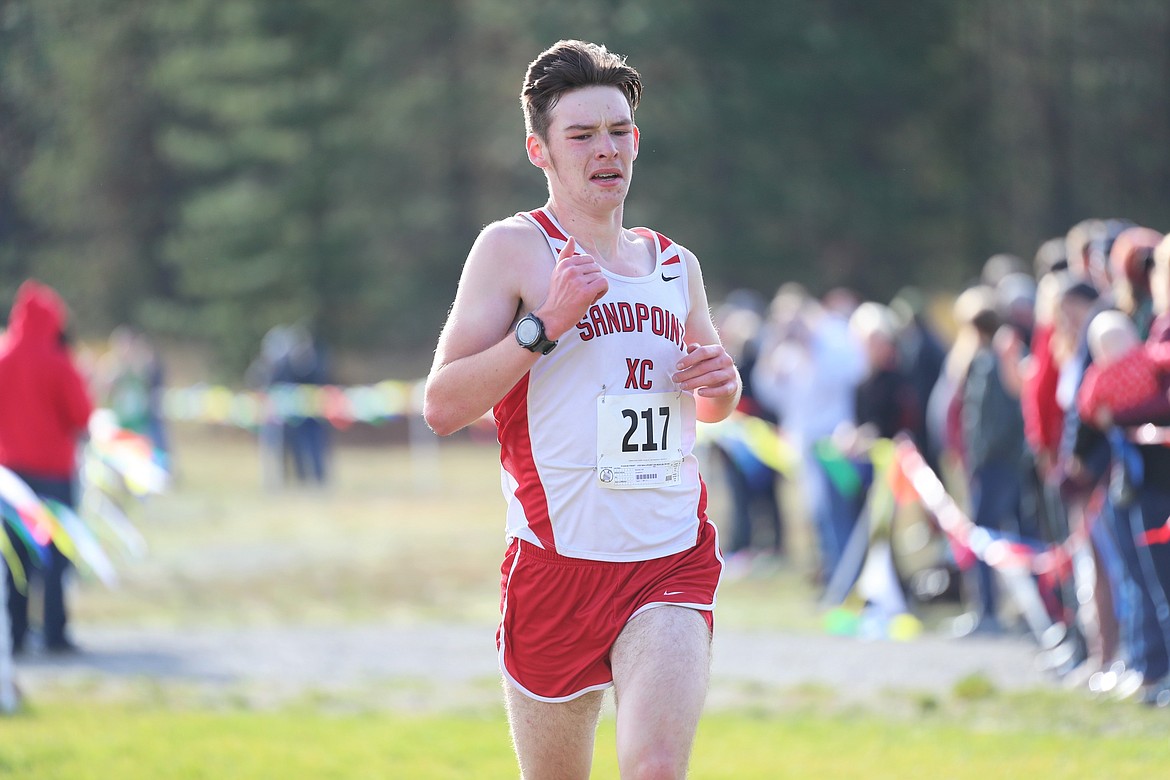 Michael Hall crosses the finish line on Thursday.
(Photo by DYLAN GREENE)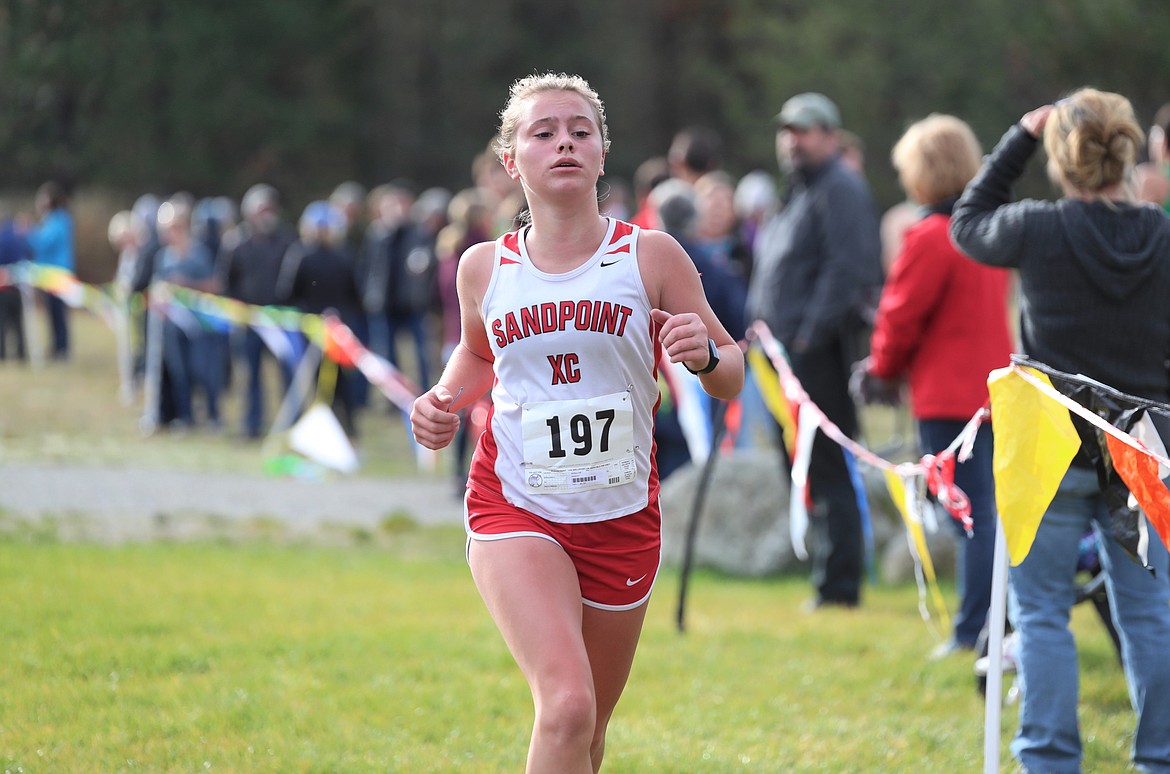 Madison Hall nears the finish line on Thursday.
(Photo by DYLAN GREENE)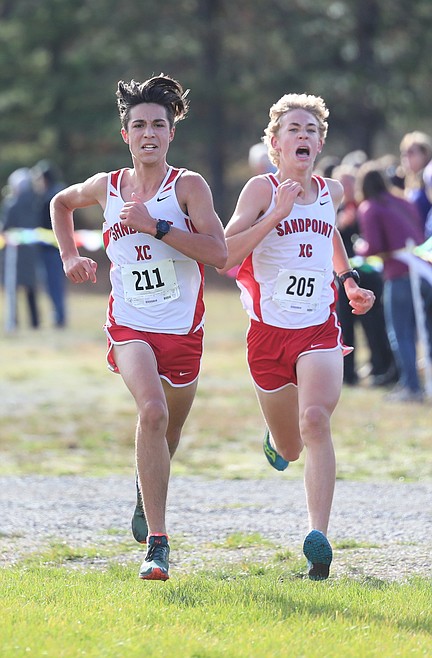 Klein Fragoso (left) and Fletcher Barrett run side-by-side as they near the finish Thursday.
(Photo by DYLAN GREENE)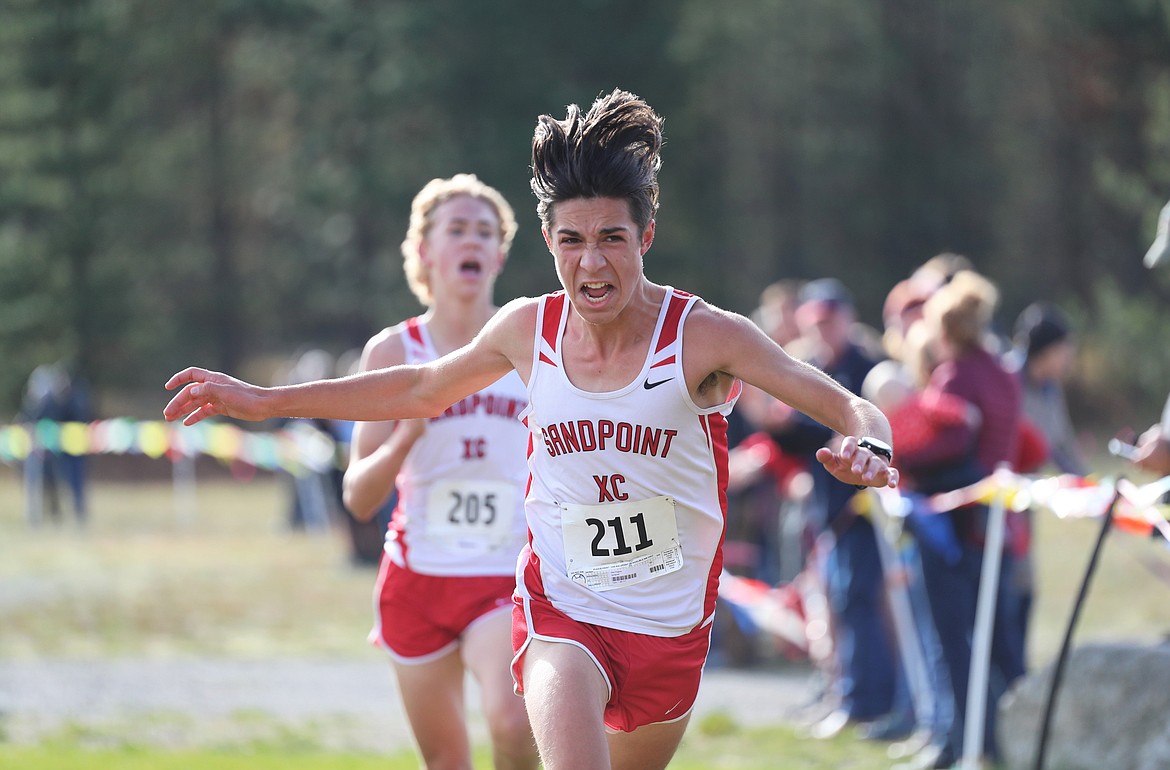 Klein Fragoso dives over the finish line Thursday.
(Photo by DYLAN GREENE)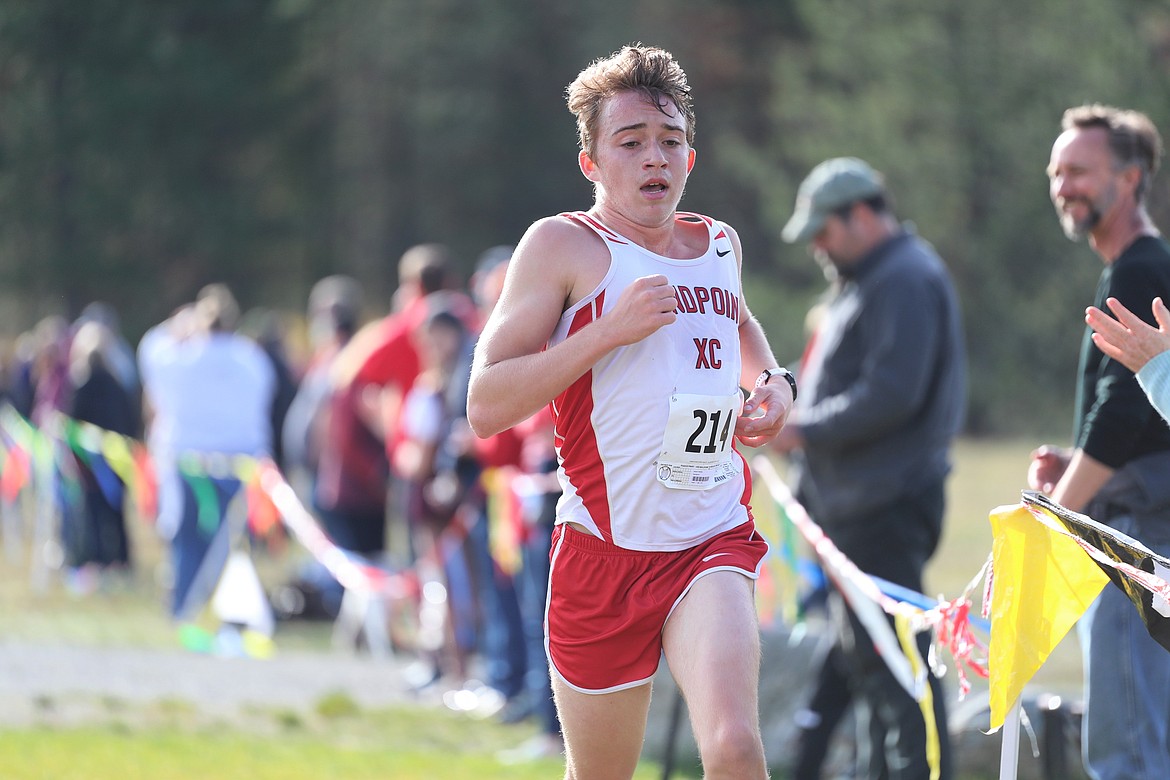 Keane Haesle crosses the finish line on Thursday.
(Photo by DYLAN GREENE)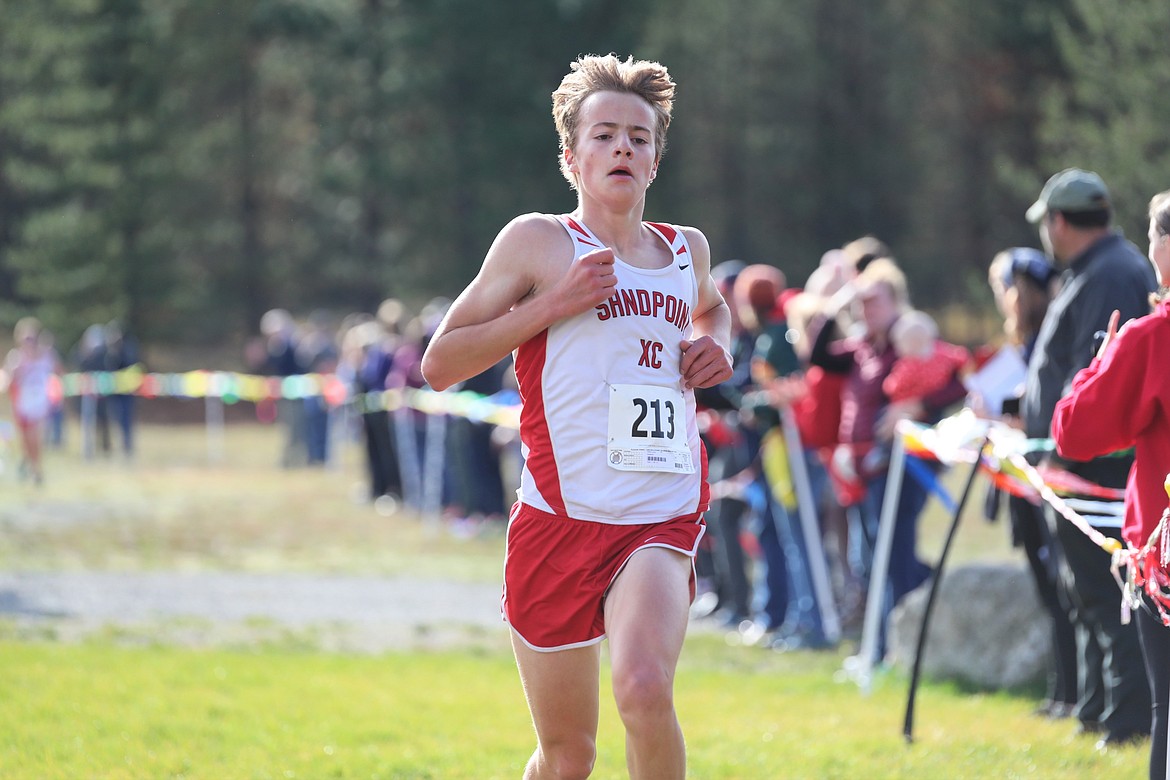 Kasten Grimm crosses the finish line on Thursday.
(Photo by DYLAN GREENE)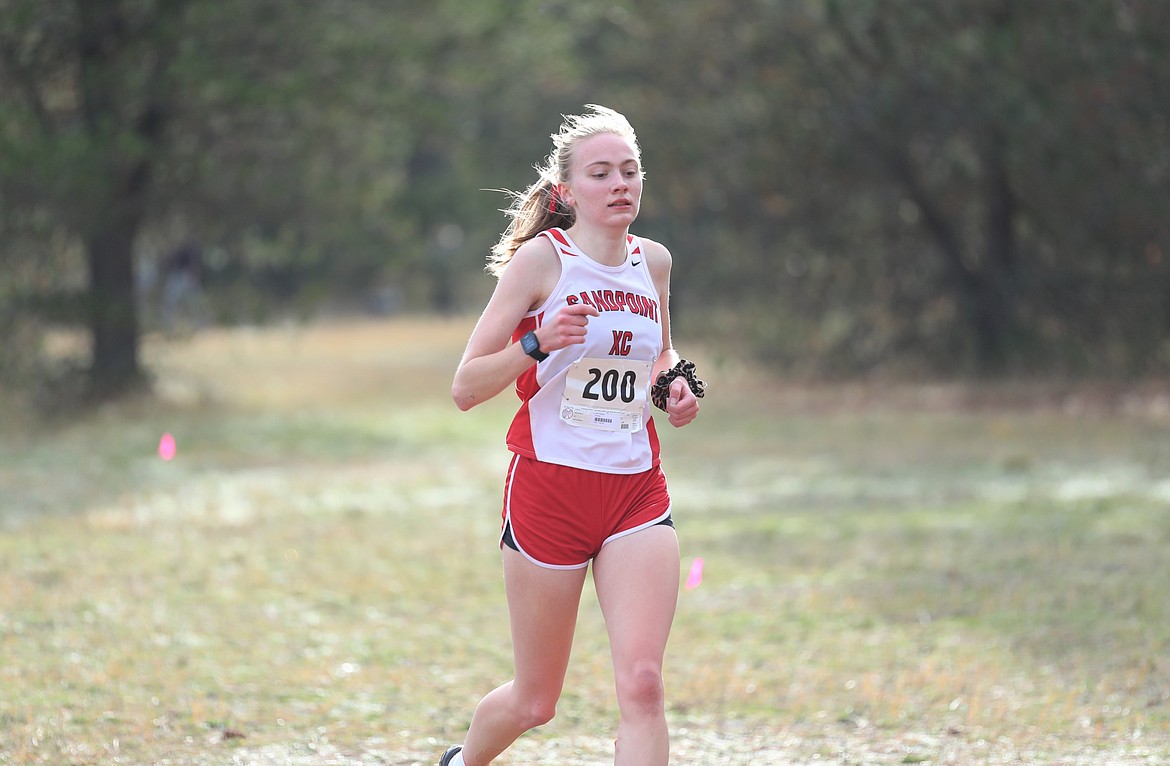 Jillian Primgaard competes in Thursday's regional meet.
(Photo by DYLAN GREENE)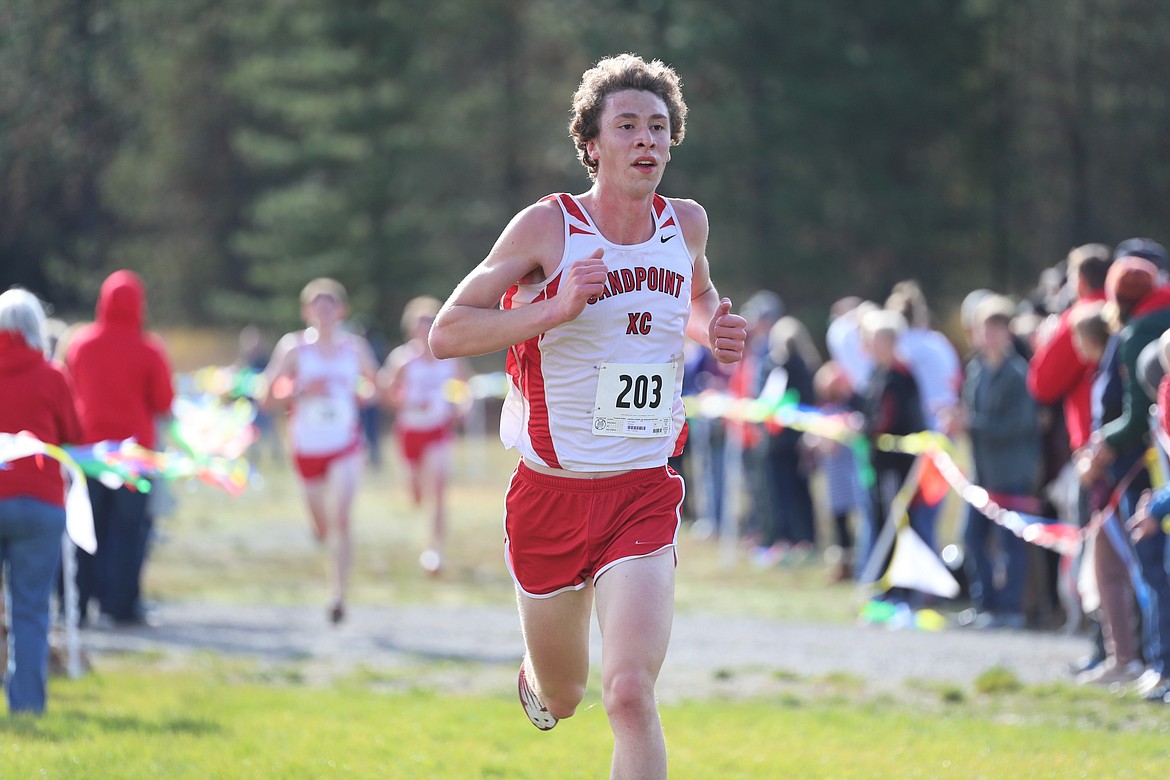 Isaac Babin nears the finish line on Thursday.
(Photo by DYLAN GREENE)
Isaiah Hagstrom crosses the finish line on Thursday.
(Photo by DYLAN GREENE)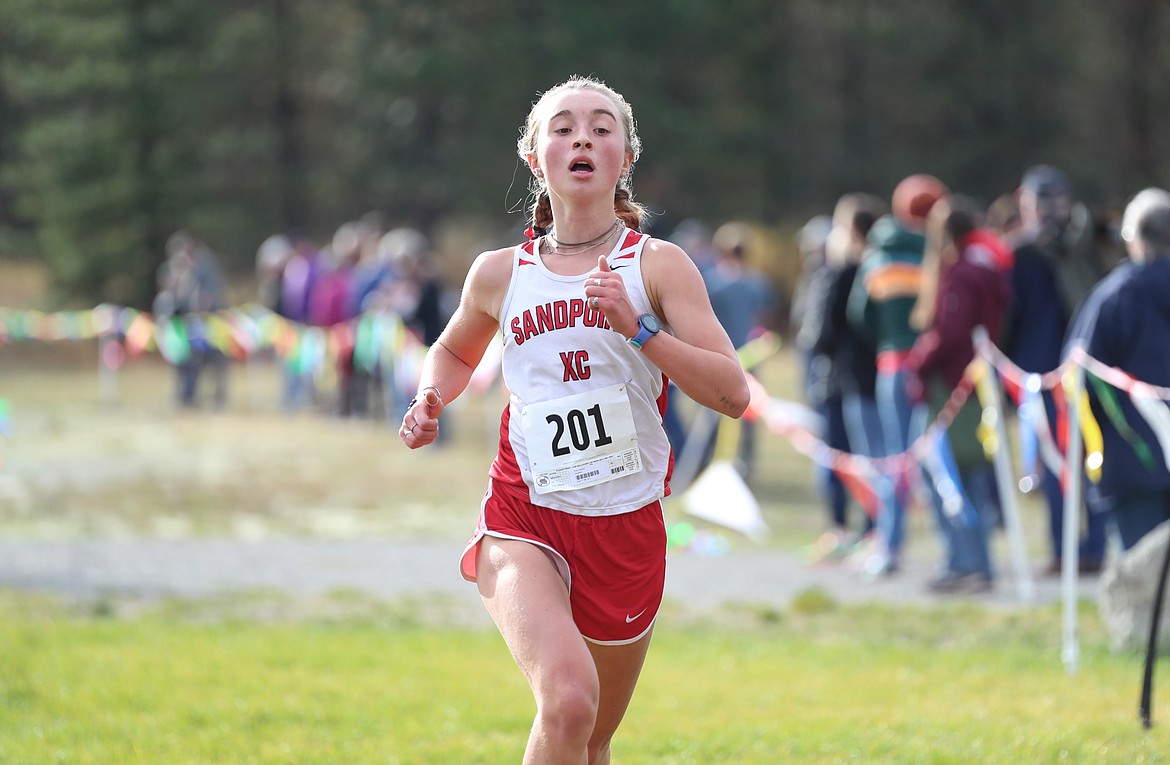 Grace Rookey crosses the finish line on Thursday.
(Photo by DYLAN GREENE)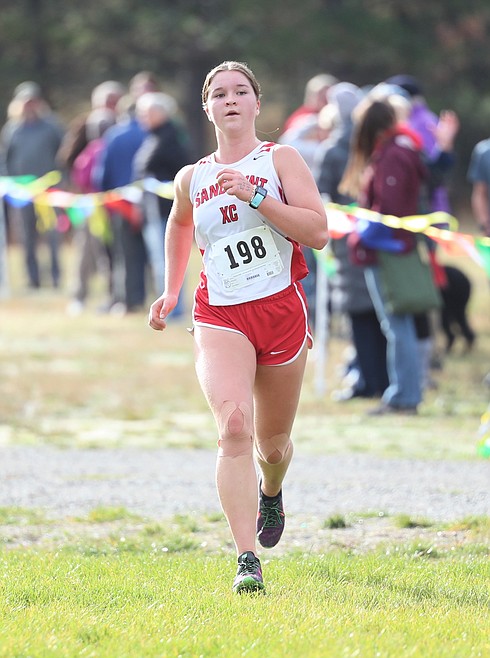 Devin McDaniel nears the finish line on Thursday.
(Photo by DYLAN GREENE)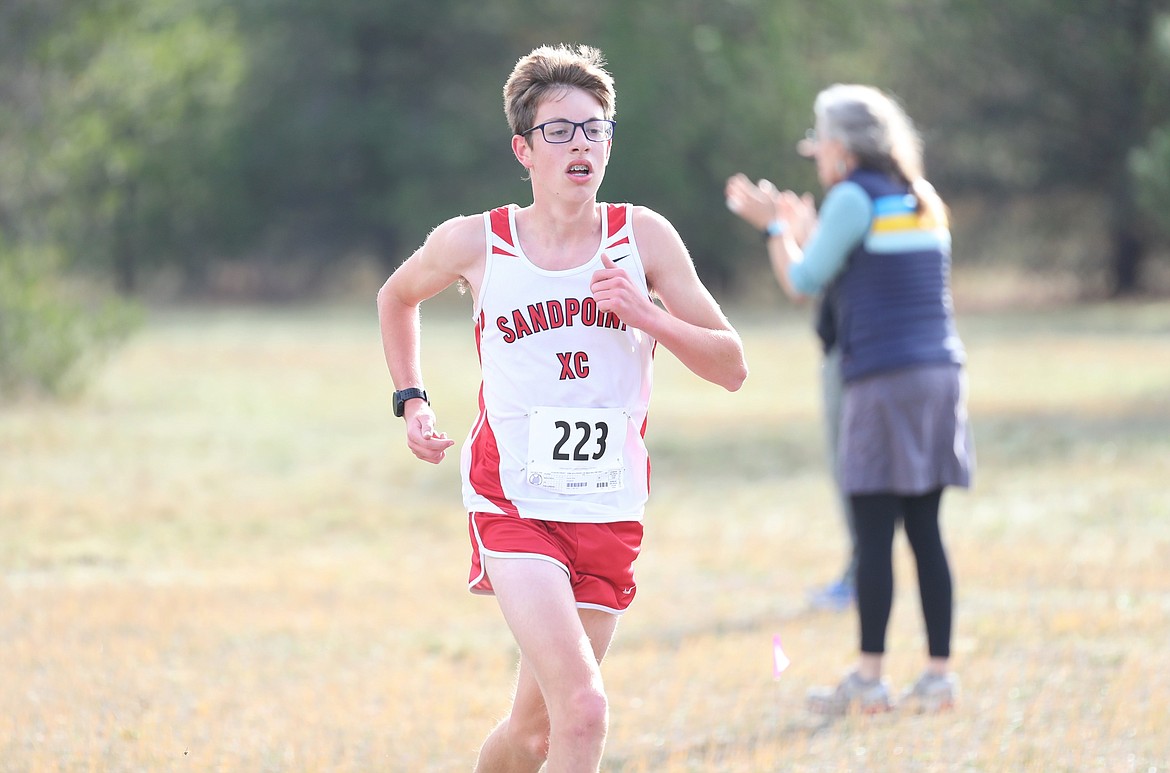 Daniel Ricks competes on Thursday.
(Photo by DYLAN GREENE)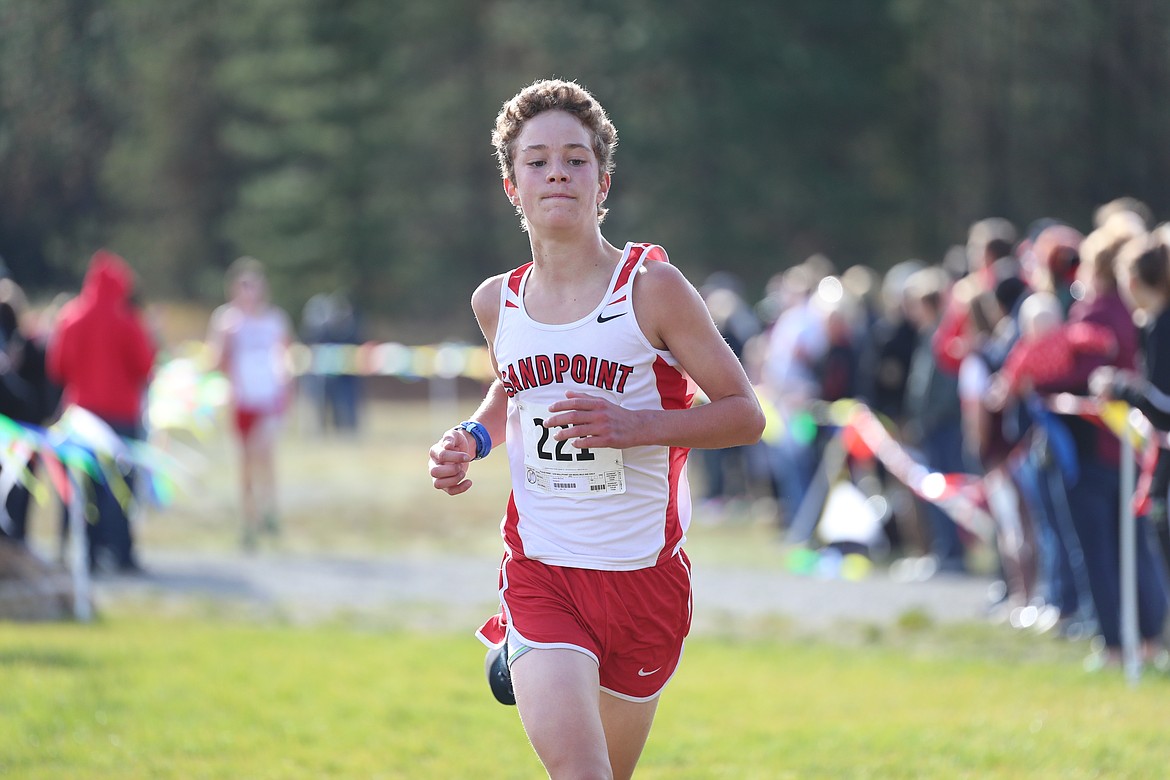 Connor McClure crosses the finish line on Thursday.
(Photo by DYLAN GREENE)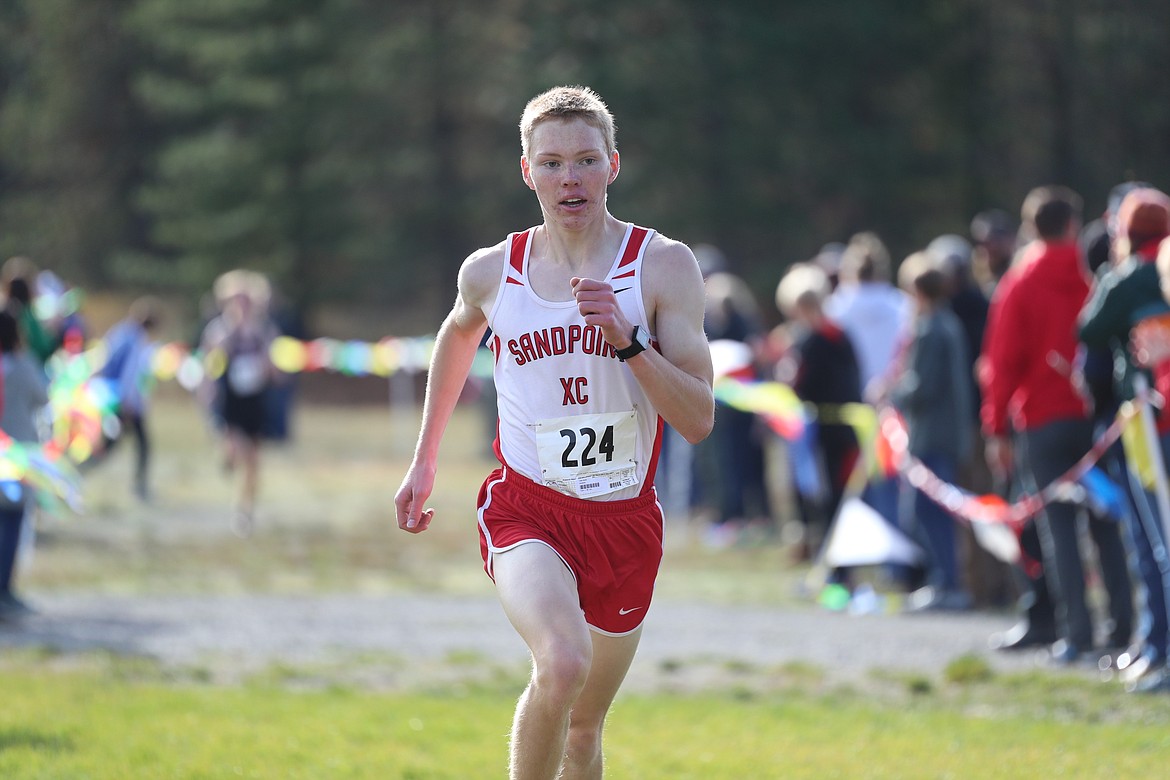 Caleb Roche nears the finish on Thursday.
(Photo by DYLAN GREENE)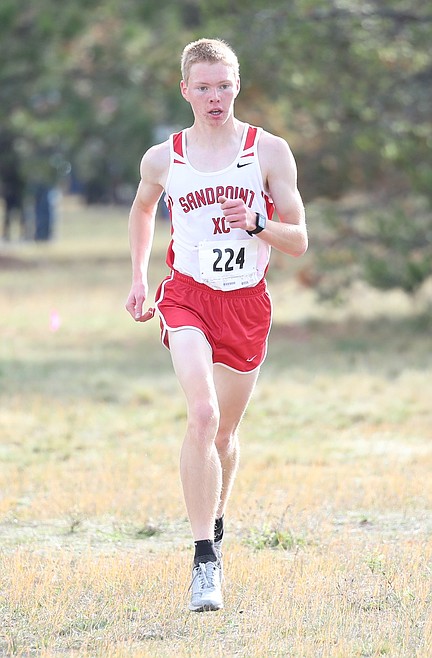 Caleb Roche competes on Thursday.
(Photo by DYLAN GREENE)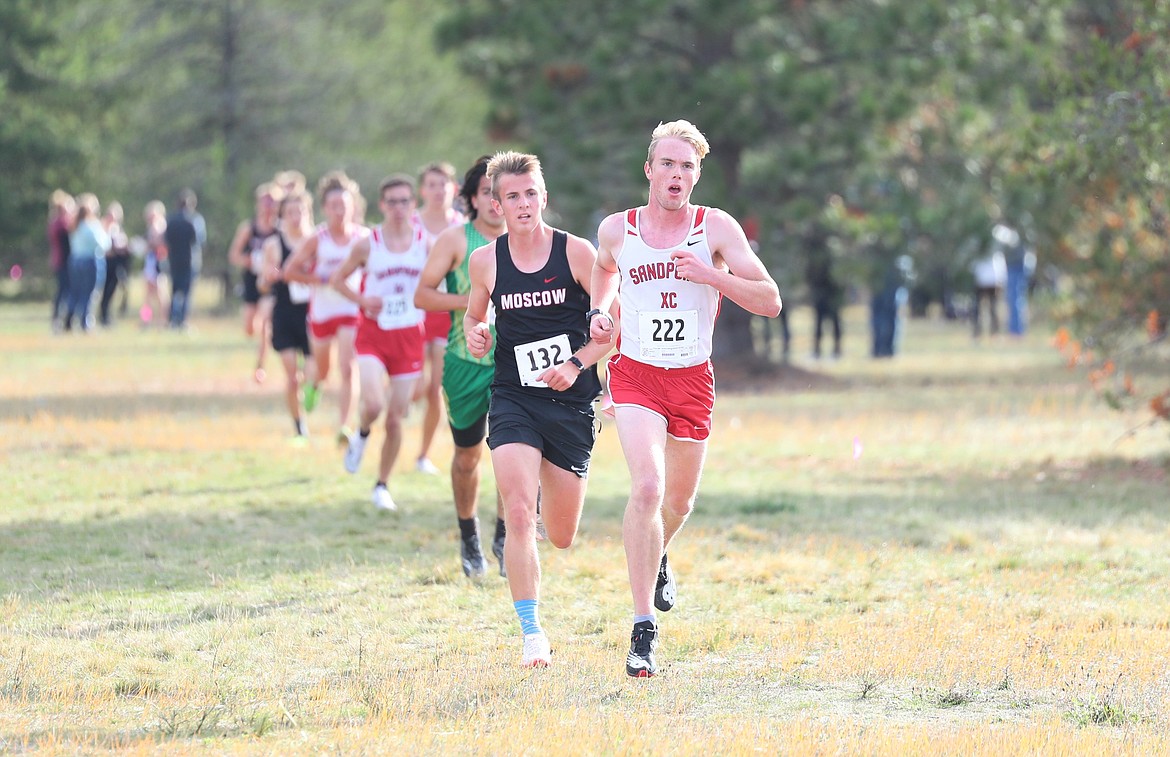 Ben Ricks leads during the halfway point of Thursday's race.
(Photo by DYLAN GREENE)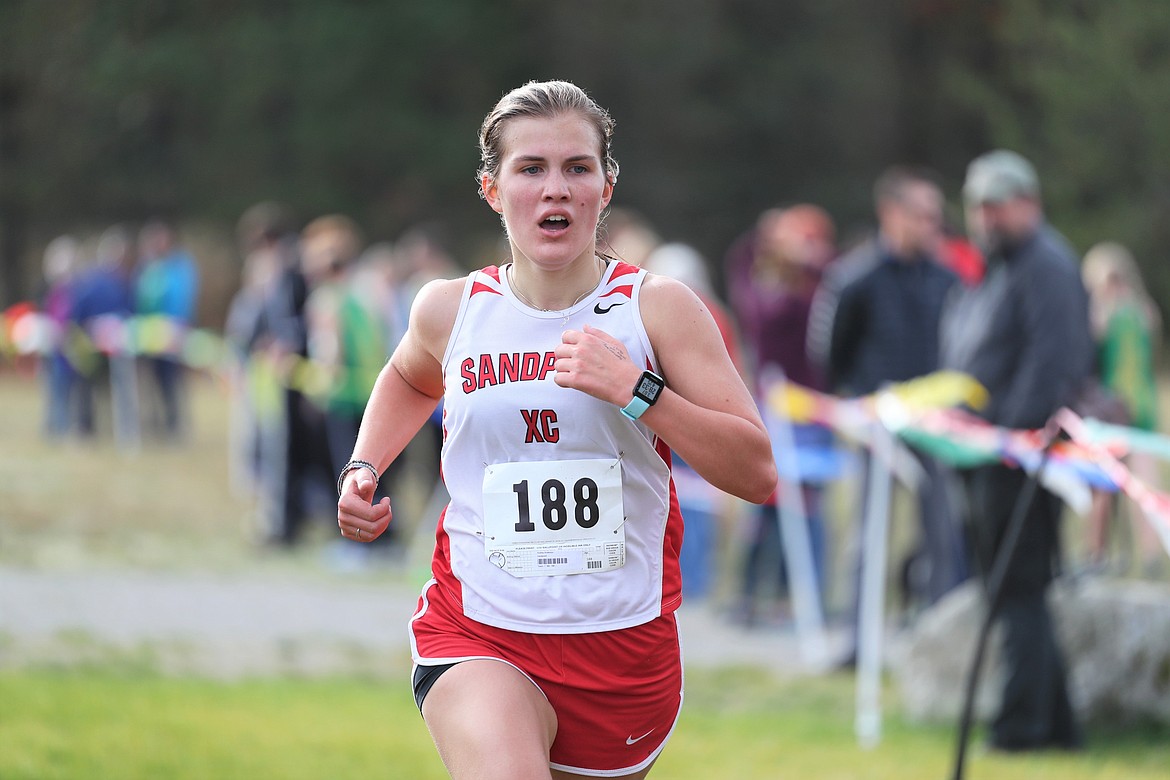 Audrey Anderson crosses the finish of Thursday's regional race.
(Photo by DYLAN GREENE)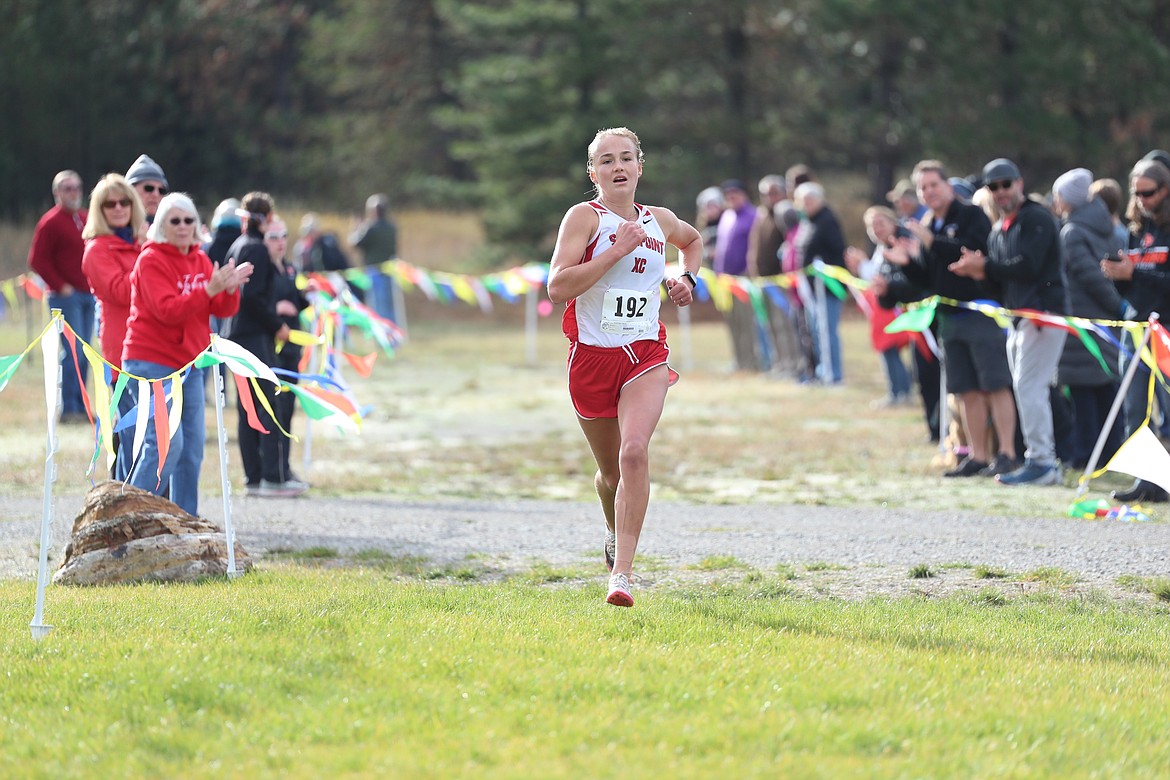 Ara Clark nears the finish on Thursday.
(Photo by DYLAN GREENE)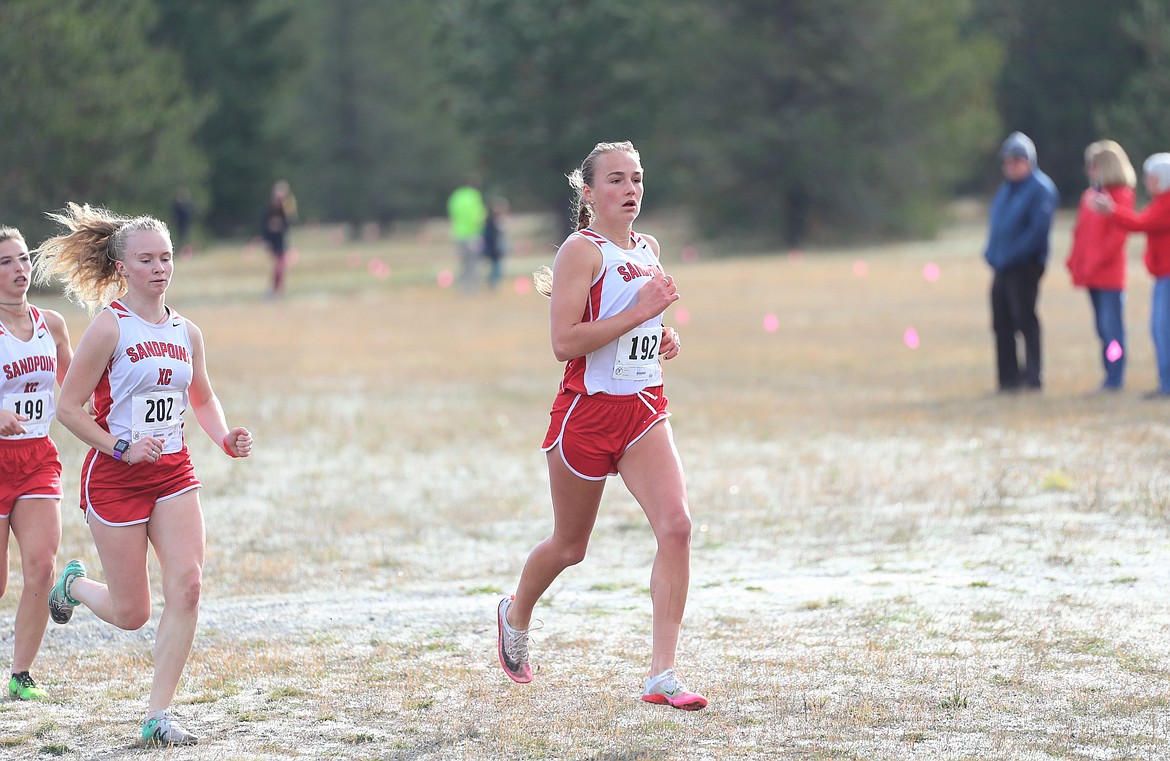 Ara Clark leads the start of Thursday's regional race.
(Photo by DYLAN GREENE)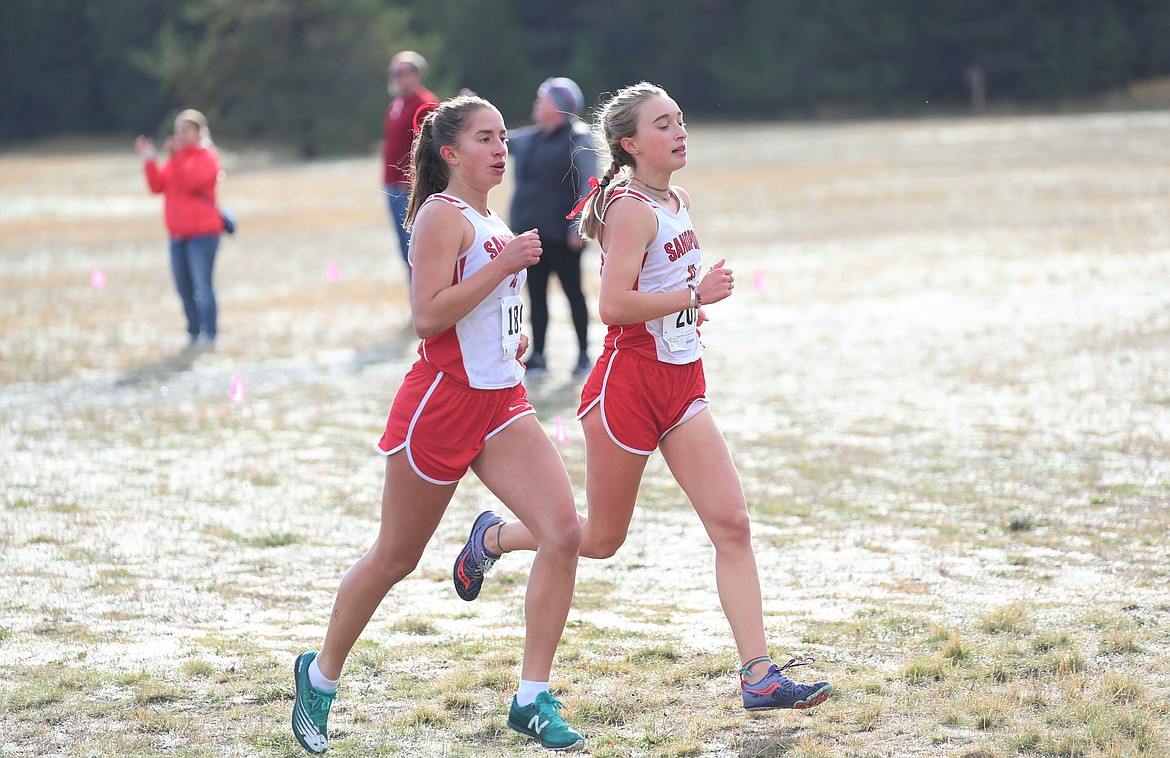 Payton Betz (left) and Grace Rookey run side-by-side on Thursday.
(Photo by DYLAN GREENE)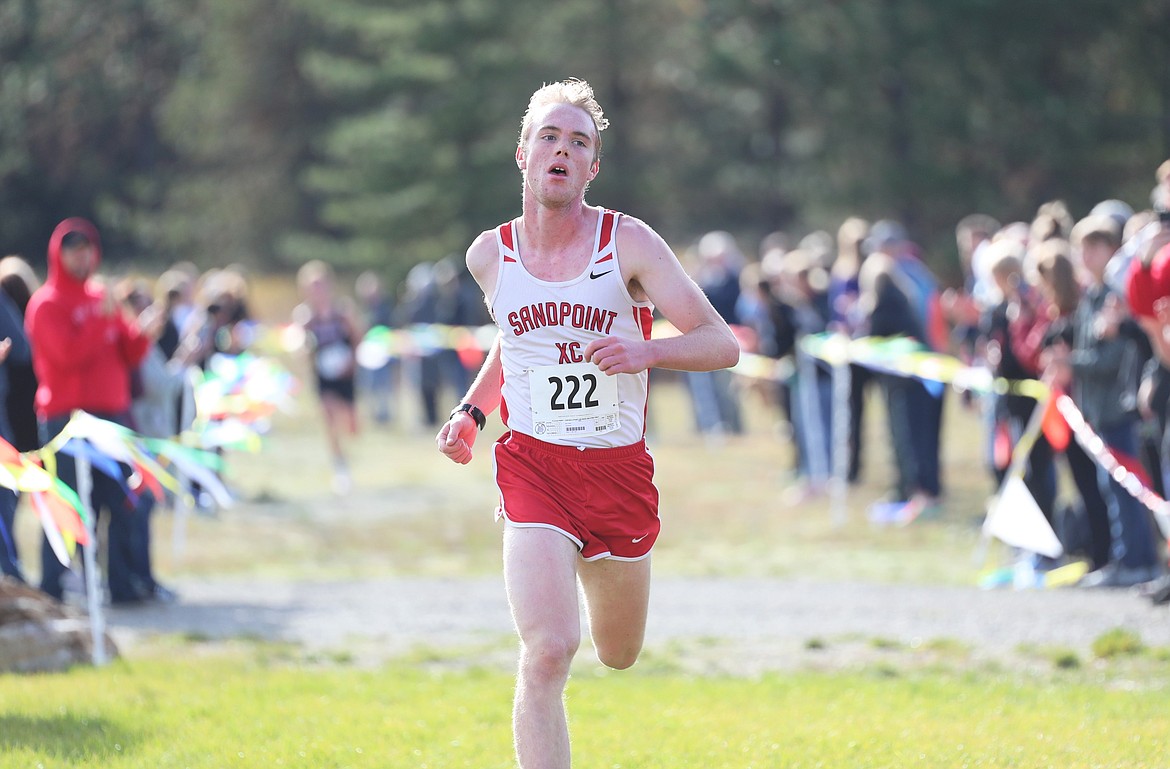 Senior Ben Ricks crosses the finish line during Thursday's regional meet. He won the individual title on the boys side.
(Photo by DYLAN GREENE)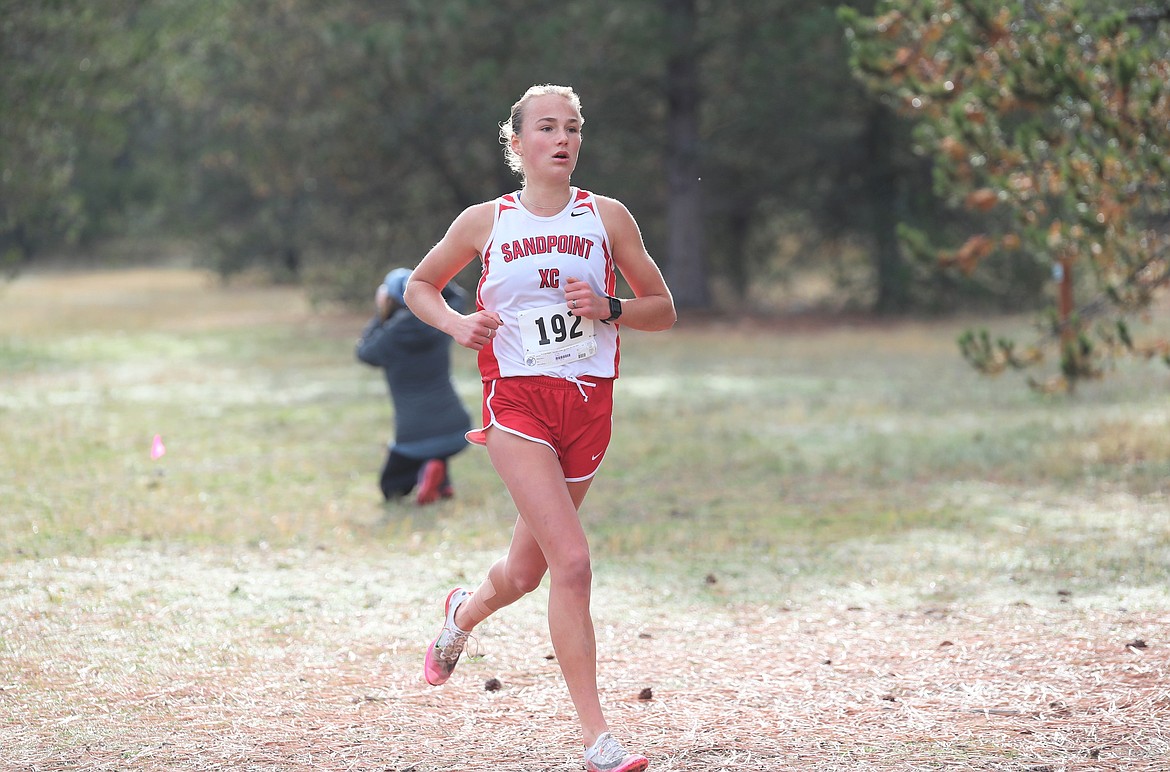 Junior Ara Clark competes in Thursday's regional meet. Clark claimed the individual title on the girls side.
(Photo by DYLAN GREENE)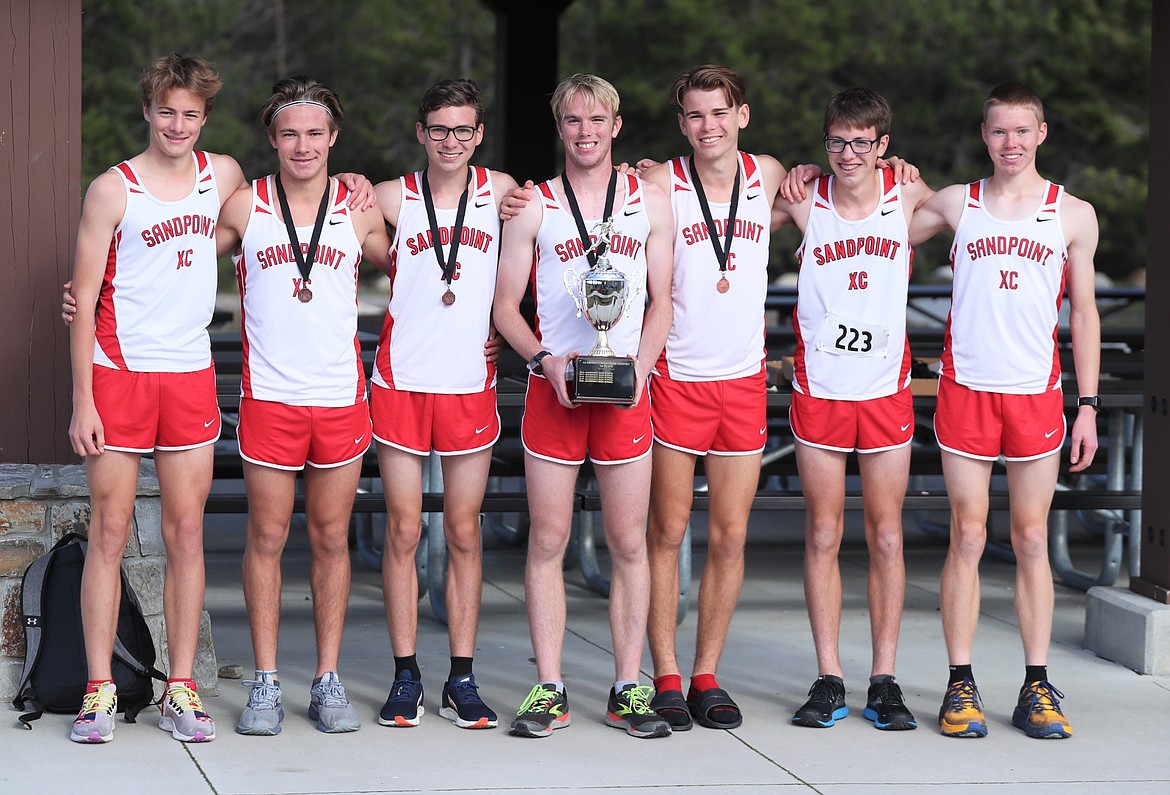 The varsity runners for the Sandpoint boys cross country team pose for a photo with the 4A Region 1 trophy on Thursday. Pictured (from left): Kasten Grimm, Slate Fragoso, Nathan Roche, Ben Ricks, Trey Clark, Daniel Ricks and Caleb Roche.
(Photo by DYLAN GREENE)
Previous
Next
by
DYLAN GREENE
Sports Editor
|
October 21, 2021 6:37 PM
Editor's note: More photos will be added to this story.
ATHOL — Sandpoint cross country continued its reign over North Idaho, sweeping the 4A Region 1 team titles on Thursday for the ninth straight year.
From the moment the team stepped off the bus at Farragut State Park, it was clear the Bulldogs weren't ready to surrender the regional trophies to their rivals.
The Bulldog girls punched their ticket to state for the 10th straight year, while the boys will be making their ninth consecutive appearance.
The girls also made school history, achieving a perfect score of 15 at regionals for the first time ever. It was a dominant showing as Sandpoint's top five girls — Ara Clark, Mackenzie Suhy-Gregoire, Megan Oulman, Payton Betz and Grace Rookey — left the rest of the competition in the dust to sweep the first five medalist spots.
"I am so proud of them," girls cross country coach Angie Brass said. "That was definitely a goal coming in … and they got out there and took care of it."
With about a quarter mile left in the race, Angie admitted she got emotional when she gave the girls her final instructions before reaching the finish line.
"When I saw them come by me ... I started crying," she said.
Clark said it's amazing to know that this girls team will be etched in the history books at SHS forever.
"It's truly something special," she said about the Bulldogs sweeping the top five places. "This whole season we've worked so hard toward it. At the beginning of the season we didn't really have that idea in our mind, but as the season went on it kind of grew on us that this is possible and I think we're just so proud of each other, and the hard work we've put in really paid off."
Clark claimed the individual regional title on the girls side with a time of 20:24. The junior captain had her eyes on that top spot heading into the race.
"I think that was one of my goals today was to earn that regional title," she said, "and I felt really accomplished crossing that line and turning to see the next four come in be all Sandpoint."
Clark has been at the front of the pack for the Bulldogs all season long and she continued to impress.
"Regional champion, that's a big deal and that's exciting as a junior," Angie said.
It's been incredible to watch Clark grow over the last year, Angie said.
"I'd have to say Ara is probably the longest one we've worked with because when she was in elementary school … [she] would come and join us every once in a while on summer runs," she said, "so it's definitely special watching her grow up and mature into a really incredible individual and athlete."
Suhy-Gregoire (20:57) and Oulman (20:58) nearly crossed the finish line side-by-side, capturing second and third respectively. The duo worked perfectly together.
"They were close and had each other," Angie said, "and even when they weren't side-by-side, you could feel that connection and magnetization and they used that to their advantage."
Betz (21:18) and Rookey (21:21) also formed a tight pack, taking home fourth and fifth respectively. Jillian Primgaard placed 12th (23:12) and Tiffany Brown earned 16th to round out the top seven runners for the girls.
The regional title was never in doubt for the girls and Clark said that's a byproduct of their determination during the offseason.
"To be where our team is today, it's a year-round commitment to it," she said, "and I feel like our top five especially have really put in that commitment."
The Sandpoint boys on the other hand, had to dig down deep to keep their regional streak intact, and they did just that. The Bulldogs edged out Moscow 26 to 34.
Boys cross country coach Matt Brass said he couldn't have asked for a better race from his team.
"We executed almost exactly how we wanted to," he said. "A couple guys might have slid a place or two, but for the most part we held strong … It's hard to do anything year after year after year, and nine in a row, I'm absolutely proud of these guys."
It was a tightly contested battle between Sandpoint and Moscow throughout, and at times during the race it looked like the Bears might dethrone the Bulldogs. But Sandpoint's top four runners got the job done to stave off the Bears.
Ben Ricks said it took some time after the race for the boys to realize they had extended the regional streak.
"It was really exciting to get it," he said. "We watched everybody come in and we weren't sure we had it until Matt got us altogether and he looked down at his notecard and said, 'Moscow 34, Sandpoint 26.'"
Ricks captured the individual regional title for the boys with a 17:02. He edged out Moscow's Emmett Brooks by just over seven seconds. The two have been neck-and-neck all season long and Brooks finished ahead of Ricks in the last two meets before regionals.
But Ricks was determined to get to the line first and nothing was going to stop him.
"I wanted it so bad," he said. "After track, Matt came up to me, and was like, 'I want you to start seeing yourself as a regional champ,' and that really just stuck with me, so this entire season I've been thinking about wanting to be regional champ and during the race he started to make a little gap on me, I just felt, 'I want this more than you,' so it really drove me and I ended up getting it."
Matt said Ricks pushed his limits to earn that top spot.
"I attribute it to just really solid mental preparation and toughness," he said. "He knew what he needed and he knew it was going to hurt, and he was willing to send himself to that place to get what he wanted."
Trey Clark came home third with a 17:24, Nathan Roche grabbed fourth with a 17:33 and Slate Fragoso nabbed sixth with a 17:36. All three earned medalist honors, along with Ricks.
Caleb Roche ran a strong 17:57 to earn 12th. Sophomores Kasten Grimm (18:32) and Daniel Ricks (18:38) placed 14th and 15th respectively to round out the top seven runners for the boys.
Matt said the Bears gave his team a run for their money and having that competition pushed the Bulldogs to get better each and every week. Matt said he told his team after the track season in the spring the resistance they would receive from the Bears in the fall, and the boys rose to the occasion.
"Hats off to Moscow, they challenged us all season and they're a great team," he said.
Sandpoint will compete in the 4A state championships at 2 p.m. next Friday at Eagle Island State Park.
RESULTS
BOYS
TEAM SCORES (Top two to state) — 1, Sandpoint 26. 2, Moscow 34. 3, Lakeland 77.
INDIVIDUAL MEDALISTS — 1, Ben Ricks, Sandpoint, 17:02.8. 2, Emmett Brooks, Moscow, 17:10.0. 3, Trey Clark, Sandpoint, 17:24.3. 4, Nathan Roche, Sandpoint, 17:33.1. 5, Tristin O'Brien, Moscow, 17:36.5. 6, Slate Fragoso, Sandpoint, 17:36.4. 7, Owen Elizondo-Bachiero, Lakeland.
SANDPOINT RESULTS — 1, Ben Ricks, 17:02.8. 3, Trey Clark, 17:24.3. 4, Nathan Roche, 17:33.1. 6, Slate Fragoso, 17:36.4. 12, Caleb Roche, 17:57.3. 14, Kasten Grimm, 18:32.5. 15, Daniel Ricks, 18:38.8. 17, Klein Fragoso, 18:45.5. 18, Fletcher Barrett, 18:46.1. 19, Isaac Babin, 18:54.6. 20, Jimmy Cornelius, 18:57.3. 21, Anders Eastley, 18:58.6. 25, Connor McClure, 19:46.9. 26, Michael Hall, 19:51.8. 29, Keane Haesle, 20:02.5. 30, Will Jordan, 20:13.9. 31, Isaiah Hagstrom, 20:29.2. 37, William Dotson, 21:24.6. 38, Ethan Barcklay, 21:33.7. 41, Torin Haesle, 21:52.2. 42, Gavin Jasper, 22:05.2.
GIRLS
TEAM SCORES (Top two to state) — 1, Sandpoint 15. 2, Moscow 40. 3, Lakeland 83.
INDIVIDUAL MEDALISTS — 1, Ara Clark, Sandpoint, 20:24.3. 2, Mackenzie Suhy-Gregoire, Sandpoint, 20:57.5. 3, Megan Oulman, Sandpoint, 20:58.1. 4, Payton Betz, Sandpoint, 21:18.9. 5, Grace Rookey, Sandpoint, 21:21.3. 6, Megan Heyns, Moscow, 21:44.6. 7, Indigo Wulfhorst, Moscow, 22:06.2.
SANDPOINT RESULTS — 1, Ara Clark, 20:24.3. 2, Mackenzie Suhy-Gregoire, 20:57.5. 3, Megan Oulman, 20:58.1. 4, Payton Betz, 21:18.9. 5, Grace Rookey, 21:21.3. 13, Jillian Primgaard, 23:12.5. 16, Tiffany Brown, 23:34.9. 18, Devin McDaniel, 23:54.0. 19, Terra Bode, 24:21.7. 22, Madison Hall, 26:21.5. 28, Audrey Anderson, 28:34.7. 31, Alice Davison, 31:17.2.
Recent Headlines
---