Commissioners weigh options for PHD board spot
by
ANNISA KEITH
Staff Writer
|
January 21, 2022 1:00 AM
▶️ Listen to this article now.
SANDPOINT — Public officials are discussing options for a future representative to fill the at-large board position at Panhandle Health following the recent death of Dr. Allen Banks.
Commissioners from Boundary, Bonner, Kootenai, Benewah, and Shoshone counties appoint people to the seven member board. Bonner County appoints two seats, previous commissioner Glen Bailey is Bonner County's other appointee.
Bonner County commissioners have received one letter from a hopeful for the position, according to information from commissioner Chairman Dan McDonald. Yet, commissioners will advertise for the position in the upcoming weeks.
The commissioners also have the option to appoint one of themselves to serve on the health board, as two of the five panhandle counties have done.
"We have a couple of commissioners that are on our board. It's always really nice to have them and the impact that they have on the board," said Panhandle Health District Director Don Duffy to the commissioners on Thursday
Duffy outlined the procedure of appointing a board member telling commissioners they had several options.
"This is your call on this," Duffy said. "You can either go out and find people or advertise. We get inquiries about [applying for the position], and we'll just send those up to you. Because it's not my call, commissioners, this is your call."
After commissioners select a nominee, they will pass the name on to Duffy, who will present it to commissioners of the other counties in the health district. If the nominee garners a majority vote, they will be inducted as the new health board appointee.

"It's as simple as that, you can do what you want on that search," Duffy said.
Commissioners are expected to select a nominee in the next few weeks. Those interested in the position are invited to inquire with the commissioner's office located on the third floor of the county administration building at 1500 U.S. 2. The commissioners office can be reached at 208-265-1438, with more information on their website at bonnercountyid.gov.
In addition to updating commissioners on the process for a new health district board member, Duffy shared updates and statistics about Panhandle Health's scope in the county.
"In 2020, nearly 5,800 citizens touched Panhandle Health District. We had 855 that came into our clinic for health services. Most of those are without cost to them," Duffy said.
Duffy emphasized the benefits of home health services that many in Bonner County utilize.
"These are your citizens, and we are providing their medical care in their home. Over 1,530 in your county. This is a big part of what we do up here."
Other services Panhandle Health contributes to Bonner County include but are not limited to physical, occupational & speech therapies, child care & educational services, travel immunizations, and food inspections. Duffy briefly remarked on the growing number of septic tanks in the county.
"Septic tanks — holy cow," Duffy said. "In 2020 we went from 558 to 685 in 2021. That's been a growing part of what we do here."
Toward the end of the 20-minute long meeting, Duffy brought up House Bill 316, a piece of legislation signed by Gov. Brad Little in May 2021 that shifts some of the funding responsibility for regional health districts from the state, to the counties.
According to the Legislature's website HB 316 will, "add to and amend existing law to provide for additional county aid to public health districts and to revise provisions regarding health districts." There were no votes against the legislation as it was proceeding through the Legislature.
"This darn House Bill 316," Duffy said. "We're gonna see how this all works out. But to give you some idea — you go from funding 10% of our services, to up to 20% of our services. In 2022, that will constitute about $252,000. In [fiscal year] 2023, that will go up to about $500,000. So it's almost doubled."
"There's been some unintended consequences of this. … Our real push is looking even harder at our fiscal responsibility as more is being asked of you. As district director, I am not comfortable that there is an additional amount of money that we're asking from our counties, but I am comfortable that you have more involvement in what we do," Duffy said. "I do watch the profit-loss statement quite closely and will continue to do that."
McDonald has not been positive about the legislation in his public statements for some time.
"We told them this was going to hurt the counties, and [the state] is sitting on a $1.2 billion surplus. They went ahead, reached into our pockets and took it out anyway," McDonald said on Aug. 23 during a public meeting to explain why the county was going to collect foregone property taxes.
On Jan. 3, the Idaho Capital Sun reported that Idaho is projected to have a $1.6 billion surplus by the end of the fiscal year.
"The budget will be one of 2022's big topics because revenues are much greater than anticipated. To me, that's the starting point," Sen. Jim Woodward, R-Sagle, in the article by the Idaho Capital Sun. "Every month of the fiscal year, revenues have exceeded what we predicted. I think by the time we hit the session, we'll be looking at projections of close to $1.6 billion in excess of what we anticipated."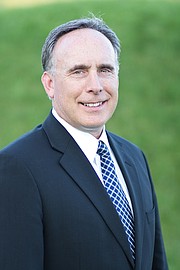 Recent Headlines
---