Bill Hunt: Missing in action; never forgotten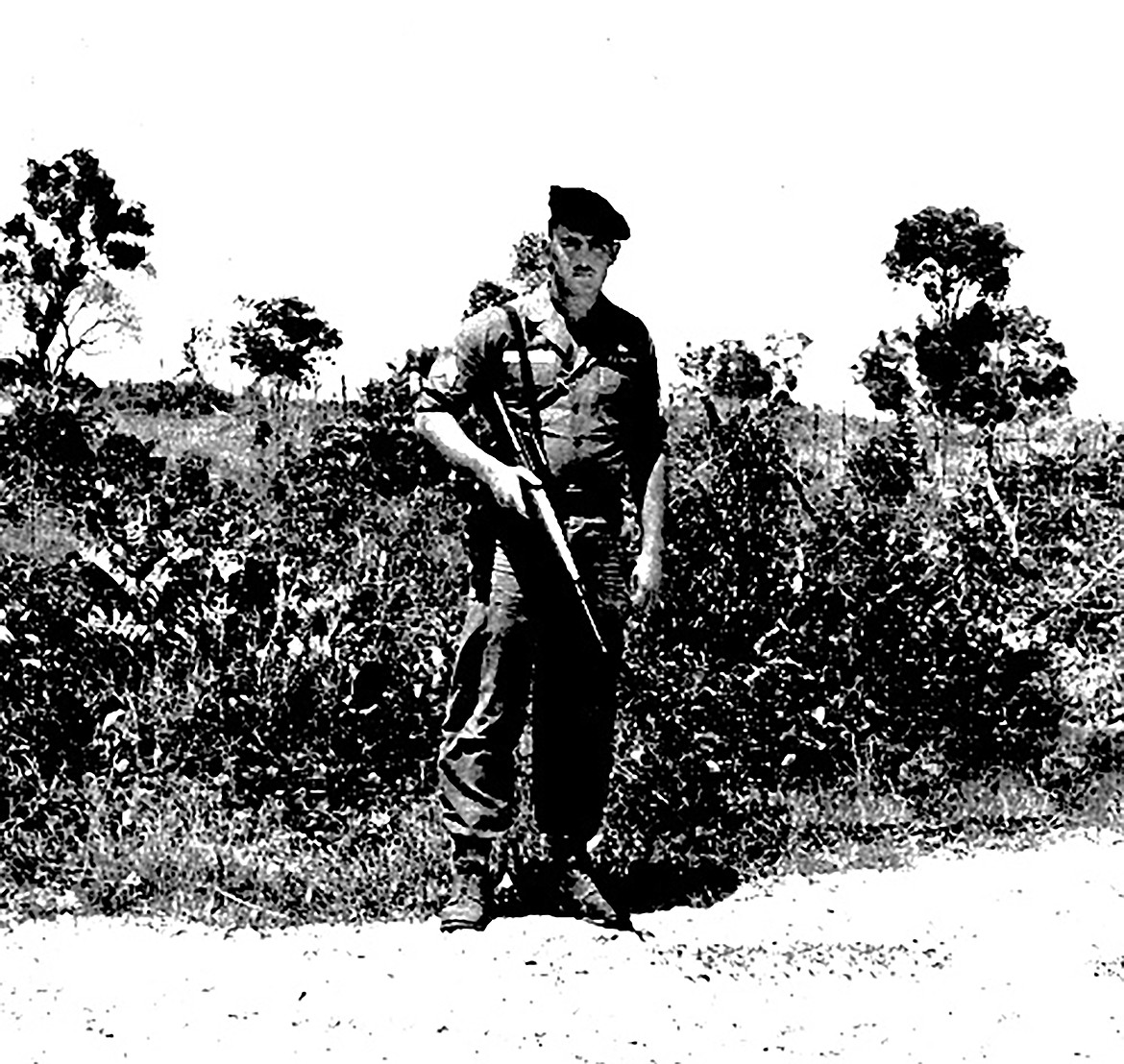 Sgt. Bill Hunt is pictured in 1964 while working with South Vietnamese Rangers during his second tour of duty in Vietnam.
(Photo courtesy BILL HUNT)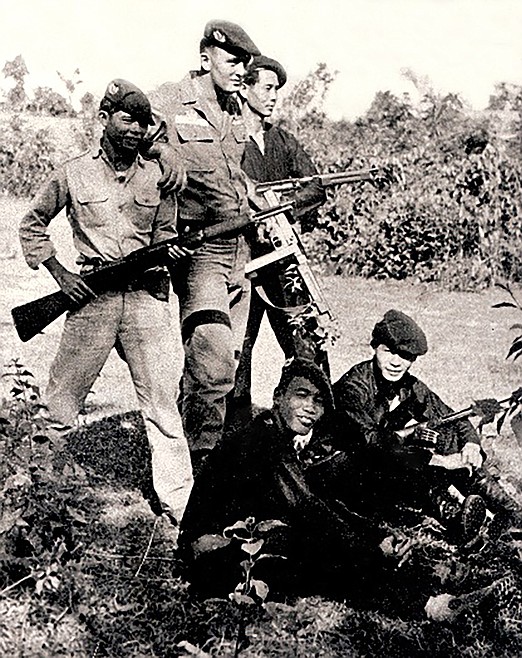 Sergeant Bill Hunt in 1964 working with South Vietnamese Rangers during his second tour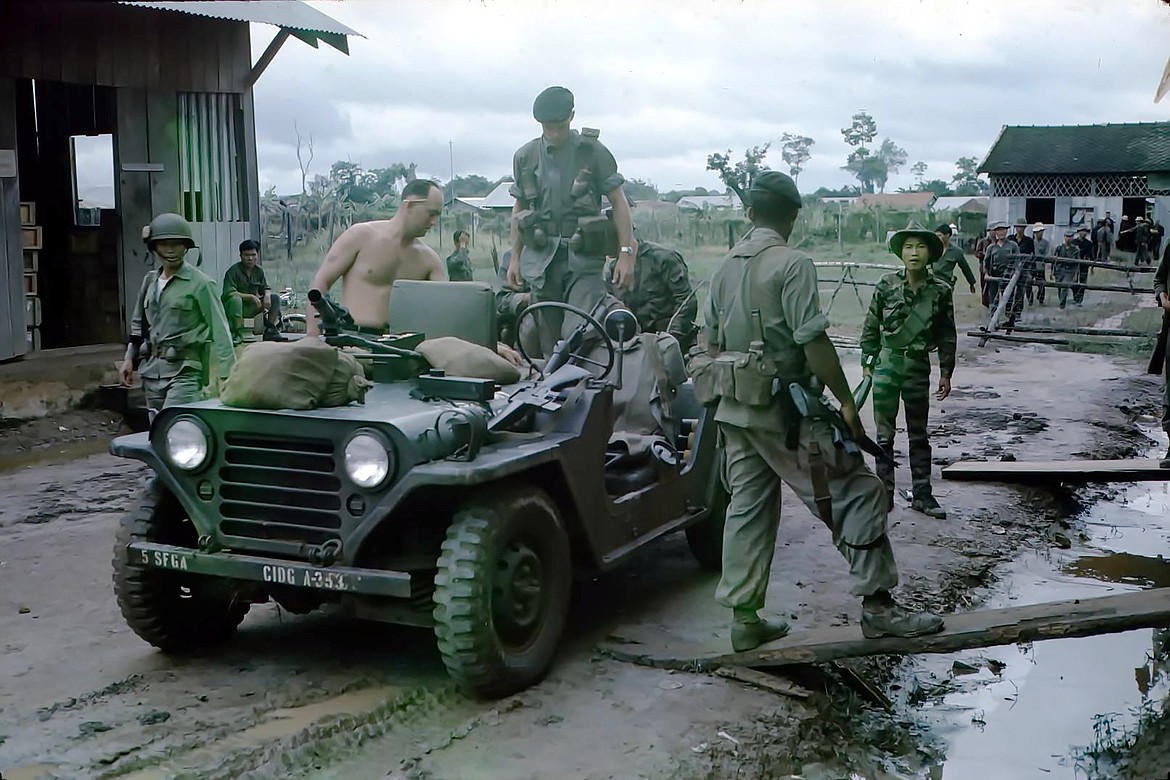 SSgt. Bill Hunt (no shirt) is pictured loading a Jeep in 1966 as he works with indigenous soldiers during his third tour in Vietnam.
Previous
Next
Bill Hunt was 31 when he was last seen alive.
Leaning up against a tree, badly wounded, the Special Forces ranger provided cover for a wounded comrade that November in 1966.
He never came home.
Married with two kids, Hunt had served in the military before but got out after one enlistment to return home to Sandpoint.
A gypo logger, Hunt enjoyed hanging out with friends Kenny Mott, "Manny Finney," and Frank Miller. He liked beer, track, and football, playing a few years ahead of legendary Green Bay Packer great and Hall of Famer Jerry Kramer.
A logger, Hunt occasionally mined alongside his dad, Balt, on property owned by his granddad in the Baldy Mountain area.
It wasn't long after he left the service that Hunt re-enlisted in 1960 and became part of the 101st Airborne Division.
Hunt's son, Ken, followed him into the military, where he served for 27-plus years. Now the commander of the local Veterans of Foreign Wars post in Sandpoint, Hunt talked about his dad and other missing in action on the national POW/MIA Day in late September.
Held on the third Friday in September, National POW/MIA Day remembers those who served, who were prisoners of war, and those who are still missing in action. The local ceremony paid tribute to those missing in action, attracting several dozen family members, soldiers, and community members.
Established by Congress in 1998 as part of the Defense Authorization Act, the day honors those missing in action and is one of six days that the POW/MIA flag can be flown.
"I think it's a good thing that we finally took the initiative to remember our POWs and our MIAs," Ken Hunt said.
William Balt Hunt
Silver Star Citation
June 5, 1967

"The President of the United States of America, authorized by Act of Congress July 9, 1918 (amended by an act of July 25, 1963), takes pride in presenting the Silver Star (Posthumously) to Staff Sergeant William Balt Hunt (ASN: RA-19475676), United States Army, for gallantry in action while engaged in military operations involving conflict with an armed hostile force while serving with Detachment A-302, Company A, 5th Special Forces Group (Airborne), 1st Special Forces, in the Republic of Vietnam. Staff Sergeant Hunt distinguished himself by exceptionally valorous actions on 4 November 1966 while serving as Special Forces Advisor to a Vietnamese unit during ground operations in Tay Ninh Province. Sergeant Hunt flew into a combat zone with a medical evacuation mission and helped load the aircraft with casualties. When the load proved to be too heavy for the helicopter, he volunteered to remain behind and joined the ground force. After two days of heavy fighting, his unit was surrounded by an overwhelmingly larger Viet Cong force and overrun. During the conflict, another soldier was blown by a grenade explosion out of his covered location and remained unconscious in a position to hostile weapons. Heedless of the intense hostile barrage, Sergeant Hunt left his cover and began to carry him to safety. He was severely wounded in the shoulder and upper back, but reached a protected spot and administered first aid to his comrade. He lost consciousness, and when both men revived, they found their weapons gone and only wounded soldiers nearby. Although they passed out from loss of blood periodically, they made their way towards friendly forces with three Vietnamese casualties. When Sergeant Hunt collapsed and could not be revived, he was left with a wounded soldier, while his comrade tried to reach help. An hour later, the wounded man appeared and reported that Sergeant Hunt had died. Sergeant Hunt is presently officially listed as missing in action. Staff Sergeant Hunt's gallantry in action was in keeping with the highest traditions of military service and reflects great credit upon himself, his unit, and the United States Army."
The first time he enlisted in the Army, Bill Hunt was just out of high school, joining up with his buddy,  Kenny Mott. Hunt left after one tour. 
He returned to logging for a few years before deciding he'd had enough. He re-enlisted in 1960 and became part of the 101st Airborne, his son said.
Bill Hunt volunteered for the Special Forces and was sent to Vietnam in 1962, again in 1964, and for a third time in 1966. He would be declared missing in action in November, a month before he was due to come home. His son said the family later learned he was on orders for a promotion with his next post in Germany.
Bill Hunt was awarded the Silver Star, two Bronze Stars, a Purple Heart, his Airborne Wings, Vietnamese Jump Wings, and Vietnamese Ranger School.
After his dad was reported missing, Hunt said his grandmother took the map given to her by a survival assistance officer assigned to help her by the military.
"I can't tell you how many times my grandmother would get this map out and talk about him being here, and this was where he was lost," Ken Hunt said, pointing to the area where his dad was last reported to have been seen. "To her dying day, she thought he was coming back."
At the time of the Vietnam War, the U.S. followed the domino theory — the notion that if countries in Asia fell to communism, others would follow to the point where it would take over the world. To prevent that, the U.S. adopted a containment strategy in the region, Ken Hunt said.
At first, soldiers were mostly VietCong guerrillas, but soon the North Vietnamese regular army was making regular incursions into the region. Special Forces like his dad were a big part of the strategy.
In talking to those with whom his dad served and reading books on Operation Attleboro, Ken Hunt said experiences from one soldier to the next could vary wildly, even though they were only feet apart.
"I can be right here," Hunt said, pointing to a map near where his dad was last reported to be seen. "But my story in the operation is totally different than the guy who fought over there."
Bill Hunt was on a helicopter on his way back from an R&R trip that ended up being diverted for a medivac mission.
"This pilot was just flying two guys back to a [Special Forces] base camp at Suoi Da," Ken Hunt said based on his research. "That's all he was doing when he diverted to pick up [the wounded soldiers]. It was a medivac bird and it wasn't armed. My dad didn't have a weapon; he didn't have any equipment."
Yet his dad jumped out and loaded the wounded soldiers onto the helicopter. After he got back in, the helicopter was too heavy to take off, Ken Hunt said. 
The other soldier heading back to the Special Forces base later recounted that Bill Hunt stopped him when he tried to jump off as well.
"The last time I saw your dad, he took his big damn hand, put it on my shoulder, and said, 'I got this' and pulled me in, and Dad jumped off," Ken Hunt said. 
Monaghan threw Bill Hunt what equipment he had, and as the helicopter took off — this time successfully — he later recounted that Hunt was trying to cross an open area to connect with American troops and Vietnamese troops friendly to the U.S. known to be nearby.
The company his dad ended up connecting with after volunteering to leave the helicopter was led by Sgt. First Class George Heaps, who cautioned against the operation, concerned there was too much activity by North Vietnamese Army and Viet Long troops.
It wasn't long before Hunt connected with Heaps, who warned him to stay with him because the troops knew him. Sometime between Nov. 4 and Nov. 5, the two Americans and the ethnic troops they were with had settled into a defensive perimeter when they were attacked. After Heaps was shot while on the radio, Hunt ran forward and drug him to safety. At some point, his dad was shot and critically wounded.
The pair passed out, and after coming to, they found they'd been stripped of everything and left for dead. They were able to find clothes after coming across dead soldiers as well as a pistol, and slowly, they made their way toward a landing zone.
"George was telling me they would walk 10 yards and then one of them would pass out," Ken Hunt said after connecting with Heaps many years later while researching what had happened to his dad. "Then they would walk another 10 yards, and the other would pass out."
Heaps said he would cuss out Hunt's dad to keep him moving, and Hunt would do the same.
Finally, the man said the pair crossed another stream, and Bill leaned against a tree and told him he couldn't go any further.
"'I'll cover; you go get to safety,' and George said he gave Dad the pistol and left one of the Nung with him," Ken Hunt said. "And the other Nung came running up, yelling, "Hunt dead. Hunt dead."
About that time, a helicopter landed and got the trio on board. Heaps passed out after being pulled into the helicopter, falling unconscious for an extended period of time.
By the time he awoke and relayed his tale, Hunt's body could not be found.
Based on who those looking for his dad talked to, the location where Bill Hunt was last seen varied. Four different people, four different reports, and four different spots where his dad's body might be located.
Bill Hunt was declared presumed dead in 1976. Ken Hunt said he later learned it was at his mother's request, something he understands.
"There was a little note in his file … handwritten, in pencil, from my mother that asked the Army to declare him dead, that it was too much for her after 10 years," Ken Hunt told those gathered. "
Every year, family members are invited to attend a gathering by the National League of POW/MIA Families for those whose loved ones are missing in action. They are also kept informed when there are traveling survival assistance meetings in the region. Hunt said he's been to several as part of his quest to find his dad.
He has also been to Vietnam several times but hasn't been able to find his dad. Adding to the complication is that part of the area where his body is believed to be has been flooded as part of a dam project.
On his second trip in 1999, he had to get permission because he was still active duty. After pleading his case, saying he just wanted to pay his respects to his dad in the closest area he could reach, Ken Hunt said he was finally given permission. However, it took getting Idaho's U.S. senators involved and talking to reporters at the Washington Times and the Army Times.
After arriving in Vietnam with a buddy, Hunt said he traveled back to the area. As they looked across the spill gate on the dam, Hunt said he noticed the area where he believes his dad's body to be is part of a peninsula jutting out into the lake. They contacted a pair of nearby fishermen, who ferried them over to the area.
"We got right close to where dad was missing," Hunt said. "He's out in that field somewhere."
Hunt said he figures, based on what George Heaps told him, that he was within 10 meters of where his dad was last seen.
"I buried [a coin with his dad's name on it]," Ken Hunt said. "There happened to be a tree in this field with no other trees. I buried this coin, poured some Southern Comfort on it, took a drink, and uncontrollably started crying. I just started weeping. I gave another pour [on the ground] for Dad and sat there for probably 10 minutes and then walked back to the group."
Despite getting off the helicopter to ensure the injured soldiers could be flown to safety, Bill Hunt was only given the Silver Star. In 2010, soldiers who served with his father submitted a request for him to receive a Medal of Honor.
"According to [Special Forces Commander Tom] Myerchin, they'd originally put him in for a Medal of Honor because he got off a helicopter knowing what he was getting into, without having the right equipment, and then he grabbed Heaps when Heaps was wounded, and then he volunteered to stay behind, although he probably couldn't have gone far, and covered them while they got to safety."
Unfortunately, the request never went forward.
Ken Hunt resubmitted the packet in 2020, but it got kicked back because the thinking was that a family member can't put a loved one in for a medal. However, he added that all he did was put a cover letter on the packet submitted by Heaps, Myerchin, and the others who served with his dad.
The application packet is scheduled to be resubmitted again, this time with the support of U.S. Sen. Jim Risch, R-Idaho. Ken Hunt said the application will likely be resubmitted in early 2024.
Recent Headlines
---