December 3, 2021
Christmas Mini Photo Sessions $145 You receive all digital images! Gift certificates available! Photography by Jeanette 208-659-2548 www.janphoto.com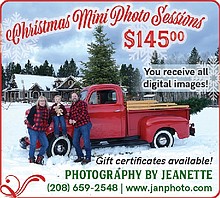 December 2, 2021
All we need is prayer. Yes, and lots of it! As our future and the future of our country continues to unfold itself in unforeseen tyranny and terror, we find ourselves seemingly at the mercy of the leaders in our government. In reality, they are evil demons in human form, fighting to destroy every decent value (and right) that we hold dear and ch...
December 2, 2021
Bonner Gospel Mission is hosting a complimentary Christmas Dinner on Christmas day at the Ponderay Event Center located at 401 Bonner Mall Way, Ponderay ID 83852. from 12 to 3 PM. We will be serving a Turkey & Ham dinner with all the fixings and tons of desserts. All are welcome and handicapped-friendly. We will also have amazing Christmas Carol...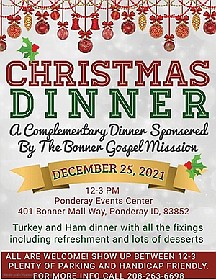 November 30, 2021
Large Animal Sale 12/8/2021 at 11am 3200 E. MAIN ST. LEWISTON, ID 83501 500 Feeders 200 Cows/Bulls Lewiston Livestock Market 208-743-5506 LewistonLivestock.com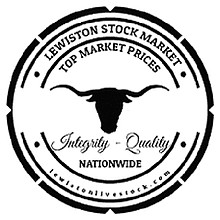 November 27, 2021
If you bought a new home or are new to Kootenai County within the last 3 months, call for your free welcome packet containing info on the area as well as gift certificates from local merchants. Bright Beginnings 208-661-2380 Please no calls before 9am
November 16, 2021
New stylist in town wanting to make you look your best!! Glamour Hair Design in Hayden! Mention this ad to get 15% OFF! Call/Text: 614-395-9709 or Book Online: stephanie-murry-llc.square.site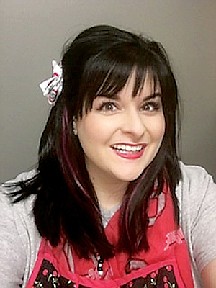 November 13, 2021
GUTTER CLEANING Call Scott at 401-499-BEST (2378) Licensed & Insured Serving Kootenai Co.
---